Setting up business management can be a daunting task. There are so many different aspects to cover, and the best way for you to keep on top of them all is by streamlining your management process. This blog post will help you do just that! We'll go over how to set up an efficient system for managing your marketing campaigns, inventory, client data, and more.
Monitor Your Activity
Software tools can help in streamlining a variety of processes within companies from accounting to project management. By using applications like non-conformance software, for example, businesses can save even more time by automatically inputting data into spreadsheets or databases with just a few clicks of the button rather than having someone manually enter information every single day, week, or month. In addition, these programs are often linked together which means that if one employee updates something in their program (i.e., adding new clients), then everyone else's screens will be updated immediately as well.
Some of these programs can be integrated with other applications. When linked, you can automatically upload the files from your accounting program into your project management software without having to manually do anything by yourself.
Use One Cloud Solution
Keep everything in one place instead of having multiple systems that don't sync. It's a waste of time to have spreadsheets and documents on your computer, phone, Dropbox, or Google Drive. Not only does it take up space but you never know if they are the most recent version. Using online accounting software like Xero for example will allow all of your data from different sources to be stored in one location so everyone has access no matter where they are working from. This also allows them to collaborate even more efficiently as well as saves valuable storage space on their devices.
Automate Manual Processes
No matter how small or large your business is, there are probably some tasks that you tend to do regularly. These could be anything from sending invoices via email to making sure employees have access to the right insurance coverage for their jobs. Look at every step of each process and see if it can be automated or simplified in any way so they take less time overall. You'll not only save more money but will also free up time for other important things like growing your business.
Just know that you don't have to automate everything at once, but find ways each day or week to take one manual process and make it automatic. For example, if regular emails are being sent out by your company then set them up as templates so they can be quickly customized for the recipient who is receiving them. Once finished with a task look through other daily tasks and see where else you could simplify things which would free up time in the future. The more efficient your business becomes over time will mean less stress on everyone involved while allowing for greater profits overall! It's all about streamlining how processes work instead of constantly creating new ones from scratch whenever something arises.
Use Apps To Make Your Life Easier
There are so many great apps out there that can help you and your business be more efficient. They range from invoicing and time tracking all the way to project management, customer relationship management (CRM), and order processing software. The best part is most of them offer a free trial or at least some kind of money-back guarantee if they don't work for you which means it's worth trying them out regardless! There isn't an excuse as even if one app doesn't end up working well with your workflow another might fit like a glove perfectly for what needs to get done moving forward.
Many people think that technology will eventually take over our lives. In reality, we always find new ways to use it in a way that makes things easier and more efficient. Technology has changed the world we live in today but just because your business is online doesn't mean you have to let technology control every aspect of your life. Don't forget about face-to-face communication while also making sure everyone involved feels like they are part of the team even if working remotely which can be done through video conferencing tools for example!
Hire The Right People
It's very important to hire the right people for your business which means they need to be reliable, efficient, and good communicators. This is especially true if you run a small business because it doesn't have much room for error when things go wrong so keep that in mind before making any hiring decisions moving forward! It can also help to work with a staffing agency as they understand what works best in terms of finding the perfect fit for all types of positions within your company. You don't want employees who are going through the motions but rather those who take pride in their work and enjoy being part of something bigger than themselves.
When this happens everyone wins as both parties will see an increase in results overall along with happier employees which means better customer service!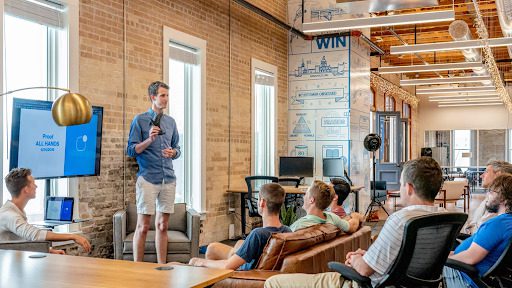 Your company's success depends on every person doing their job well without too much extra effort. It takes discipline but once you've got it, everything becomes much easier.