Many Mac users have wondered: "What is CleanMyMac Software?" and "Does it Really Work?" And once they give it a try, they usually have a follow up questions of … how does CleanMyMac software work? Which company makes it, and does it actually speed up Macs? And what's the catch?
It's not as simple as downloading the software and hoping for the best. CleanMyMac X is a legitimate application that can actually clean your laptop or computer, while also making it much faster.
This guide will walk you through the entire process, from installing the software to performing a complete system clean-up.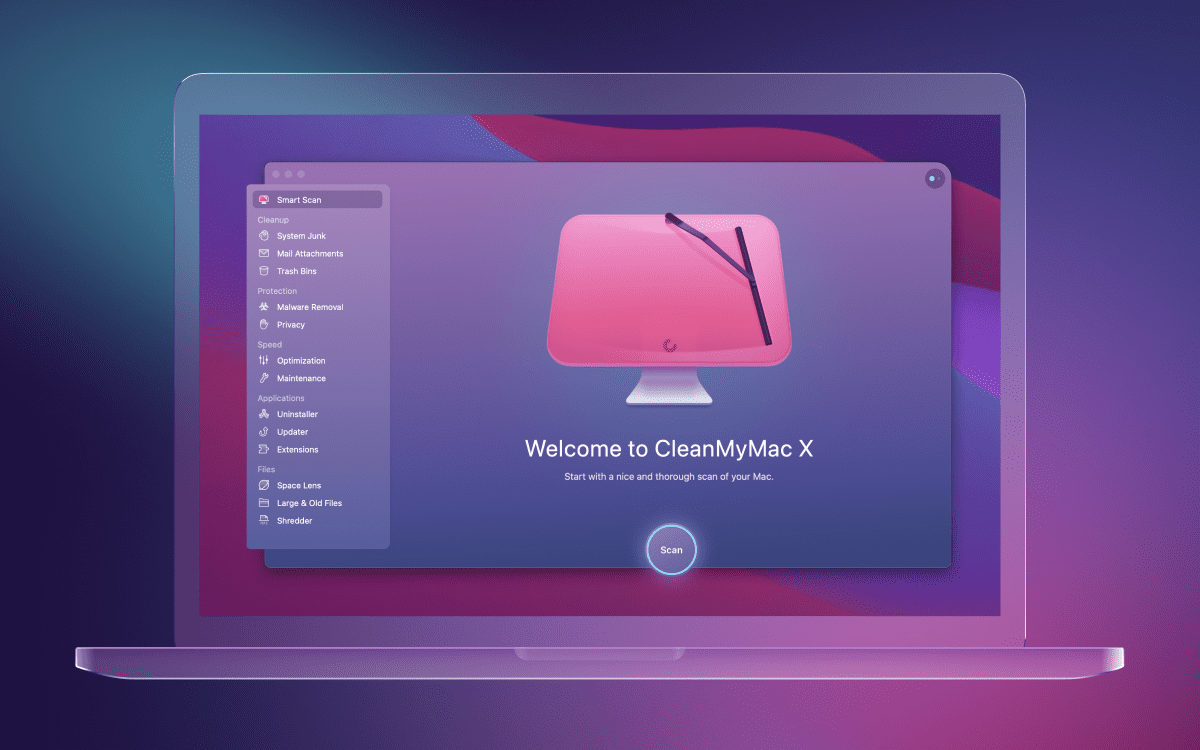 What is CleanMyMac Software?
If you use a Mac, you probably know that it can get slow if it is full of unnecessary files. Whether these files were accidentally deleted or you've been running a program for a long time, CleanMyMac can help you fix that. It also works to free up RAM so that your Mac will run faster. However, unless you have technical expertise, it's not a good idea to try to run a program like this yourself.
The first thing that CleanMyMac will do for you is find all the unnecessary startup processes that are running on your Mac. This can be anything from Dropbox to Skype to Adobe to Google Photos. Depending on how much software you use, these apps can be a burden on your processor. Thankfully, CleanMyMac can identify these processes and applications and remove them. You can even get it to close background applications. Using this software, you can keep your Mac's battery alive by minimizing the amount of time you spend working in your computer.
Does CleanMyMac Really Work?
CleanMyMac is an app that is intended to keep your Mac running smoothly, free of accumulated junk files and unnecessary programs. It does this by clearing browsing history and Autofill data in popular browsers. It can also clean up your saved passwords, Wi-Fi networks, and recently used file lists in Finder. It also performs a privacy scan of your computer and reports its findings. You can choose to delete any unwanted files and data, or leave them and let CleanMyMac do the work for you.
The software is an excellent choice for heavy Mac users who want to get the most out of their computers. It optimizes computer system speed and frees RAM, which is responsible for running applications on your computer. This freed RAM space means a faster computer. CleanMyMac is especially useful if you use your Mac a lot, causing the computer to store a lot of junk files and occupy RAM space.
How Does CleanMyMac Speed Up an Apple Mac?
You've probably heard the term "clean" in relation to computers, and you might have wondered how to speed up an Apple Mac. There are several factors that can cause your computer to become slow, from excessive cache files to broken or corrupted apps. CleanMyMac X can help you remove those problems and keep your Mac running fast. This software is extremely easy to use and has a clean interface that makes it easier to navigate.
Before choosing a cleaning program, you should be sure that it supports your operating system. You can't expect Windows tools to work on your Mac, so you'll want to make sure that the software you choose supports the operating system you're running. In addition, you should investigate the features of the software itself. Some programs are designed to detect duplicate files and remove them; others will delete entire applications.
What Company Makes CleanMyMac?
What Company Makes CleanMyMac? is one of the leading cleaning apps for Macs. Despite its name, the program is not malicious or harmful for your Mac. The company behind the application has notarized its code, and has not distributed any malicious software. CleanMyMac uses a Safety Database to minimize the chances of deleting important data required for macOS and other programs. While the free version is good for cleaning up your system, its scope is limited. Users of the full version should purchase the CleanMyMac X version, which is an "all-in-one package".
While CleanMyMac promises to uninstall applications completely, this is often not the case. It often finds leftover files after incomplete uninstallations. We tested CleanMyMac X against antivirus software and found files from McAfee AntiVirus Plus for Mac, Avast, and a VPN. These leftover files can interfere with the installation of new antivirus products. CleanMyMac is designed to remove unwanted files that interfere with your security.
CleanMyMac Pricing
If you're looking for a Mac cleaner that can protect your computer from malware, CleanMyMac can be the solution. The software can optimize your Mac's performance, free up space and protect you from the risks of spyware and malware. It also features disk storage maintenance and health monitoring features. CleanMyMac is a popular choice among Mac users because of its many benefits. Read on to learn more about the CleanMyMac Software Pricing.
CleanMyMac is an excellent system cleaner for Mac computers, freeing up RAM space and making your computer run faster. As RAM is responsible for running programs and files, freeing it up will make your system faster. If you are a heavy user of a Mac, you may need to use the software to get rid of accumulated junk files and unneeded RAM space. CleanMyMac is affordable for anyone, and there are two main pricing options, a one-time purchase option and a subscription plan.
If you're looking for a Mac cleaning software, CleanMyMac X will do the trick. For $90, you can get the application as a one-time purchase or as part of a subscription to Setapp. The yearly subscription option gives you unlimited upgrades. The one-time purchase option, however, requires a small upgrade fee each year. CleanMyMac X is a nice evolution of the original. Its clean-up tools DaisyDisk and Hazel are similar to those of CleanMyMac. Other similar programs include Objective-See security applications and iStat Menus. CleanMyMac is still a good package of utilities and is worth trying.
CleanMyMac Reviews
If you're looking for an app to clean up your Mac, look no further than CleanMyMac. This application is perfect for Mac users who want to increase the speed of their computer and remove unwanted applications. Its features include junk removal, uninstalling applications, and removing unnecessary internet plug-ins and extensions. Moreover, CleanMyMac is also an excellent performance booster for your computer. Weigh your options carefully before choosing CleanMyMac.
This powerful application has a simple, easy-to-understand user interface with tabs for privacy, application management, and disk maintenance. Its tools for disk maintenance and optimization are incredibly user-friendly and offer visual assets for easy analysis. CleanMyMac's "Space Lens" tool lets you see how much space each application uses in real-time. It also comes with a customer support team, extensive knowledge base, and professional help to help you decide which clean-up option is right for your needs.
If you're not sure whether CleanMyMac is the right choice for your needs, consider signing up for a free trial. CleanMyMac X has high user ratings and comes with a Safety Database. It also includes a smart Assistant that provides tips for safe cleaning. It also offers a money-back guarantee for 30 days if you're not satisfied. The program's price is reasonable. Whether you're looking for a clean-up utility or a complete system overhaul, it's worth a try.
CleanMyMac Support Info
If you've installed CleanMyMac on your Mac, then you've probably noticed a number of temporary files. These are files your computer creates when you do things like editing photos. It's possible that some of these files are malicious. The CleanMyMac Privacy tab allows you to secure your browsing history and remove tracking systems. Because your browsing activity is not always as private as it seems, the Privacy tab is a great way to keep your information safe.
In addition to removing useless files, CleanMyMac has an updater tool that keeps your apps up to date. This eliminates the need to constantly update your apps by hand. With the Updater, you can select an app from the console and CleanMyMac will automatically search for updates on the internet and install the latest version. You can also choose to manually install updates to apps, but CleanMyMac does not recommend installing them. If you'd like to download a free trial of CleanMyMac, go to the official CleanMyMac website and download the software.
CleanMyMac Summary
If you're looking for a free tool to speed up your Mac, look no further than CleanMyMac. Its wide range of services and features will remove unneeded files and free up disk space. One of its features is a CPU usage bar, which shows the amount of stress a background application is causing to the computer's processor. This information can be helpful in deciding whether you should close or delete the unnecessary applications.
The CleanMyMac software's Privacy tab will help you to keep your browsing information secure. By scanning for vulnerabilities, it will remove browsing history and other tracking systems from your computer. You may not realize that your browsing activity isn't nearly as private as you think it is. This tool will optimize your Mac's performance and remove these unwanted files while keeping your browsing history private. Once you've finished with the scan, you'll be prompted to save work or close applications. You can skip these prompts if you're sure you're ready to proceed.
If your Mac is slowing down as a result of too many background apps, you should clear out the clutter in the start menu. Startup menu items take up a lot of processing power and interfere with the speed of the apps you're actually using. CleanMyMac X will identify unnecessary startup items and allow you to remove them from your Mac's startup menu. The program will also delete any unneeded apps in the background.