Buying a product/service without doing much of the research from the buyers' end and lacking at this front can waste your money and efforts. Talking about the impacts of a poor business service would take ages as they are very vast and deep-rooted. 
So, in case you need to get a virtual phone system for your business, you would also do proper research at your end and then move forward. However, it's not as easy as it sounds. There are many factors to look upon and you have to stop yourself to get lured from an eye-popping offer as well. 
To make things easier, we have come up with a list of a few factors that you should keep in mind while thinking of getting the best business phone number for your small business. So, let's get started. But before that, let's understand how reliable the free VoIP services for a small business are. We all know that small businesses are always dealing with a lack of investment. This struggle is constant and real. 
This made a few start-ups and small businesses to think about free cloud telephony facilities like Google voice or WhatsApp call. Sadly, using these kinds of cloud telephony for business purposes will make things worse as they lack big time in business features. 
You won't get high-end business features like call holing, auto call answering, voicemail, and IVR with these free VoIPs. It's better to let them handle our personal calls. 
Factors to keep in mind while buying a virtual phone system
Pick the one that helps you build a professional image

 
Professionalism is something that can be compromised at the name of business size. A good brand image can do wonders that are beyond your imagination. So, you must pick an option which will help you build an enterprise –like brand image for your small business. 
Cloud telephony with features like IVR, auto greetings, welcome messages, and auto call answering will make a great contribution in this direction. Even having a toll-free number also creates a positive impact on the customers. 
Never overlook the power of unified communication
Gone those days when customers used to prefer a phone call to contact a business. It's 2020 and people are using means like chat, IMs, video calls, chatbots, and voicemails to contact a business. So, if you are thinking that can you move forward with having a business phone number that supports all these and many other unified communication means then you are making a big mistake.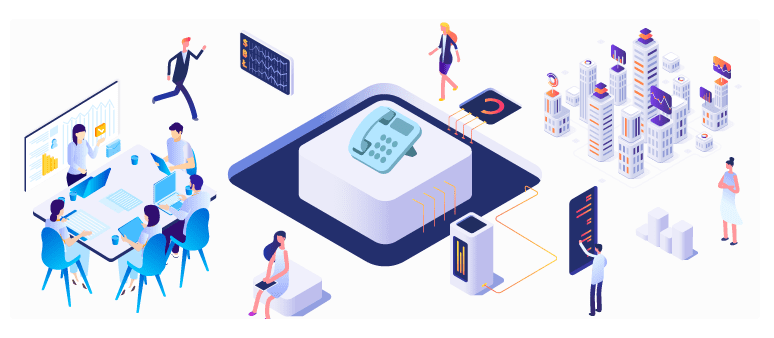 A cloud-based VoIP is always the best option for small business 
We have already told you how badly small businesses struggle to have sufficient funds in their investment account. So, spending a huge chunk of limited investment in setting up a business communication infrastructure would be a wrong move. 
Cloud telephony brings a great relief at this front as all the telephony components are already deployed on the cloud. The best part is that you can avail of this facility as per the number of employees. 
For example, if you have ten employees then you can pay for ten seats and still enjoy the whole set of features and facilities. This one is what you miss big time in on-site deployment. 
Having integrations make things better
Nothing can be as blissful as having a business phone number with multiple integrations. These integrations help you to have streamlined communication between different business components and help you strike a balance between them. 
CRM, HR, and sales integrations not only empower your operations but help you accomplish more and more tasks with fewer and fewer hassles. 
Opt for a service provider that offers multiple services

 
You may be a small business today but can turn into a giant in no time. So, choosing a VoIP service facility that is offering multiple kinds of facilities like international phone number, toll-free number, number portability, local number, and so on is the best move. 
 With such service provider, odds of having issues now and then are very less and you can run your small business without any hassles. 
There is a certain industry type wherein you need to meet certain compliances. For example, the medical industry in the US needs to meet HIPPA compliance for business communication. 
 If you also belong to such industry then don't forget to check whether your cloud telephony service provider meets those requirements or not. 
The Final Word
Your business phone bears the whole burden of your business cloud communication and having a run of the mill product can give you many nightmares and ruin your dream of having a successful small business. So, make sure that you are playing safe at this front and choosing the best option. 
Paying attention to certain factors like checking the features, security, and unified communication ability will help you to make the right decision.