Image by pixabay.com
Kitchen faucets are one of the most used fixtures in your home. A good faucet makes your kitchen functional and elevates its look. 
It also expresses your style and personal taste and encourages you to keep cooking, cleaning, and staying in your kitchen. 
Whether you are a professional chef or someone who loves working in the kitchen, the right faucet will make your life easier. That's why it's important to know what to consider when choosing a new kitchen faucet.
Kitchen Faucet Design
Choosing a design for your kitchen faucets means making a statement about your personality. The design you select should be functional, improve the look of your kitchens and match your style. Here are designs you can consider.
Traditional Kitchen Sink Faucet
Traditional kitchen sink faucet design is a mix of different layers and details like color and texture. This makes them complement your kitchen with an elegant design. 
If you're looking for a traditional and cool kitchen faucet, match it with warm tones and natural stone in your classic kitchen.
Modern Stainless Steel Kitchen Faucets
Modern kitchen faucets have sleek designs. So, if you are looking for modern faucets, these sleek kitchen faucet designs are mostly made of stainless steel. The stainless steel sink faucet elevates the look of your kitchen space and makes a statement. 
The modern faucets are everyday kitchen designs that add a dash to any kitchen. They can also bring an industrial edge to a kitchen with their tall arch, which is perfect for a kitchen. These are usually premium kitchen faucets.
Transitional Kitchen Faucets
If you're looking for something that's not too modern or too classic for your kitchen sink, transitional kitchen faucets will work best. They provide a perfect balance, especially if you want to keep your kitchen sink current without making a big design statement. 
Transitional kitchen faucets are best for both modern and traditional kitchen spaces. They're good faucets for a kitchen that frequently changes design from modern to traditional or traditional to modern.
Faucet for a Commercial Kitchen Design
A professional kitchen faucet complements activities that happen in a commercial cooking area. Most commercial kitchens are modern, so modern and unique kitchen faucets are a perfect match. It is made of high-quality stainless steel that can handle the pressure that comes with a commercial working space.
Types of Kitchen Faucet Handles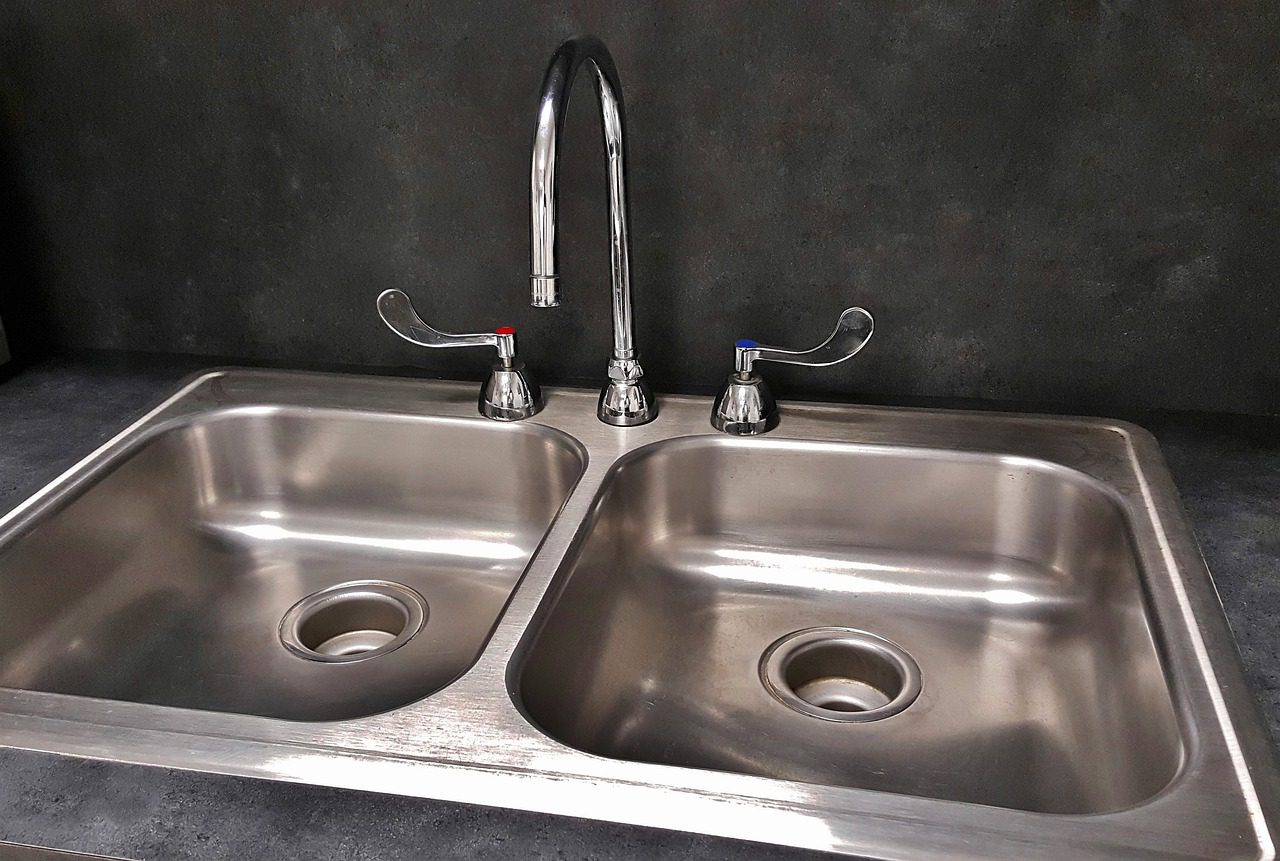 Image by pixabay.com 
The kitchen faucet handle you choose depends on its functionality. For example, a busy kitchen can have a different type of faucet than a kitchen that's not so busy. Here are kitchen faucet handles to consider.
Single Handle Kitchen Faucets
A single-hand faucet is easy to use. It allows you to adjust the temperature and the flow of water quickly. A single-hand kitchen faucet is best for a busy kitchen. You can operate it with very little effort. For example, you can adjust it with a single hand or finger.
Two Handle Kitchen Faucets
A two-handle kitchen faucet enables you to operate your sink in better. It is not just functional. It's also aesthetically appealing. The two-handle faucet improves the look of your traditional or modern kitchen.
When choosing the height of a kitchen faucet, you need to consider its functionality as well as aesthetics. For example, a taller faucet depends on the space in your sink area. If you have more space above your sink, you can choose it. A taller faucet also brings a dramatic effect to your kitchen.  
Choose a sorter faucet if you have limited space above your sink area. For example, a commercial-style kitchen faucet is more appropriate if there are cabinets above the sink. You can choose premium kitchen faucets that give you style and functionality.
A taller arc is helpful, especially when working with bigger cooking pots or frying. It provides enough space to fit bigger kitchenware. A smaller arch will give you a better view above your sink. 
The arc size depends on how you use your sink. Other long-reach kitchen faucets have higher pull-down faucets. It is helpful when using large kitchen items in your sink.
Kitchen Faucet Spray Function
Image by pixabay.com 
The spray function is an essential feature of a kitchen faucet. It allows you to easily direct the flow of water so it reaches all the corners of your sink. This ensures your sink is thoroughly cleaned. Many modern faucets have this feature. 
There are different sprayer options available depending on the faucet's shape. You can choose one that suits your taste, for example.
A pull-down faucet sprayer goes down the sink and away from the faucet's body. They have a button that enables you to get powerful sprays. 
Pull out and Side Spray Faucets
Pull-out faucets reach the user. It provides better access to users. A side spray has a separate spraying spot from the sink, not the faucet.
Kitchen faucets can mount either on your countertop or on your wall. Choose the mounting style that suits your taste and kitchen function. 
They should match the holes on your countertop. You can also choose a faucet before making holes. It's important to make the right choice. Make sure your faucet aligns with the holes in your countertop.
Kitchen Faucet Installation and Finishing
Installing a faucet involves crawling under a sink or countertops. In some cases, you can use technology that doesn't require crawling. This is a DIY project, but you can also get the services of a professional. 
The finishing of a faucet will make your kitchen look as good as new. Choose an interesting color like black and stainless steel kitchen faucet. You can also choose sophisticated gold kitchen fixtures.
Key Takeaway
Choosing the best kitchen faucet does not depend only on functionality but also the aesthetics. A kitchen faucet that functions well and complements your kitchen decor adds to the beauty of your kitchen. 
It should also show your taste in a modern or traditional kitchen area. That means kitchen faucets can have a dramatic effect or look simple and sophisticated.