Billions of people use WhatsApp every day for personal communication and business conversations. Lost chats or information is the least to fret about. Your first option is always to restore backup data and get back lost messages. However, not every WhatsApp user constantly backup their data. Other times, when you create a backup, the backup will not store your immediate lost chats.
In such cases where WhatsApp information is lost without backup, you will find yourself asking many questions like how to see deleted messages from WhatsApp, how to recover the deleted messages in WhatsApp, or how to restore WhatsApp chat. In this article, you will find some methods and ways to get back your lost hats, including the right third-party tool for data recovery.
1) How to restore WhatsApp Messages with backup on iPhone
If you happen to backup WhatsApp messages, you have a way to locate and restore your deleted messages. So you will not have to worry about deleting your chats accidentally. Find out how to locate and restore your messages in this piece.
To begin, if you are constantly backing up your WhatsApp data, then restoring your deleted chats is a piece of cake. However, if you don't have an idea about the last backup, you can find the information by going to WhatsApp, then Settings> Chats, and lastly, Chat Backup. The information here includes your message's last backup date. So, if it was long ago, proceed to back up the chat history. To do this, hit the 'Chat Backup' icon, and the device automatically uploads your backup data to the cloud.
Now, you want to restore your messages from your cloud backup files, follow the below steps:
Step 1: To locate the deleted messages, you uninstall your WhatsApp application and then download and install it again. Go ahead and follow the screen prompts to install and run WhatsApp.
Step 2: Now, to recover your deleted msg WhatsApp, click the 'Restore Chat History' from your device. There you have it! All your backup data, including images and messages, will be restored. You can comfortably read your deleted messages.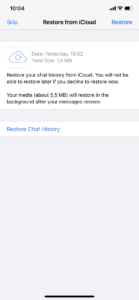 2) How to Recover Lost WhatsApp Chats on Android with Backup
Like in iOS devices, using an Android, you have a method to recover deleted WhatsApp messages. WhatsApp is always creating a new backup of every day's conversation at 2 AM. But you can always backup data to Google Drive every time. Like in iPhone, you have to uninstall the app and reinstall it again. During the installation process, WhatsApp will prompt you to restore the chat history. Hit the 'Restore Chat History,' and all your deleted or lost chats will be restored to your Android device.
Restore WhatsApp Deleted Messages Without Backup Android
If you haven't set up an automatic backup or constantly backing up chat data, you are more likely to lose your deleted WhatsApp messages. Unfortunately, you have no alternate way to restore your deleted WhatsApp messages other than seeking a professional tool for data recovery.
A recovery program such as Dr.Fone – Data Recovery (Android) can restore both the new and old messages you had on WhatsApp with ease. Dr. Fone – Data recovery (Android) directly scans and recovers all the deleted WhatsApp chats. This powerful tool lets you take control of the recovery process seamlessly and restore fast your lost chats. This program is recognized as one of the best data recovery applications for Android today. In addition, here are some of the best features you can expect from this powerful Android Data recovery software:
Restore all lost WhatsApp chats on Android 8.0+

Recover erased contacts and messages from the contacts, along with image and video files

Scan and restore WhatsApp data on SD cards and other external storage devices

You can use Dr. Fone Data Recovery program to recover other forms of data lost
3) How to Recover the Deleted Messages in WhatsApp 
Here is a step-by-step guide showing every detail on the right way to recover WhatsApp chats without backup.
Step 1: Download and Install Dr. Fone Data Recovery
Before you know how to see deleted messages from WhatsApp, download Dr. Fone Data Recovery from the official website. Install the program on your device and run it. Connect your Android device using a USB cable to your device. From Dr. Fone's interface, choose the 'Data Recovery' option.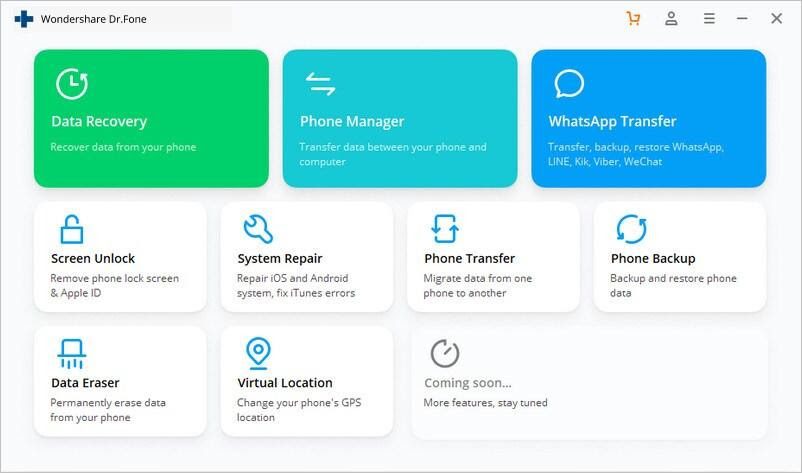 Step 2: Backup WhatsApp Data
Select the folder from where you want to recover deleted WhatsApp messages. However, note that Dr. Fone Data Recovery will create a backup of the current information. Hit the 'Next' button and leave it for some to create your backup. The time taken will depend on the amount of WhatsApp information present on your device.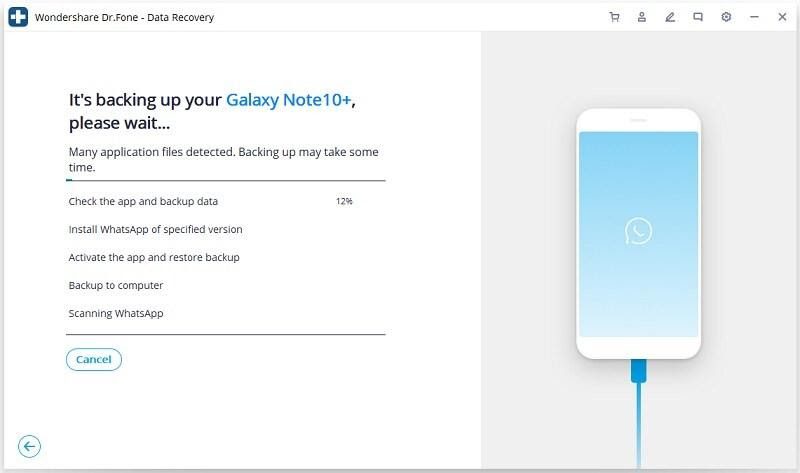 When the backup process is complete, follow the instructions to install the unique WhatsApp. Use the guide procedures to get your WhatsApp messages, photos, group conversations, audio, etc. Make sure you check the box for the type o data that you are looking at restoring.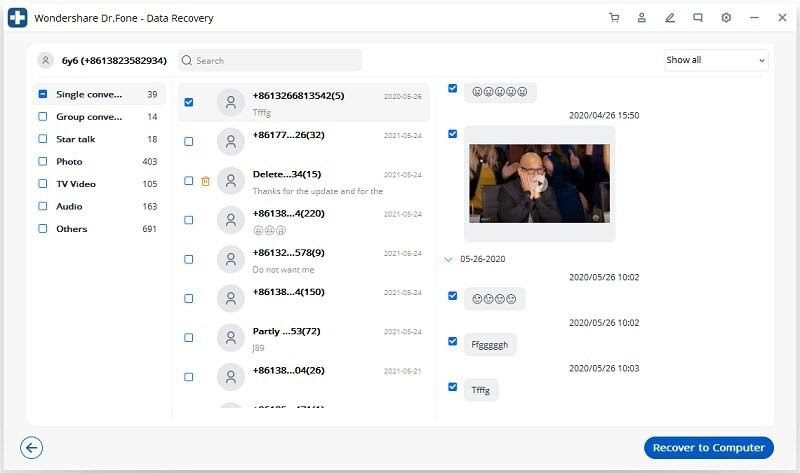 Step 3: Identify Data to Recover to Computer and Restore
Now, proceed to identify the type of WhatsApp data you want to recover to your computer. Using the tool you, have an option to preview the data information or recover without viewing them. To see deleted WhatsApp messages, click on the 'Recover to Computer.' The lost WhatsApp information will be retrieved to your PC.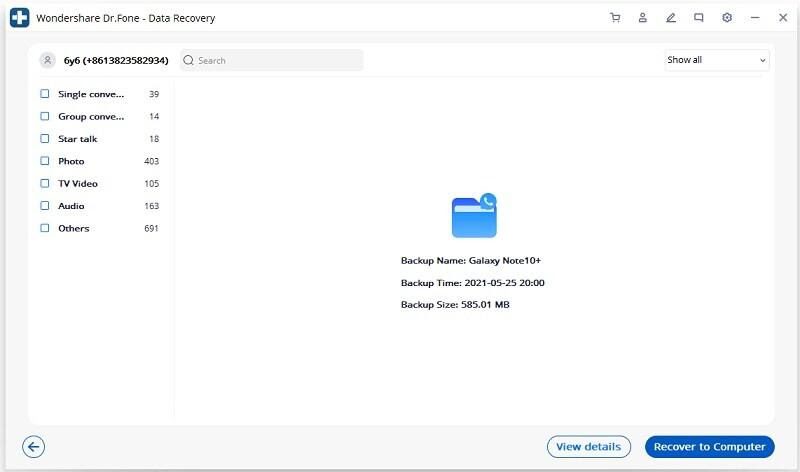 At the top right, using the drop-down button, find and select the option you want for restoring your data: either the available data or deleted WhatsApp data you want to recover. Dr. Fone Data Recovery will identify the data, go ahead, and hit the 'Recover to Computer' button. Wait for a few minutes for the program to restore deleted WhatsApp messages.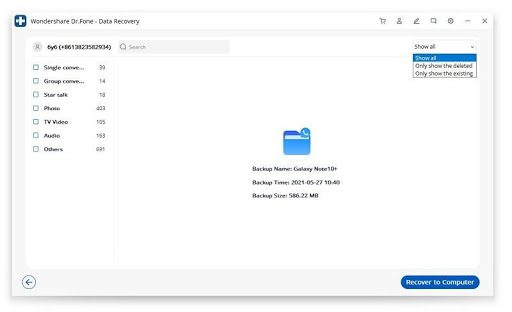 There you go! Now you know how to recover the deleted messages in WhatsApp. Access all your deleted messages without backup on your Android device without worrying about how to go about it.
Conclusion
Sometimes you can accidentally delete your WhatsApp messages, or your device might surfer a virus attack leading to deletion of messages. Dr. Fone Data Recovery is a valuable tool that lets you recover your data without backup. Using the guide, how to see deleted messages from WhatsApp, you can restore all your lost chats in a few simple clicks.