Android phones store a variety of data including personal information such as our contacts, messages, call logs, photos, videos, and email accounts etc. 
But contacts play an important role among all these. When the contacts get deleted/erased from our phone accidently, it feels quite frustrating. If you have also lost your essential contacts on your phone and searching for the ways to restore contacts Android then read this blog.
Here, you will find 3 easy ways to recover lost contacts on Android phone effortlessly.
How to Restore Lost/Deleted Contacts on Android?
If you have accidentally deleted your contacts on an Android device, here are the few methods that you can try to restore them. 
Way 1: Recover Deleted Contacts from Android Phone using Google Contacts
If you have previously synced your contacts to your Google account, you can restore them by following these steps:
Open the

Google Contacts

app on your Android device.

Tap on the

Menu

icon (three horizontal lines) in the top left corner of the screen.

Select "

Settings

" from the menu.

Tap on "

Undo changes

."
Select the time frame you want to undo changes for (such as "1 hour ago" or "1 day ago").

Tap on "

Undo

" to restore any contacts that were deleted during that time frame.
If this method doesn't work, you can also try the following:
Go to the

Google Contacts website

on your computer.

Sign in with the same

Google account

that you use on your Android device.

Click on "

More

" in the left-hand menu.

Select "

Undo changes

."

Choose the time frame you want to undo changes for and click "

Undo

."
If your contacts still aren't restored, it's possible that they were not synced with Google Contacts in the first place.
Way 2: Use SIM Card to Restore Contacts Android
If you have lost your contacts on your Android phone, and you had them saved on your SIM card, you may be able to recover them. 
Here are the steps you can follow to retrieve deleted contacts Android from the SIM card:
Insert the

SIM card

into your Android phone.

Open the

Contacts app

on your phone.

Tap the

three-dot

menu icon in the top-right corner of the screen.

Select "

Manage Contacts

" from the drop-down menu.

Choose "

Import/Export contacts

" from the list of options.

Select "

Import from SIM card

" or "

Copy from SIM card

", depending on your phone model.
Choose the account you want to import the contacts to (such as Google or your phone's local storage).

Select the contacts you want to restore by checking the box next to each one, or choose "

Select all

" to restore all contacts.

Tap "

Import

" or "

Copy

" to start the restore process.
Your contacts should now be restored to your Android phone. 
Way 3: Restore Lost Contacts on Android Phone via Gmail
Restoring Android contacts using Gmail is a simple process. So, if you have lost your contacts on your Android phone and you previously had synced them with your Gmail account, you can easily restore them back. 
Here are the steps you need to follow to restore contacts Android:
Step 1: Firstly, you need to ensure that your Android device is synced with your Gmail account. 
To do this, go to Settings > Accounts > Google, and check if the Sync Contacts option is turned on.
Step 2: Open your Gmail account on your computer or mobile device and go to the Contacts tab.
Step 3: Click on the More button and select the option to Restore Contacts.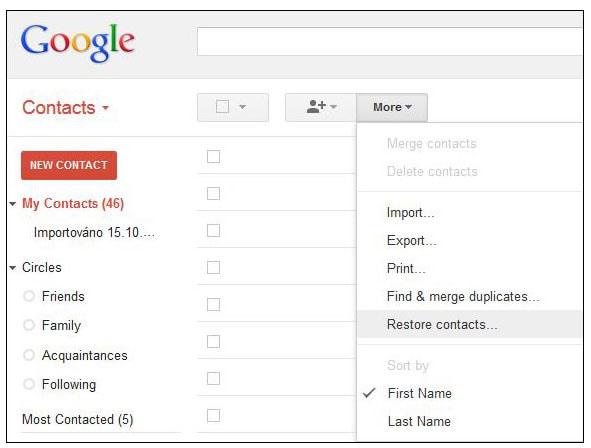 Step 4: A pop-up window will appear asking you to choose the backup file you want to restore your contacts from. 
Step 5: Select the file you want and click on the Restore button.
Step 6: Once the restore process is complete, your contacts should appear in your Android device's contacts app.
Please Note – The deleted contacts will only be restored to the device that is synced with the Gmail account you used for the backup. If you are using a different account or device, you will need to repeat the process with the relevant account.
Final Thoughts
Losing your phone's contacts can be a frustrating and stressful experience. Thus, it's very important to restore contacts Android using correct methods. 
In this article, we have gathered 3 different ways to recover deleted contacts from Android phone. All you need to do is, keep trying the methods mentioned above. 
Hope, you will able to get back your erased contacts as soon.
Good Luck!