With the iPhone popularity ever on the rise, it is increasingly offered by corporate and organizations as official devices for communications. From businesses to even schools, Apple products are everywhere.
While there is certain excitement by employees and students on getting hands on a beautiful and powerful device, nearly everyone is disappointed when they find out that they are unable to install apps or access all the features because they have been "blocked" by the organization.
This is done through Apple's Mobile Device Management (MDM) and can be used on devices such as iPhones and iPads. A cloud based service; it is employed by organizations for a number of reasons. With so many devices to manage, the IT department utilizes MDM to:
Remotely manage devices.

Apply corporate IT and communications policies.

Limit devices to official use only.

Blacklist apps and websites.

Configure devices to run company software.

Data security.
The list goes on, but gives a general idea of why MDM is so popular in the corporate culture.
MDM: Benefit or Hindrance?
From the organization's angle, a Mobile Device Management is a powerful tool and offers it a better way to control and configure devices, along with adding in additional layers of security and functionality as per their requirements.
However, where MDM offers favourable operational activities, there can be scenarios it ends up causing more harm than good. In certain situations, there might arise a need to access a feature, website or install an app that is restricted through MDM, but is essential for the task at hand.
While many may (including the organization's policy) state that contacting the IT department or seeking proper management approval is the right way to amend MDM restrictions for the specific device(s). Factors such as time, loss of password or inability to contact the supervisor or IT department can come into play. For circumstances where delays can lead to loss of business, waiting may not be an option.
A worst-case scenario, one may find that the personal iPhone or iPad they bought belonged to an organization previously and the MDM is still in place. This means that the management system is a pure hindrance and just needs to be deactivated permanently.
Bypassing MDM to Gain Functionality
Restrictions and passwords to gain use of iPhones and iPads can be frustrating. There are ways to remove the MDM completely, such as a hard resetting the device. Yet, this can come at a cost of complete loss of data. If the device is already inaccessible, requiring the user to input a password to unlock the device, there is no way to backup the data before the reset.
In situations where bypassing or removing MDM is essential, but without destroying data or leaving any trace, iMobie's AnyUnlock-iPhone Password Manager comes in handy. The software is designed to bypass the powerful restrictions, yet leave the device and data intact.
There are other ways and software in the market that claim to offer the same services as AnyUnlock-iPhone Password Manager, but they fall short as iMobie's service does not cause a jailbreak, but instead creates a workaround the MDM's restrictions.
This gives iPhone and iPad users the advantage of gaining access without violating their organization's rules and (more importantly) angering people over at Apple Inc.
iMobie's software has other advantages too. With the latest iOS updates and versions pushed onto Apple devices, many MDM password cracking and bypassing software have been locked out as the methods employed have been patched up. iMobie, on the other hand, has kept its methods updated and its AnyUnlock-iPhone Password Manager can be used on iOS 15 and even 16 in three easy steps.
All these capabilities of AnyUnlock-iPhone Password Manager is bound to give an impression that the software is extremely powerful and to use it properly may require complex steps and operations. Yes, the software provided by iMobie is powerful and extremely advanced, yet it has been designed to be user friendly.
How to Bypass MDM Using AnyUnlock-iPhone Password Manager
It is fairly easy to bypass MDM on Apple devices. All you have to do is to follow the instructions: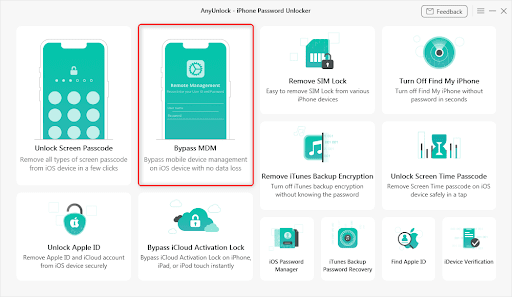 1) Download AnyUnlock-iPhone Password Manager from the official website. Select Bypass MDM option to proceed.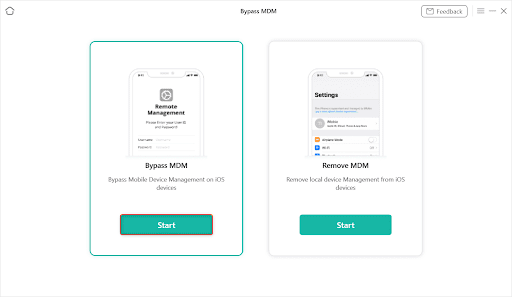 2) Reset your device and connect it to the computer. Follow the instructions on your iPhone or iPad until you reach the remote management screen. Select the Bypass MDM option in the software if you want to access complete functionality without permanently removing MDM.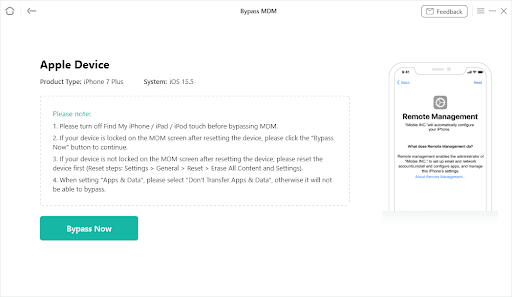 3) Read the instructions carefully and then click the "Bypass Now" button.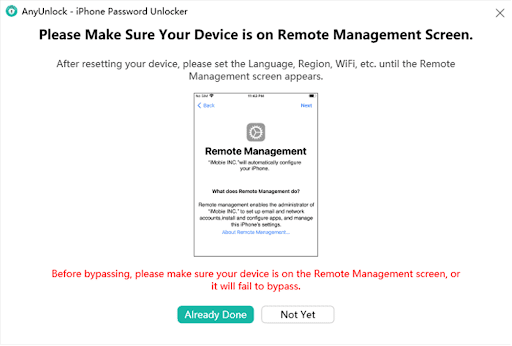 4) The software will ask for a final confirmation to ensure that the iPhone or iPad is at the remote management state. Press "Already Done" to proceed or "Not Yet" if you forgot to.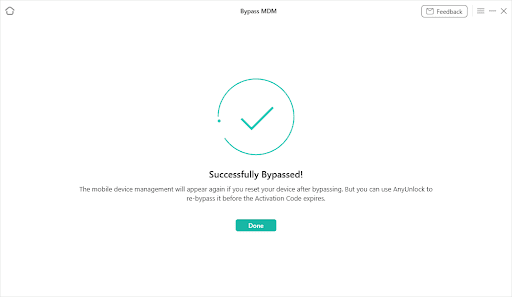 5) Sit back and let AnyUnlock-iPhone Password Manager work its magic. It takes only a few minutes and when done, you will see "Successfully Bypassed" on the screen. You have now full access to your device.
If you want to restore the MDM, simply reset your device and it will be re-activated.