How to remove background online free? Give it a try with Remove-BG.AI
When browsing the internet looking for a tool to remove background from photos, I noticed that Remove-bg.ai is a new yet impressive tool worth your try. Its AI technology is able to correct mistakes that people usually make when editing backgrounds for photos manually. It also stands out from the crowd thanks to great built-in features.  In this blog, let's explore how to remove background online free with remove-bg.ai.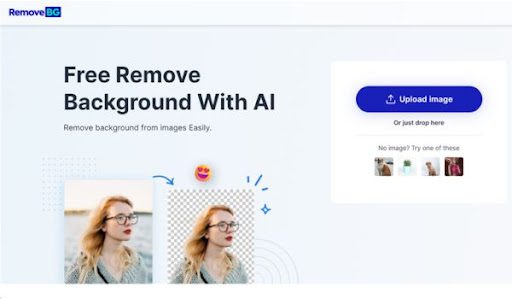 Remove-bg.ai is specially designed by a professional IT and designer team with the main function: remove backgrounds online for free. Before learning how to use it, let's see what makes remove-bg stand out: 
A free online background remover
There are numerous options out there to remove background for images like using Photoshop, Snapseed, Canva, or even right on iOS 16 phones. Each option has its own pros and cons. However, people are prone to preferring something convenient. Therefore, free online background removers like remove-bg.ai are such a great choice. 
With remove-bg.ai, people can easily create transparent photos on any smart device, whether a smartphone, laptop, or tablet—no need to install any applications. As long as you have an internet connection, you can visit the website and remove the background for pictures as easily as 1-2-3. 
AI technology is excellent 
Artificial intelligence technology is the heart of this background remover. By deep learning from millions of pictures, Remove Bg AI can analyze an image automatically to detect objects and then eliminate complex backgrounds in seconds.  It can identify faces, hair, and fuzzy edges with incredible precision. The AI is even smart enough to fill in missing details once the background is gone. 
If you need a tool that can give natural edges after removing the background, remove-bg.ai won't let you down. 
Totally free to use 
While other tools are trying to convince users to buy their pro plans, remove-bg-ai is totally free. It allows you to upload images to edit and then download them in HD. You can provide as many pictures as you want to erase the background online. 
How to remove background online free?
In just a few quick steps, transform photos by erasing and replacing backgrounds. Tedious manual editing is eliminated thanks to innovative AI. It does the hard work for you, saving huge amounts of time and unlocking new creative possibilities.
Step 1: Select an Image
Start by choosing a high-resolution photo with a distracting or undesirable background. Portrait shots, product photos, and other images with busy backdrops are prime candidates for background removal.
Step 2: Upload to Background Remover
Open your preferred background remover app or website. Leading options leverage powerful AI that utilizes deep learning algorithms. Simply upload or drag and drop your photo.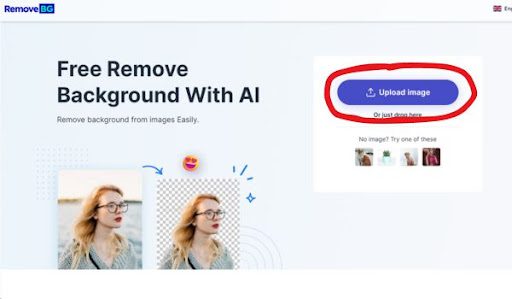 Step 3: Let the AI Remove the Background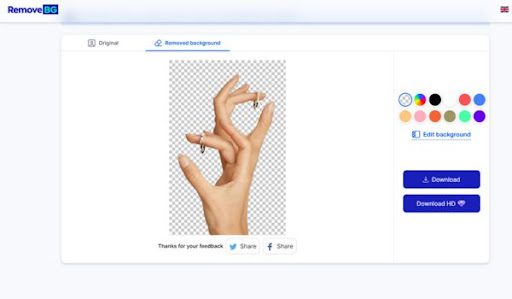 After the picture is uploaded 100%, the artificial intelligence automatically detects and erases the existing background, leaving just the main subject.
Step 4: Retouch the background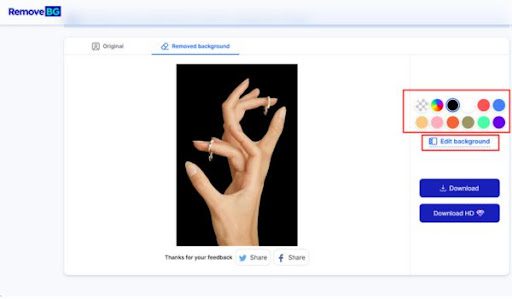 Change the background for the image
Use built-in editing tools to further polish the image. Replace the blank background, adjust lighting and shadows, crop, add filters – customize to your liking.
Step 5: Download the Photo in HD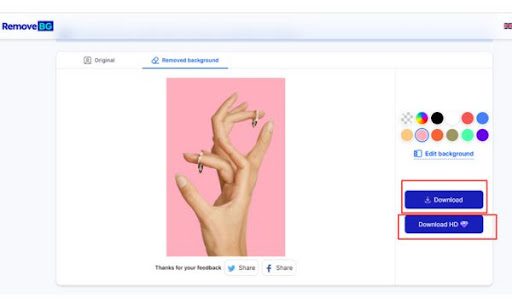 When satisfied, download the edited photo in PNG format to retain transparency. This allows you to easily overlay the cutout subject onto new backgrounds.
Examples of other removed background photos
Take a look at some examples of how Remove-bg can do with complicated pictures in removing bg and how you can take advantage of it in daily life and work. 
1) Remove and edit backgrounds for product photos
If you are selling a product, remove-bg.ai is a good editor to help you remove backgrounds for product photos, change to new backgrounds and then post on the website or social media. 
2) Remove and change backgrounds for daily pictures
Perhaps, you should test it with a more complicated image.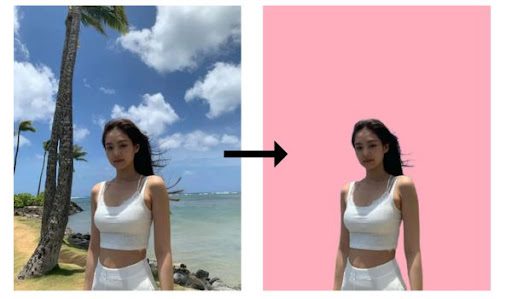 Though the final result is not 100% perfect, you see how AI of Remove-BG try to keep the hair of the women. 
Conclusion 
Taking advantage of AI tools to edit photos online is beneficial. Not only is it convenient and time-saving, but it also saves you a lot of money. But nothing is better than you can test remove-bg.ai on your own. Therefore, head to its website right now and drag some of your pictures to see how it works.