DroidKit was created as an Android data recovery tool, with features that have supposedly distinguished it from other similar solutions on the market. As expected, the tool, which runs on the Windows and Mac operating systems, has continued to garner traction and while some users have showered it with tons of accolades, others have picked out some of what looks like its cons. Regardless of the position, the quality of DroidKit as an android data recovery solution cannot be disputed.
Overview of DroidKit
There has been an increasing number of users of smart mobile devices, with the increasing sophistication and versatility of such gadgets making them even more important in the digital era. One of the major challenges faced by the over 2 billion users of smartphones in different parts of the world is recovering their lost data. Over the years, several tools have been developed to help people recover their lost data, with the data recovery market growing to become a multi-billion-dollar market. Unfortunately, many of the available solutions do not effectively address the concerns of users, which is where the developers of DroidKit are looking to make a difference with their comprehensive data recovery solution.
DroidKit was developed to cater to the diverse needs of users, with an innovative Quick Recovery technique that offers a fast scan of the phone's storage while salvaging information on the device, including photos, WhatsApp chats and files, messages, contacts, and up to 13 types of essential data. One of the most unique features of the user-friendly tool that supports all android phones and tablets without requiring users to root their device. DroidKit also allows users to remove the lock screen, bypass FRP lock, and fix all Android system issues.
Types of Data Recovery Modes Supported By DroidKit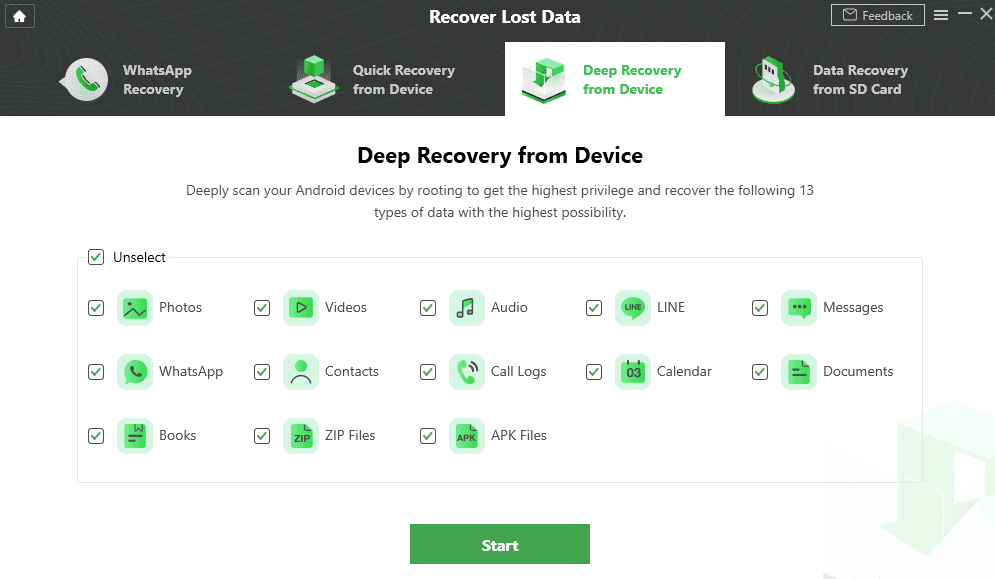 Quick Data Recovery Mode
The quick recovery mode is one of the uses of DroidKIt, allowing users to quickly recover their lost data with relative ease. One of the benefits of this mode of data recovery is that it does not require rooting the device and can be used on all android devices. However, a drawback to the mode is that a limited amount of data can be recovered using this mode.
Deep Data Recovery Mode
As the name suggests, the deep data recovery mode offers a more comprehensive functionality as it allows users to find more data while also supporting all Android devices. However, the mode's major drawback is that it requires the device to be rooted. The mode is built on an unparalleled NO-DATA-LOSS technology, ensuring the highest success rate in retrieving lost data with an in-depth scan covering every corner of the device to find all the deleted data.
How To Recover Deleted Files from Android without Root Using DroidKit
Download and install DroidKit and then launch it once it's installed. Also make sure your device is connected to your computer.
Select "Quick Recovery from Device" on the main screen

Select the type of files to recover and then click Start

Click Next and wait for DroidKit to scan the device

Once the scan is complete, a preview of all the files that have been recovered will appear

Select the desired files and then click either "To device" (for phone backup), "To computer" (for Windows users), or "To Mac" (for Mac users)

Choose the file formats and path of recovered data and click "Confirm"
As part of the goal of helping users of android devices, iMobie also offers tips and helpful information on how to unlock devices, with a recent post detailing how to unlock a Samsung phone. In a related development, iMobie recently launched a contest challenging users of Android devices. Tagged DroidKit Revives Android Contest, the challenge requires participants to share their experience using android and what makes it their preferred operating system with winners getting a Samsung Galaxy S21 and DroidKit License.
For more information about DroidKit and other products from iMobie, visit – https://www.imobie.com/.