The hard drive is very important to computer users because it stores important data. Be it an external hard drive or the computer's internal hard drive; formatting erases the existing data stored on it. However, it does not mean that you cannot recover data from formatted hard drive. With data recovery software, you can recover files from your formatted external or internal hard drive.
This is a position you would like to avoid. Suppose your precious hard drive has been formatted, and you can no longer access your data. Perhaps the drive was inadvertently formatted, or it may have been done intentionally before you realized that you needed the files that resided on the drive. In some circumstances, you may have formatted to change the file system, encountered problems, and now need to recover files from the formatted hard drive. But don't worry, below we introduce the best formatted hard drive recovery programs to help you recover data from formatted hard drive windows 10.
Part 1: What happens to your data when you format them?
First, let's understand what happens when you format your hard drive and whether it is possible to recover formatted hard drive. The fact is that when you format a hard drive, the operating system removes logical access to the data. In other words, the data still exists on the hard drive, but the operating system does not have the correct pointers to access it.
Part 2: Why you Need to Format your Hard Drive?
Most causes of hard disk data loss are physical, but sometimes data may be lost due to mere human error. For example, formatting a hard disk without backing it up can result in the loss of valuable data collected over the years. Here are some common reasons why hard disks fail and need to be formatted.
Mechanical failure may result in the corruption of files or folders on the hard disk, making them inaccessible. Alternatively, a black screen may appear after the start-up screen.

Poor CPU fan ventilation may cause the hard disk to crash. If this happens, you may hear clicking noises coming from the device.

When a computer or laptop shuts down suddenly due to a power surge, some files may become corrupted, and the hard disk may fail. Malicious programs can also spread viruses in the system, which can further corrupt files.
Part 3: How to Recover Data from Formatted Hard Drive in 3 Clicks?
Tenorshare 4DDiG data recovery software is the most dominant formatted hard drive recovery software; it can easily recover your hard drive and get your lost data back. It can access the drive and retrieve your formatted data back safely and effectively.
Feature of 4DDiG
4DDiG supports all types of external and internal drives.

It is easy to use, and anyone can restore files in minutes.

It can recover many different files, including office documents, RAR/ZIP compressed files, videos, and photos.

The application allows previewing of recoverable files before performing a lengthy recovery scan.

Tenorshare 4DDiG recovers dangerous data such as virus-infected files, corrupted documents, and accidentally deleted information from an empty recycle bin.
How to Use 4DDiG Data Recovery Software?
4DDiG is very easy to use. With a few easy steps, you can recover any internal or external drive data.
Step 1
First, you must download and install 4DDiG on your computer. After installation, open it. Several options will appear on the screen. Choose any drive that you want 4DDiG to start look for lost files.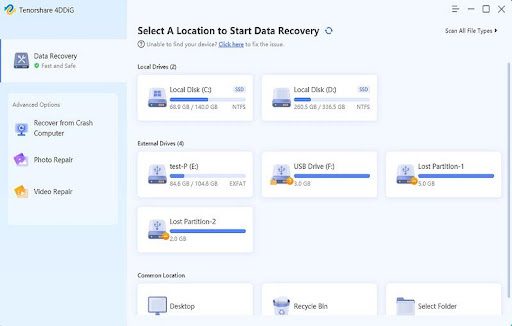 Step 2
4DDiG will begin scanning the selected drive or folder. Wait for some time t complete the scan process; you will see the lost files, existing files, and files in the lost location. You can pick the ones you like to recover.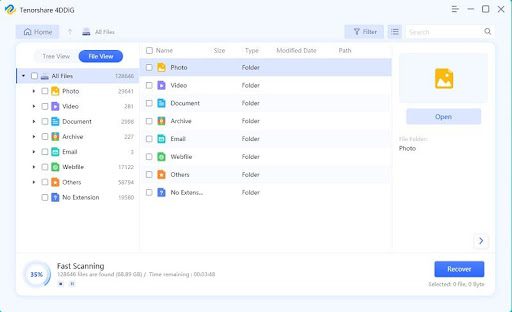 Step 3
4DDiG will begin the recovery process. It will recover the files you have selected. Now, you have the option to save any file you like. You can choose the desired location.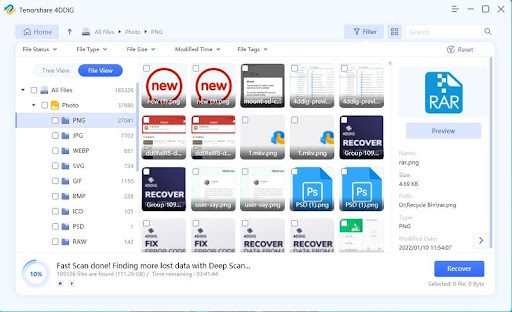 Bonus Tips: How to Formatted Hard Drive Safely?
No matter why you decide to format the hard drive in your Windows PC, for example, your partitions have been ruined by a virus, and you want to wipe them out from your PC, or you want to try to delete all your data inside before upgrading to a bigger one, you can try the following two methods first.
         1. Format with Disk Management
right-click from your mouse "This PC" on the desktop and select "Manage".

In the pop-up window, select "Disk Management" under "Storage" on the left side.

Now, all disks, partitions, and information will appear on the right side. Right-click from the mouse on the partition you want to format and select "Format."
       2. Quick format
To format the drive in Windows:
First, connect the drive and open Windows Explorer.

Then, right-click on the drive and choose "Format" from the drop-down menu

Select the file system you want, name the drive under "Volume Label", and make sure the "Quick Format" box is checked.

Click "Start", and the computer will reformat the drive.
Conclusion
After reading this article, you might have a clear idea of what formatted does to your hard drive, and why we need to formatted our hard drive sometime. Moreover, if you are looking for a way to recover data from formatted hard drive, then Tenorshare 4DDiG is your second to none choice to recover data from formatted hard drive.