Many people view video editing as a herculean task. They feel as though the barrier to entry is very high. The combination of the necessary technical skills, as well as the prices of top of the line software, can definitely have that effect, but it doesn't have to. There is a bunch of different software out there for you, like Movavi Video Convertor and FonePaw, to help you bridge the gap. 
Get Rid Of Parts You Don't Want
One of the most effective ways to begin editing your films is to clip away any unnecessary segments. That can include sections of your gaming videos that have technical difficulties or are simply boring and include little action. After all, you want to entertain and thrill your viewers. Focus on the things that show off your skill and cut out the irrelevant bits.
Most video editors like Leawo or WinXDVD make it simple to remove portions of a video from the final product. Some will allow you to split your movie in order to isolate and erase the sections you don't want, while others will require you to select the start and endpoints and then cut everything outside of those points.
In a nutshell, this is an excellent method for editing your video to make it shorter and more focused on the vital sections while also eliminating elements that you may not want your audience to watch.
Fit Your Clips Together
As soon as you've finished cutting your film, you should start experimenting with splicing different clips together. Both activities are essential to video production because they together form the cornerstone of the industry. This is why you should take notes about which clips you think will go well together when you're cutting it, so you have a handy reference sheet during the splicing process.
When you begin to put the footage together, you will be able to produce significantly more varied gaming movies. Furthermore, it will allow you to make shorter videos that may be mixed afterwards – which is often a lot easier to do than it is to record longer takes.
While putting videos together is typically only a matter of putting one clip after another, you need to take into consideration the style of cut and the transition between the two clips while putting them together. To make transitions as seamless as possible, it is important to ensure that the audio or video does not appear disjointed during the transition.
Pick A Proper Overlay For The New Video
Despite the fact that this is a little more difficult, including an overlay is a popular method of editing game footage. To put it simply, adding a video overlay will allow you to place an image frame on top of your video, which will include entirely separate video material.
In gaming videos, it is generally used to insert a frame that contains webcam video footage that was captured at the same time as the game footage itself. You can see his technique nowadays from most streamers, who use an overlay to show their faces to their audiences. This allows them to emote and connect better to their fans while also giving proper and unfiltered reactions.
Being able to employ this effect has the advantage of allowing you to capture the webcam video and the gaming footage in separate sessions. It should also allow you greater control over the positioning and appearance of the video overlay itself. This is wonderful because it really makes you connect with your viewers better and makes it feel like two-way communication.
Which Software Should You Use?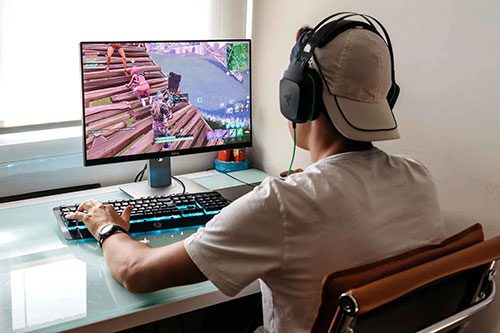 This is the most contentious question because nobody really knows when starting out which editing software is for them. In this section, we will make some recommendations about the software you should consider.
Movavi
Movavi makes professional-level game video editing quite simple, thanks to its clean, user-friendly interface. Although simple, the interface is not bare-bones, and it contains a robust set of functions. In addition to these features, it allows you to make transitions, split and trim videos, and record voice-overs, among other things.
The difficulty, though, is that many of the advanced features are gated, which means that if you want to use them, you'll need to subscribe to one of the company's expensive subscription plans.
VSDC
VSDC is a completely free video editor with a focus on supporting expert users. It is available in English and Spanish. It comes with a huge laundry list of features, including 4K support, picture in picture, and chroma key, among others. However, along with its fantastic functionality comes a less-than-stellar user experience.
In addition to having an unconventional layout, the editor also hides far too many functions in sub-menus. Furthermore, there is no way to view a video preview in full-screen mode. While these aren't deal-breaking faults, given that it's a free tool, you'll still find a lot of utility in the advanced capabilities that are common to heavy-duty editors like Davinci Resolve and Adobe Premiere Pro.
Filmora
With over 100 transitions, 12 types of effects, a green screen tool, and picture-in-picture effects that you can resize straight from the preview window, Filmora is without a doubt one of the best video editors for video games available. It is also free to try out.
Filmora includes many of the same capabilities as Movavi, but it goes a step further and enables more fine-tuning for beginning editors. There is a free trial available, albeit it comes with some restrictions, such as watermarked exports.
Conclusion
Though the world of video editing can be a tricky one to navigate, with good software and a set of skills you are willing to work on and expand, you will be making professional-level videos in no time!