What Is Press On Nails?
Press-on nails are a popular and cheap way to get that salon look without actually going to the salon. They're also really easy to do yourself in the privacy of your own home and can be a rewarding new business opportunity.
In this article, we will teach you how to start a press-on nail business and discuss the costs, marketing methods, potential earnings, and the necessary equipment.
See more most popular nail designs – coffin purple nails
About Press On Nail Business
If you are looking to start a new business, you may want to consider starting a nail business. Popular types of press-on nails include the plastic set and acrylic nails. To learn more about the different types of press-ons, check out our other articles here on our blog!
How To Start a Fake Nails Business?
To start a press-on nails business, you will need to purchase all of your materials in advance.
Recommend starting with 100 nails set per order minimum if possible so that you don't run out of inventory too quickly. When you're just starting out, you may want to use a lot of this first-order to practice. It'll leave you room for mistakes while you perfect your craft.
When you're ready to make your product available to the public, you'll want to start by perfecting your style and artistry. Word of mouth will lead to larger orders from suppliers and marketers, as well as taking care of any sales. You can start marketing early on by buying ads or word-of-mouth advertising before or during the production process.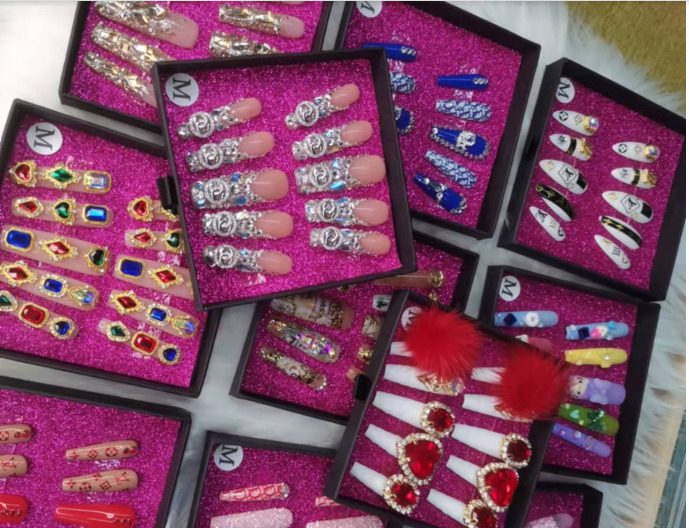 What Materials Do You Need?
To start a press-on nails business, you will need to purchase some pre-made press-on nails in order to get started. You can easily find these online through stores like Dreamall which provide wholesale press on nails.
Pre-made nail sets can come in a large variety of price points, which can vary from a few dollars to over $30. This will largely depend on the quality and quantity you need for your business. Just like any DIY project, you will want to purchase glue and the materials needed to actually apply nails. This includes a disposable operation table, nippers, nail polish remover, and buffering pads.
We have a variety of press-on nails in different colors and sizes. These can be customized by using different nail polish colors, different accent nails for events like Halloween, or even press-on tattoos for things like summertime.
How Much Does it Cost to Start?
Starting a press-on nails business? On average, you'll need around $500 in materials and initial inventory to get started. This includes everything you need! You can find pre-made nail kits and purchase them in small batches or in bulk. You can buy a few bottles of nail polish for relatively cheap as well. Depending on your style, stickers and other craft materials can be purchased from an online store.
The industry is really competitive and there's a lot of variety, so it would be advisable to start out with cheaper products. That way, if you aren't sure which direction you want to take your brand in you won't waste expensive stuff. Once you know what works for you, then upgrade accordingly.
How Do You Price The Nails?
Before you set the prices for your nail sets, remember that it costs a lot of money to purchase everything from nail supplies to different designs and personalization
Press on nails is a popular option, depending on the design and quality. They start at around USD 20 and can go up to $50 – but they're not very personalized and don't have your artistic touch in them.
It is always a good idea to see if anyone in your area is already doing press on nails and make your prices competitive. You also want to pay attention to indirect competition, as they might undercut your prices and undervalue the work you are offering.
If somebody were to get press on manicures, how much would this cost? If you want to provide a better value for less cost, you're well set up for success.
What Certifications and Licenses Do You Need?
When you're hiring a nail technician, it's not a requirement to be licensed as one yourself. You make the call on the style and décor of the nails you want.
However, if you want to go into the nail business yourself and avoid much of the hassle of licensing, it's worth considering a nail tech license. In Michigan for example, 400 hours are typically required for this license and encompasses both hands-on training in addition to coursework.
If you're interested in applying nails yourself it may be worth looking into working at a nail salon. You may even be able to sell some of your press-on nails on the job if you can work something out with your salon owner!
In order to work legally, your business would need the proper credentials with the state. For example, a business license or an LLC would make your job much easier. You should also make sure that you do your research for registering with any local ordinances. They can vary from place to place and are usually made clear on the municipal website.
How do You Market Your Press On Nail Business?
Your friends, family, and word-of-mouth are likely the best ways to market your press-on nail business. Additionally, looking for referrals and reviews will have a positive impact on your success.
Partner with Local Salons
Most cities have at least one or two nail salons and it's difficult to stand out. Offering to create custom nails could be the thing that sets you aside from the rest. Providing press on nails could enable them to instantly expand their clientele and attract a new type of customer.
However, nail salons may not be willing to pay you as much as you'd like- so negotiate with them and don't settle for less than the amount of money you want to make.
Catch Wedding and Prom Seasons
Custom press on nails can be a fantastic addition to any outfit, especially for the upcoming wedding season. Local nail salons offer these types of nails and you should reach out to them as soon as possible.
Proms are a big nail art opportunity and since prom attendees want something unique and hard-to-find, you'll have the chance to create some really unusual designs. That might mean you reach out to people who want something no one else has.
Use Social Media
Running a business that deals with social media can be difficult, but it's also a great way to get your work out there. If people like what you're posting -you'll gain customers fast. However, if you're planning on expanding your efforts – it might cost you more money.
See also: How To Start A Press On Nail Business
Conclusion How To Make Press On Nails To Sell
There are many different ways you can make money from your nails. You can do it by yourself and make a profit, or you can work with someone else and get a cut of their profit. With the right tools and materials, you will be able to make these nails for yourself or for your customers. If you do not know how to make it and you can purchase it from wholesale vendors.