If you're an avid photographer and looking for a way to extend your earnings, then Shutterstock is the best place to start. Thousands of licensed artists and photographers work on this platform and earn 15%–40% commission on their work.
However, you can follow the same path and earn a decent amount of cash with your creative photography work. It's simple: create a Shutterstock contributor account, organize your profile, upload your work, and get paid.
Whenever anyone purchases your work, you'll get a commission, and Shutterstock offers 6 different levels for paying the contributor. Does the whole process seem a little complicated? If so, follow this article to get comprehensive guidance.
What Makes Shutterstock Stand Out From Others?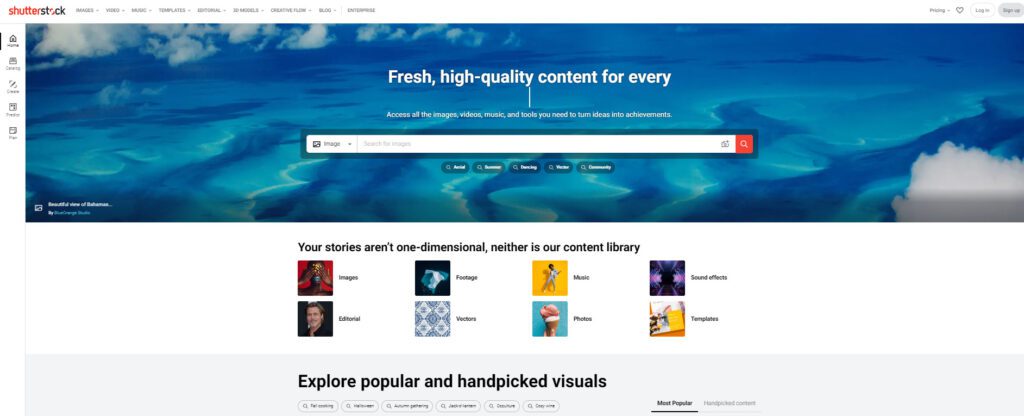 When it comes to making money with stock photography, you will find many platforms, but none of them come close to Shutterstock. What is that, and what makes this platform different from the rest?
If you look at the definition of Shutterstock, you can find many definitions, but quality and royalty make it stand out. This platform's main goal is to connect digital creators and buyers to achieve successful deals.
Its working mechanism is straightforward: upload your work, and you'll earn a commission every time someone buys it. Once you start uploading good-quality photos, videos, and other available works and earning money, there is no going back.
How to Make Money on Shutterstock?

Making money on Shutterstock is not difficult, but many people find it difficult due to the lack of proper guidance. However, you don't have to go through the same condition. I'm going to show you the process to start your Shutterstock journey.
Here, I'll classify the whole process into four levels, including:
Account Creating & Organizing Process
Upload Your Work
How Much You Can Earn
How To Increase Your Sales
These four steps will be good enough for you to start your Shutterstock earring journey. Check out the section below to learn about them in detail:
1. Account Creating & Organizing Process: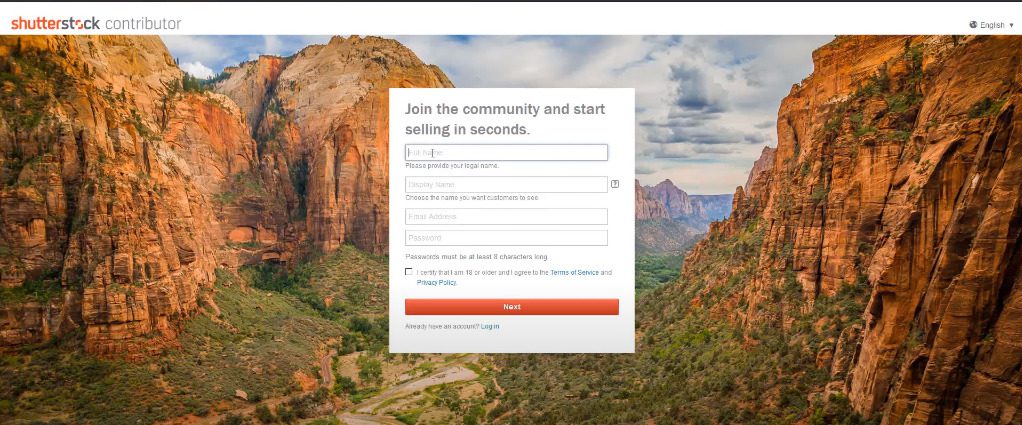 Creating a contributor account is really easy. All you have to do is follow all the following steps:
●     Visit Contributor Webpage:
Visit the contributor's homepage and create an account with your name, email, and password. Then verify the given email address and carefully enter your full address and other requirements.
●     Go To The Dashboard:
Now, when you see the "Welcome to the Community" window from there, click on Go to the Dashboard. Here you have to organize your profile and make it 100%.
●     Fill Up Your Public Profile Information:
Go to the "Public Information" option from above and fill out all the information that appears on your screen. Fill out all of the information carefully, and double-check that you've given your website's name properly.
Once everything is done, tap on "Save Profile" and you're done.
2. Upload Your Work:

After you've provided all of your information, you can begin uploading your work. Here are the uploading requirements that you need to follow while uploading different works:
When it's about photos, you can only upload JPEG files. The image file needs to be at least 4 MP and a maximum of 50 MP in size.
You can upload a 5- to 60-second video, and the file needs to be MOV or MP4.
And you can upload a maximum of 100 EPS files, and the files need to be compatible with Adobe Illustrator 8 or 10.
When uploading your photo, make sure to add details like the image type, add a description to each image, and don't forget the category. Most importantly, add keywords from the provided suggested keywords. You can add up to 50 keywords in each image.
Note: Once you've successfully added all the details, submit your work for review. And if you fulfill all the criteria, then your work will be approved within 5 days.
3. How Much You Can Earn: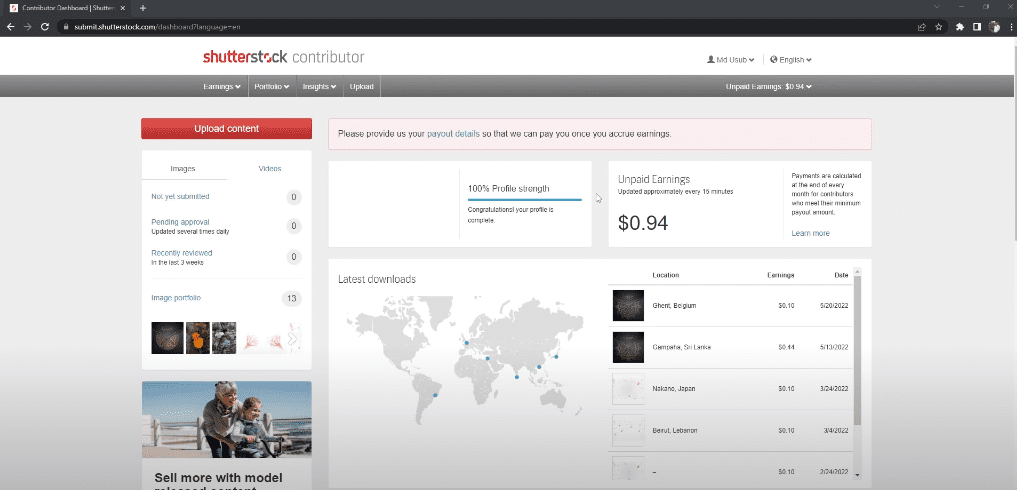 Unfortunately, you won't get paid based on views, and you will only be paid based on purchases. However, for photos and videos, you get six different income tiers. Such as:
How much you'll get paid for the image:
| | | |
| --- | --- | --- |
| Level | Number Of Image Licenses In A Calendar Year | Your Commission |
| Level 1 | Up to 100 | 15% |
| Level 2 | 101 to 250 | 20% |
| Level 3 | 251 to 500 | 25% |
| Level 4 | 501 to 2,500 | 30% |
| Level 5 | 2501 to 25,000 | 35% |
| Level 6 | Over 25,000 | 40% |
How much you'll get paid for the image:
| | | |
| --- | --- | --- |
| Level | Number Of Video Licenses In A Calendar Year | Your Commission |
| Level 1 | Up to 10 | 15% |
| Level 2 | 11 to 50 | 20% |
| Level 3 | 51 to 250 | 25% |
| Level 4 | 251 to 5000 | 30% |
| Level 5 | 5001 to 25,000 | 35% |
| Level 6 | Over 25,000 | 40% |
You can also add US$0.04 per image and 10% per video with your provider referral link. Plus, if anyone purchases from Shutterstock through your referral link, you'll get 20% and up to US$ 300.
Note: You can withdraw a minimum of $35, and you can withdraw the money through PayPal, Payoneer, or Skrill.
4. How To Increase Your Sales:
In the beginning, it can be super tough to make sales; therefore, following proper tips is really important. Here are some tips that you can follow:
●     Use The Proper Keyword:
People will find out about your photo or video work through a keyword or title. So be very careful while using them, and always try to maintain their relevance.
●     Upload Trending Content:
You can easily sit on the hot seat if you upload trending content before anyone else. Therefore, always try to analyze trending news, so you can take the first dive.
●     Keep Your Work Content Quality High:
Always try to keep your content's quality high. People will not like low-quality content, which will make all your work worthless. So make sure to perform a high-quality edit before uploading your work.
●     Learn About Shutterstock Users:
Learn what people want from Shutterstock and what topics they are interested in. In that case, you can take help from several free or premium tools.
●     Licenses
Last but certainly not least, try to go for licenses, and there are many types of licenses. The best thing you can do is go for an "enhanced license," which will let you earn more than any other type of license.
Note: If you're serious about Shutterstock, then it's a good idea to do your own research to find out the perfect method to increase your sales. There are lots of sites like gottapics.com, which are sharing tips on this topic.
Final Views
So, what's the conclusion? I think now you have a pretty good idea about Shutterstock and know how you can earn. Make sure to create the contributor account properly, and follow the proper uploading method.
Also, follow the tips and techniques that will help you increase your sales on Shutterstock or any platform. Another good tip you can follow is to try to figure out what type of photo or video sells best on Shutterstock and work on that particular niche.