If you're looking for a "side gig" or just want to make money online working remotely, Fiverr is a platform you need to explore.
Thanks to Fiverr, you can offer freelance services and connect with millions of potential clients on one platform!
This article will help you land your first contract (and more!) on the site and make money on Fiverr.
What is Fiverr?
Fiverr is an best online platform where freelancers can earn money by offering various services. Customers can browse the online marketplace, find the freelancers they want to work with, and contact them.
How to sell on Fiverr?
Register as a Fiverr seller.
Think about the gigs you want to set up.
Create an attractive Fiverr profile.
Make a first attempt at setting up a Gig, then have someone in your industry review it and spot anything that isn't clear or compelling enough.
Refine your first attempt at creating a Gig with representative images, a clear title, a keyword-rich description, relevant search tags, and a helpful FAQ.
Set Gig requirements that aim to obtain all relevant information from the buyer to limit the need for revisions.
Acknowledge each order received, if only to keep your satisfaction rate high.
Set aside specific time each day to respond to customer messages and to work on Fiverr orders.
How to break through and get more customers on Fiverr?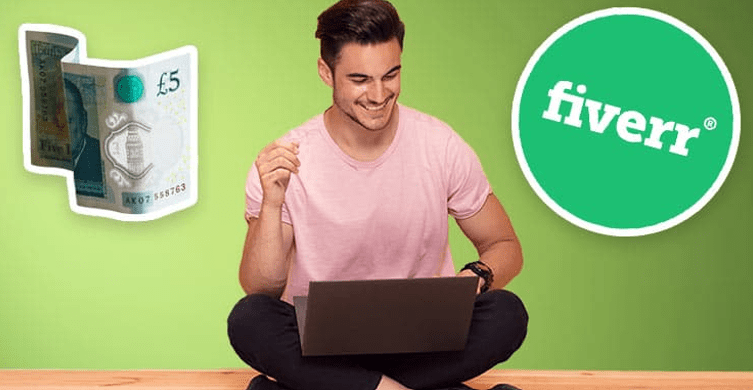 Fiverr is one of the biggest online marketplaces for freelancers, the competition is very strong. Here are some things you can do to maximize your sales on Fiverr.
1. Stand out with your profile
Your profile should be descriptive and detailed enough to keep buyers guessing. You can make your profile stand out by posting a professional photo or video detailing your services. We advise you to compare your profile to that of your competition to optimize it as much as possible.
2. Look for 5-star reviews
Consistently deliver high quality services on the platform to get good ratings from buyers. Feedback and reviews not only maintain your reputation on Fiverr, but also improve the ranking of your offers.
3. Create a Portfolio
Build a project portfolio that showcases your skills in a way that relieves clients of their worries about the work they need to do and lets them know you're up to it.
4. Create more gigs
For making money on Fiverr you need to create up to seven projects for different departments. More projects = more chances that a potential buyer will find you.
5. Optimize your profile and ads
Your project will compete with thousands of other projects on Fiverr, and buyers will have a hard time finding you. Using SEO strategies, like friendly language and keywords, increases your chances of selling more.
6. Ask for references
There is no better marketing than a recommendation from a satisfied customer. Ask your best customers to spread the word. If appropriate, you can even offer a discount or other incentive to each of their referrers who hire you.
 How to withdraw money from Fiverr?
When buyers place orders, they pay Fiverr. Once the order is completed, 80% of the funds are added to your account. Funds remain in a "pending" status for a period of 14 days. This delay is for financial processing and buyer satisfaction guarantee. When funds are marked as "cleared", they can be withdrawn.
Changing or adding your withdrawal method
Log in to your account, head to the sale menu. Then click on "Earnings". If you have funds available in the Available for Withdrawal balance , use 1 of 3 options to withdraw your funds:
Fiverr Revenue Card
Bank Transfer
Select the option you want to use. Follow the instructions to set up the withdrawal method, and make your first withdrawal.
Withdrawing your winnings
Login > Sale Menu > Earnings
Balance available for withdrawal > Different options for withdrawing funds:
PayPal, Fiverr income card, wire transfer and direct deposit.
Note: You will only see withdrawal options if you have money available in your balance.
What to sell on Fiverr?
1. Graphic design
If you're a graphic designer, Fiverr is the place to sell your services. If you design logos, apparel, or maps, consider creating a service on Fiverr.
2. Website development
One of the most sought-after website development services on Fiverr is for e-commerce. The best sellers charge anywhere from $10 for a simple task to $4,000-5,000 for a more comprehensive task.
3. Social Media Marketing
Social media marketing is one of the fastest growing businesses on Fiverr. Some of the tasks you will perform as a social media marketer include audience research, monitoring social media platforms and posting content on them, and creating campaigns.
4. Translation
You can also offer to give private lessons in this language and even to market products in this language. Top-selling translators charge up to $400 for a translation job.
5. Influencer Marketing
If you have a lot of social media followers, you can earn a good amount of money on Fiverr. Several companies and individuals are willing to pay you to advertise their brand on your social media channels.
6. HR Consulting
Human resources consultants perform a wide range of tasks, such as creating employee policies, hiring, and professional coaching. A single month-long consulting contract can earn you $2,000.
7. Writing texts
Copywriters are in high demand on Fiverr, which makes copywriting a lucrative business. As a writer, you might review products, write blog posts and website landing pages, or write books .