In a study done in 2019, researchers found that people with visual aids completed their work 15% faster than those without any visuals.
Indeed, charts and diagrams help us visualize complex data in a simplified way. They can also help summarize bigger data without leaving important info. However, the real question is, how to make a flowchart? In the following guide, we are going to cover exactly that. So, let's dive into the step-by-step process of making a flowchart with EdrawMax!
Introduction of EdrawMax
Edrawmax is an all-in-one diagram designing tool to help you draw charts of all types. Its user-friendly interface provides various features to create charts from scratch.
You can create approximately more than 280 types of charts and diagrams using EdrawMax. Whether a beginner or an expert, you can use the software to create mind maps, academic diagrams, organizational charts, and much more.
On top of that, this flowchart maker has a unique template library where users can upload their designed templates. Every day new templates are added, which you can use to make charts quickly.
Because the design is already-made, you only need to enter data and customize it to your preference. This way, you can take advantage of over 5000 pre-made diagram templates and personalize them with approximately 26,000 symbols.
Now, let's see how you can use these symbols and diagrams to make a flowchart in EdrawMax.
How to Make a Flowchart in EdrawMax
Making flowcharts on EdrawMax is super easy if you know where to find the right tools. You can create diagrams and charts from scratch on the web-based online version and the desktop program. However, you first need to be familiar with the supported flowchart diagrams on the tool.
Get Familiar With Flowchart Symbols in EdrawMax
A flowchart is a process where a unique shape represents a different step. Using these symbols makes it easier to understand a flowchart, and you can tell which step it is by just looking at the shape.
So, let's start by understanding various shapes available in EdrawMax and what they mean in a flowchart:
Start/End: This shape marks a flowchart's beginning and end.
Process: a process shape is used most of the time in a flowchart as it represents "action," one step at a time. It can be any instruction or an internal operation within the overall flowchart process.
Decision: This rhombus shape is used when there are more possibilities than one. It is used to make a decision and then proceed with the flow in both directions (yes and no). The more decisions, the more complex a flowchart will be as it slips the flow into different routes marked by a YES and NO.
Sub Process: The process shape represents one step of the whole flowchart. The sub-process shape is used if there are more steps within an operation. A small sub-process embedded into a bigger process can contain a series of tasks.
Document: this shape is a process step but catered towards documentation. It can represent the input/output of a document, like creating a report, receiving an invoice, etc.
Data: Also known as an I/O or input/out shape, this parallelogram symbol contains inputs to and outputs from a process.
On-Page Reference: This symbol has a letter inside it. It signifies that the flow continues on a matching symbol with the same letter on the same page.
Off-Page Reference: This symbol has a letter inside it. It denotes that the flow continues on a matching sign with the same letter on a separate page.
Flow Line: All steps in a flowchart are connected with arrows or flow lines which indicate the flow direction of a flowchart.
How to Make a Flowchart in EdrawMax?
Before you start creating a Flowchart, you should first make a rough draft on paper. You don't need to make specific shapes when drawing on paper. It's to get an idea to help visualize the software.
There are two ways to start making a flowchart.
You can go through the online library and select a required template. Go to the Templates section on the left sidebar to personalize an already-made template. Here, you can search for a template such as mind maps or org charts. You can also scroll and choose a template of your preference.

Now, let's see how you can make a flowchart in EdrawMax by following these easy steps:
Step 1: Add Shapes to the Canvas:
Now that you are familiar with all the flowchart shapes and have your idea roughly designed onto paper, you can start visualizing it. Click the symbol icon to open the Symbol Library. Here, you can find all the flowchart signs in Basic Flowchart Shapes.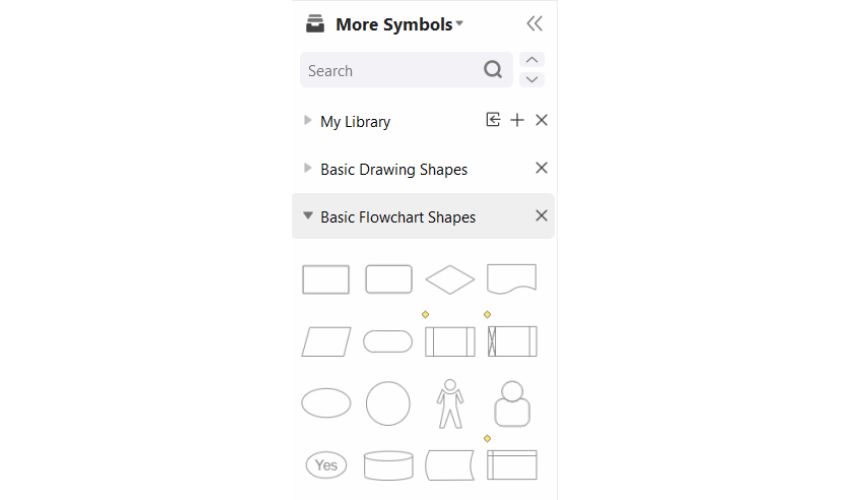 Drag and drop the shapes from the library to the empty canvas to create a flowchart, as shown below: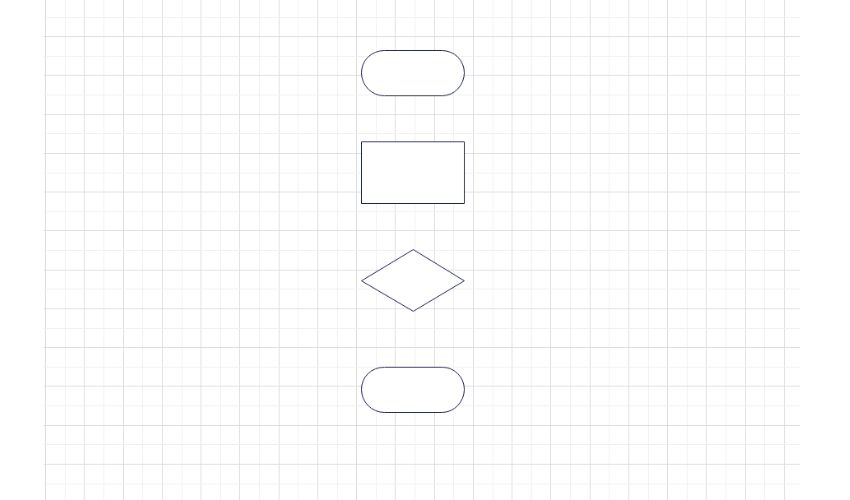 Step 2: Enter Data
Here, you need to go through the rough diagram you created on paper and enter data in your flowchart shapes. You can also re-design your flowchart if needed.
Step 3: Add Connectors Between Shapes
A flowchart represents a process using flow lines. So, you need to add arrows or "connectors" in your flowchart to connect one shape to another. You can select various types of connectors from the Advanced tab > Connector.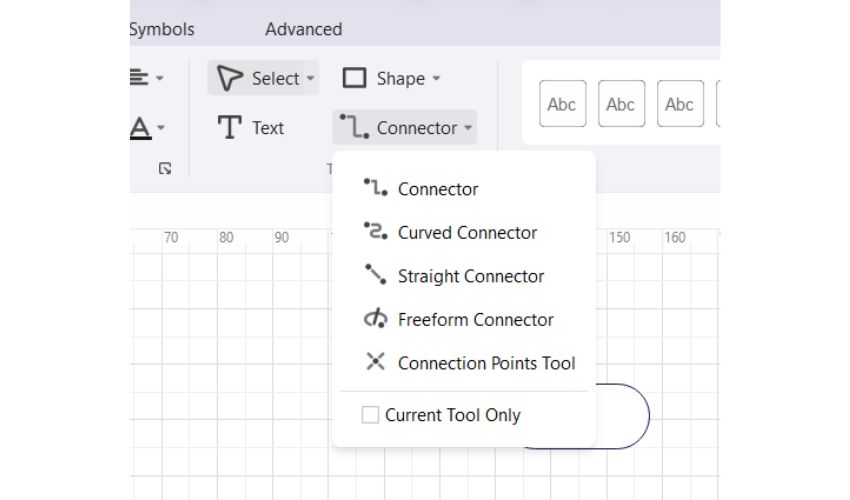 Add a connector between two shapes to create the flow in your chart.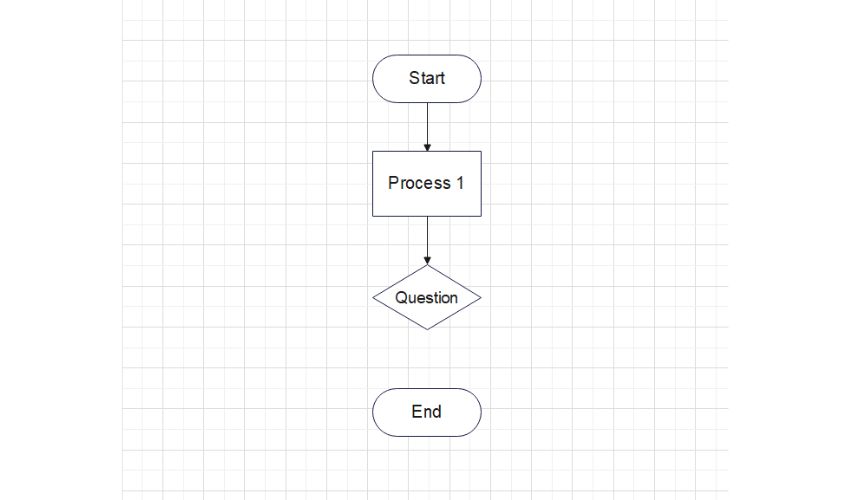 For the decision shape, the connector can automatically add a YES or NO response following the flow line's direction.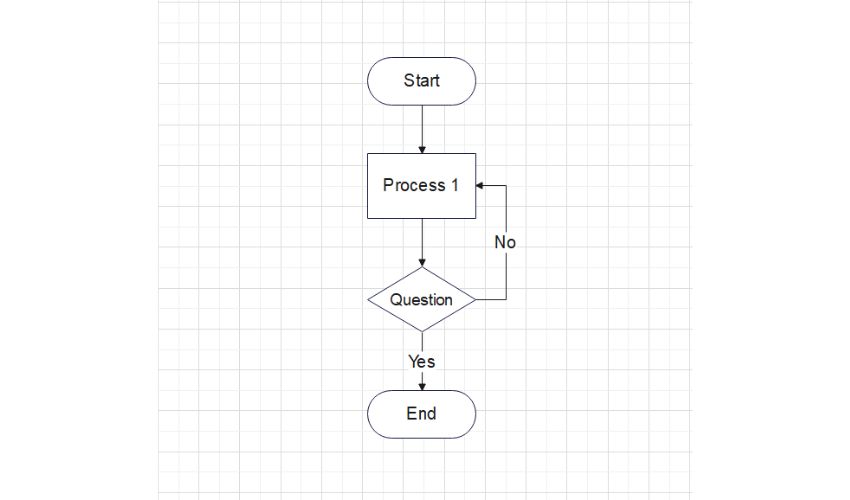 Step 4: Customize Your Flowchart
Lastly, you can customize your flowchart by changing its outline, formatting text or connector, or adding colors to the shapes.
For that, click on an individual shape, and you'll get all the options to customize your flowchart shapes: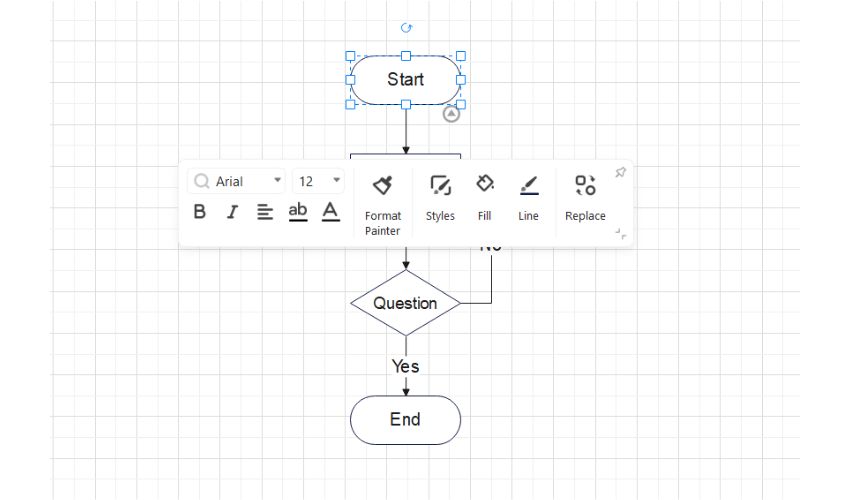 After customizing the shapes, your flowchart is ready!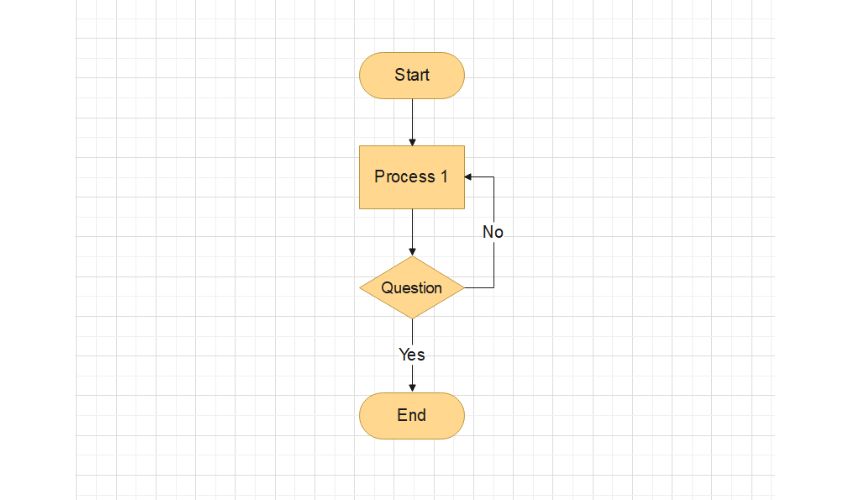 Conclusion
Creating a flowchart with EdrawMax is easy and straightforward. You don't need to master complex processes to create a diagram, as it is designed for both beginners and experts.
The best thing about the flowchart maker is its template library. You can find hundreds of ready-made flowchart templates and customize them how you want. You can also see a template's usage amount, favorite score, and page views.