This Parenting and Digital Technology Article from Angel, a writer from TheOneSpy, will teach you how to Keep Children Safe Online. It will also recommend to you some tools and resourse to help Keep Children Safe Online.
According to her, the world has been online for decades. Initially, it was a set of some parameters that grouped some organization. But with the passage of time, the online communities shaped it a huge web of global enterprises.
Since the beginning of 21st century, the world revolted to a new shape of online terminology. The prerequisites of the globalization got revised with this advancement. However, this development was pretty much swift.
The foremost transcripts of online communities were limited to sharing of particular information. Mainly it comprised the flow of business processes. By 2005, the world got some new perimeter. The "Orkut" World that was the initial portfolio to share your identity's Online. Although there had been some other ventures before that, the Orkut was first of its kind to share the complete portfolio of a person. Following its development, Facebook, Google Plus, Twitter, Instagram, Snapchat, Plaxo and some other profiles take a breath of inauguration.
Children and the Online World:
In the beginning, the adults were the main consumers of the online products. They were much into the chat campaigns run over GUI – fewer platforms, such as the mIRC. But it wasn't long when children jumped into the world of online conversation. The present day statistics reveal some different stories. Out of total users, children are the highest consumers of the online programs. 9 out of 10 children are well aware of the online world and use all the features on a whole.
A number of research centers reveal that 77% of the social media and other online product users are kids, aging between 10 – 17 years of age. The median of the range lies with the High School students. Relatively, the number of children online is increasing by every 8% each year, since 2011 and 10% after 2013. The smartphones and tablets have supported much of it.
How Much Safe is Online World?
You can't know of the threats that our children could face online. Deceptively, the online communities seem to be safe enough to go along. But in reality, there are much of frightening concepts that prevail in that world.
Excluding the concepts of social mediums, the web itself has grown to the extent of massive criminology. A casual search could get you to a number of explicit content sites. They mainly lure the children towards porn images and videos. And the worst of all is that most of such media is free. You don't have to pay to watch that stuff.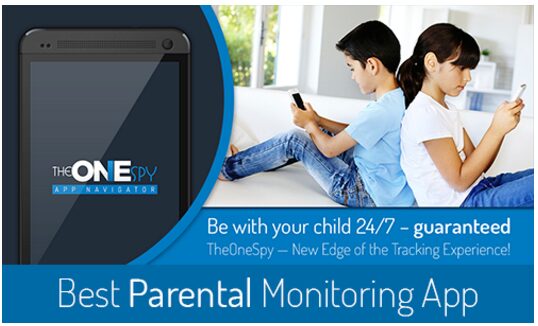 This drives the children to a number of other heinous activities. It's all a game of minds. That's why you would get the increasing figures of:
Child Abuse

Child Pornography

Sexual Harassment

Cyber Bullying

Cyber Stalking

Sexting

Raging
Among these, there is another mischievous activity that is massively found online. That is the Identity Theft that is mainly done to steal from your online bank accounts or to manipulate your credit card transactions.
How to Prevent Children from the Heinous Side of Online World?
It's not a hard job to perform when your kid visits offensive sites or view explicit content using his or her smartphone. Even though if you feel unsafe about your child's Facebook and Whatsapp usage, then it could be addressed easily as well.
All you need to have is a parental control system that could help you know what your children are doing online. The available system, such as TheOneSpy, isn't just the monitoring systems. These are the complete packages for the parents, which allow them to alter the device setting of their children remotely.
Apps like TOS allow the parents to:
Check all the online activities they children do

Lock and unlock the device, as per needed

Lock and unlock apps

Keep an eye on all of their Whatsapp activities

Keep on watching what they do over Snapchat
Besides these features, there are some other features that are offered by such apps. These are meant to keep the parent's tension free by keeping their children safe online. Indeed it's a world of digitalization, and parenting even requires much more out of it.
About Angela
Angela is a senior writer at TheOneSpy with proven blogging skills. She loves to write about technology, digital parenting and relationship issues and their solutions. Currently, she is working on kids monitoring software for android. Follow her on twitter @LatestTechBlog