As the go-to form to store data and transmit information, the PDF file is widely used due to its non-editable feature. Have you ever tried to attach a passport to a PDF file? Ask anyone who ever tried to re-edit a PDF document and add an image to a PDF for free, they will say It is not that easy. So this article is going to share some practical ways on how to insert image into PDF for free whether you are using Windows, Mac, or a mobile phone. 
All you need to prepare is to download a PDF editor. There are numerous PDF editors in the market, free, paid, secure, insecure, online, offline, and so on. We tried those with good reputations and some of the newly-released PDF editing software, and finally get the most ideal solution – WorkinTool PDF Converter to add pictures to PDF documents.
WorkinTool PDF Converter is a handy and all-in-one PDF editor, basically equipped with all the necessary or additional features people really need, by which you can insert pictures into PDF files, add text and annotations to PDFs, crop PDF pages, add a password to protect PDF files, and more. In addition, it also works as a PDF converter. With WorkinTool, you can convert PDFs to or from any format including Excel, PPT, Word, HTML, JPG and other image formats.
How to Insert Image into PDF with WorkinTool PDF Converter
Just with a couple of clicks in WorkinTool PDF Converter, you can add a picture to a PDF document instantly.
Install WorkinTool PDF Converter
Click the link above to free download WorkinTool PDF Converter. It is a handy tool, so you just need a second to download it.
After installing this PDF converter, find "View & Edit" and click on "PDF Edit" in the drop-down menu, then upload a PDF file. You can select a PDF file or drag and drop a PDF document here.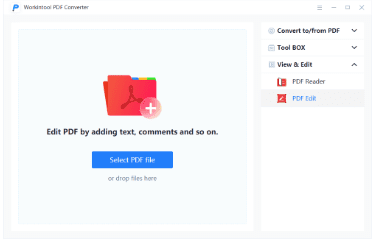 Select a PDF page on which you want to insert an image. Then click the image icon on the upper toolbar, and click on "Image" in the drop-down menu to upload a picture. (You can also add a stamp. All the stamp templates are free to use. In addition, you can create a custom stamp design as well)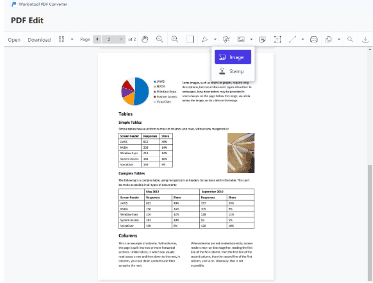 If you want to insert a picture into a PDF as an individual page, just click the file-like button on the upper toolbar and press Document Editor, then you can create a new blank page. After that, back to the image adding panel to insert an image as you like.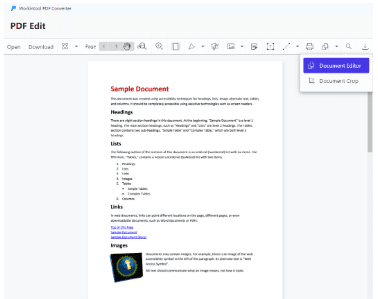 Adjust the picture and save the changes
Drag the corner to resize the image and put it in the correct place. You can also add a note to the image you inserted by clicking on the right-upper note button. When all the edits are done, click on the left side "Download" button or the "Export" button on the right side to save the PDF file.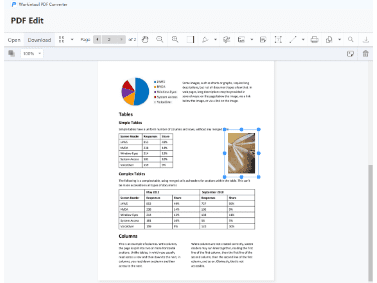 Bonus Tip
Workintool PDF Converter is a Windows-based PDF editor. What benefits it can bring to Mac users? Don't worry. It also has an online version. You can insert images into PDF documents for free online as well. Let's see how to an insert image into PDF online.
Click the link above to try the online version.
Find "PDF Editor" in the additional features.

Repeat the operation in the desktop version.

(The interface is much the same)
WorkinTool PDF Converter online is independent of operating systems and free for all features as well. You must know how to add photos in PDF on mobile now. But you may need to wait a bit longer than to edit PDF files in the desktop version. So, it is better to download desktop software if possible.
You May Still Want to Know
Is there any other way to insert an image into PDF? OF course, you can use other software like Adobe Acrobat, Adobe Reader, Apple Preview, and so on. Adobe Acrobat DC and Adobe Reader are similar in functions, both working to manage, edit, export, and create PDF files. The two PDF editing software is compatible with the Windows system and macOS at the same time. Apple Preview is a default program for viewing images and PDFs on Mac, especially designed for Mac users. 
Take Adobe Acrobat DC for example. It is a powerful PDF editor, by which you can add whatever you want to a PDF file, like images, stamps, texts, and so on. However, all the features come at a price. It has a week of a free trial. But after that, you need to pay $14.99/mo. to enjoy its functions.
How to insert a picture in PDF with Adobe Acrobat
Download Adobe Acrobat DC and click "Edit PDF" in Tools.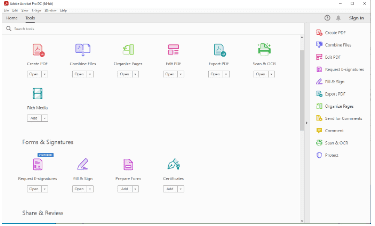 Select or drag a PDF document to upload.

Click on the "Edit text &images" button on the upper toolbar, and then click "Add Image" to insert an image.

Click a page where you want this image to stick to, and adjust size and location. After that, click "Close" to exit the editing panel. 

Find "File" on the left upper corner, click "Save" to cover the original file or "Save as" to download it as a new PDF file.
Conclusion
I hope this article is helpful. Do you know how to insert image into PDF now? I think you can find an ideal solution in this article no matter you are a Windows, Mac, or mobile user. WorkinTool PDF Converter undoubtedly is suitable for all users. No go on and add images to your PDF files!