Imagine this: You dreamt of starting your own business. It has been the most persistent goal on your bucket list. And that day has finally arrived. You are liberated from the 9 to 5 cycle. After all, who loves waking up to an alarm clock?
You are now ready to take the reins of your destiny into your hands and create the life you always dreamt of. An international holiday every six months, owning the latest gadgets on launch days, and visiting exotic restaurants are now top priorities.
And so, you begin on your quest to run a successful business. With determination and zeal, you begin. You identify the product or service you would offer, set up your website or shop, and are ready to launch.
But what happens?  Crickets (*Awkward silence*)
No customers. No Sales. Zilch. Zero. None of the things on your to-do list get struck off. Now, this is a very scary situation to be in. It's every business owner and entrepreneur's worst nightmare.
According to a report by the U.S Bureau of Labor Statistics, approximately 20% of small businesses in the USA fail in their first year, and only 25% of new businesses make it more than five years.
This means out of every 100 businesses that set up shop today, only 80 would make it to the following year. And only 25 businesses out of the 100 survive for more than 15 years or more. That's a 75% failure rate.
So, does that mean we dump our business idea and get a job? No. Surviving and succeeding are more accessible once you learn the game's nuances. You need to identify common business mistakes and fix them.
This will not only increase your success rate but also ensure that you live your dream life. This guide will help you identify and fix business mistakes.
How to identify and fix business mistakes?
1. Is everybody your customer?
Business owners believe everyone's their customer, from the 16-year-old high schooler to the 50-year-old CEO to the newly married couple across the street. It's easy to assume and fall under the impression that everyone's your customer. But at the core, you'll notice that there are few select customers whom you repeatedly serve. 
Let's understand with an example: Who is your ideal customer if you are an e-com store owner who sells birthday party decor? Is it everyone?
Simply because everyone celebrates their birthday? At the end of the day, only kids between 1-10 celebrate their birthdays. And, it wouldn't be incorrect to say they never purchase decor for their birthday. It's their parents. So, ideally, your customers are their parents. 
Solution: Defining your ideal customer avatar (also known as a buyer persona or ideal customer profile in marketing lingo) is the bedrock of any business plan. Your offer, marketing, and messaging depend on how well you define your avatar and understand customer needs.
2. Do You Know Your Market Like The Back Of Your Hand?
Ask yourself the following questions:
Which business owns the majority of the market share in your industry?

What products/services do they offer?

What competitive advantage do they have?

Does your product/ service have a differentiating factor from their offer?

How big is your Total Addressable Market (TAM)?

Which is the most recent funding your competitors have acquired?
If you cannot answer any of the above questions, you must learn and gather more information about your market and the players. 
A 'market' comprises buyers and sellers of a particular industry. The buyer is the person looking for a product/service, and the seller is the person supplying that product/service. And, when a business serves particular markets, they are in direct competition with other businesses. To gain a competitive advantage, business owners must study their competitors, their offers, USPs, product lines, etc.
Solution: You can use online tools such as Similarweb. They perform competitive analysis on your competitors and show their traffic numbers, sources, customer journey, paid advertisement channels, etc.
If you are a brick-and-mortar business owner, use a competitive analysis framework to learn more about your competitors.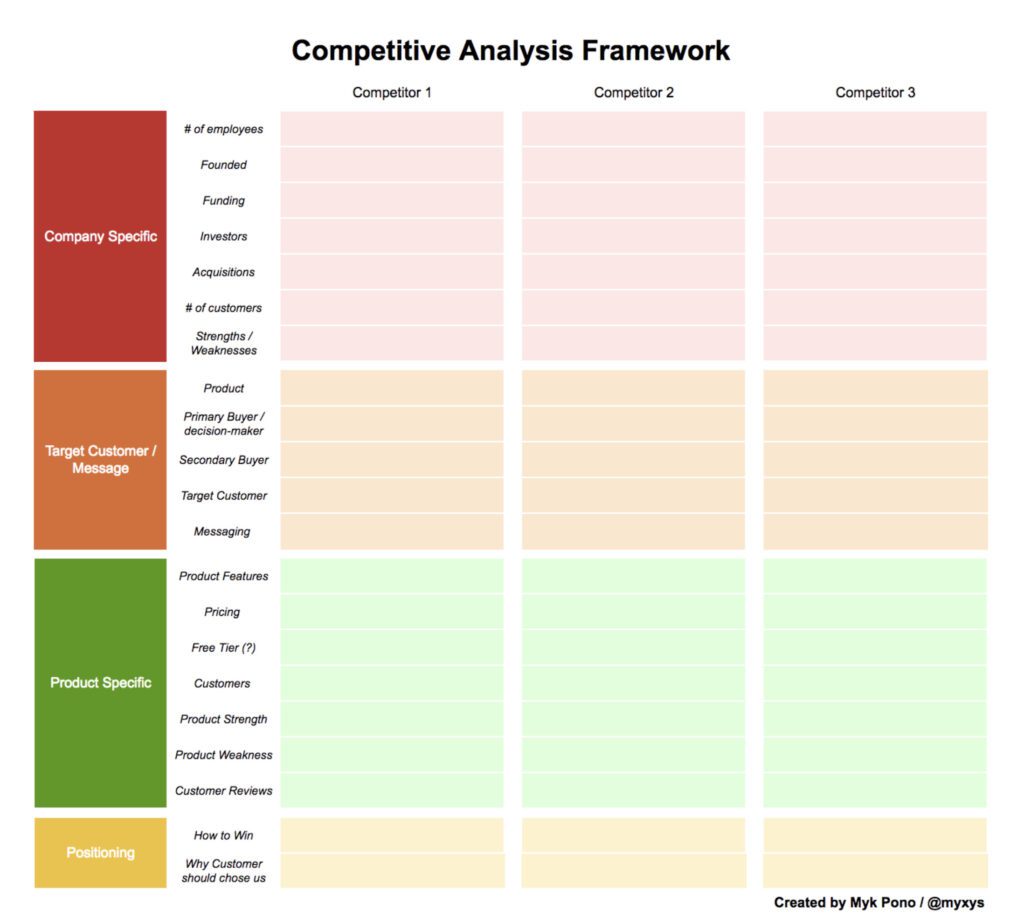 Source: Myk Pono
3. Do you follow a north-star metric?
Do you struggle to stick to a plan and keep changing the plan of action every second day? You must have come across a new YouTube video suggesting a new golden opportunity or your friends telling you about the new 'business hack' that will double your profits overnight.
Don't believe the fancy movies and TV shows. A successful business does not happen by chance. It requires meticulous planning with great attention to detail. A business plan requires all KPIs (key performance metrics) and outcomes to be clearly defined. Accordingly, actionable steps are decided.
A business is defined by (but not limited to):
Business vision, goals, and objectives

Customer needs.

Pain points of customers.

Revenue model.

Market and competitor analysis.

Potential problems and solutions.

Finances include capital investment, balance sheets, financial forecasting models, and budgeting.

Marketing and advertising.

Pricing and revenue streams.
Solution: Use online business plan software or tools to plan your business. With the help of checklists, outlines, and progress tracking, business planning becomes easy, simple, and intuitive.
4. Have you left marketing to chance?
A successful health and wellness company's CEO believed in spending large amounts of money on marketing and promotions. He believed he could 'buy' his way through. But alas, he learned it the hard way! After spending almost millions on paid ads, which didn't convert, he realized there is a human element to marketing. 
It simply meant understanding customer needs, psychology, behavior, and psychographics. Do you fall in the same bucket as Mr.CEO?
Having a clearly defined buyer persona is crucial. Not only does it help with business planning, but it aims to serve as the core of all your marketing efforts. It helps you define your messaging, discuss user pain points, and provide the best solution possible.
Now that we understand how to plan our marketing efforts, we need to know about various marketing channels.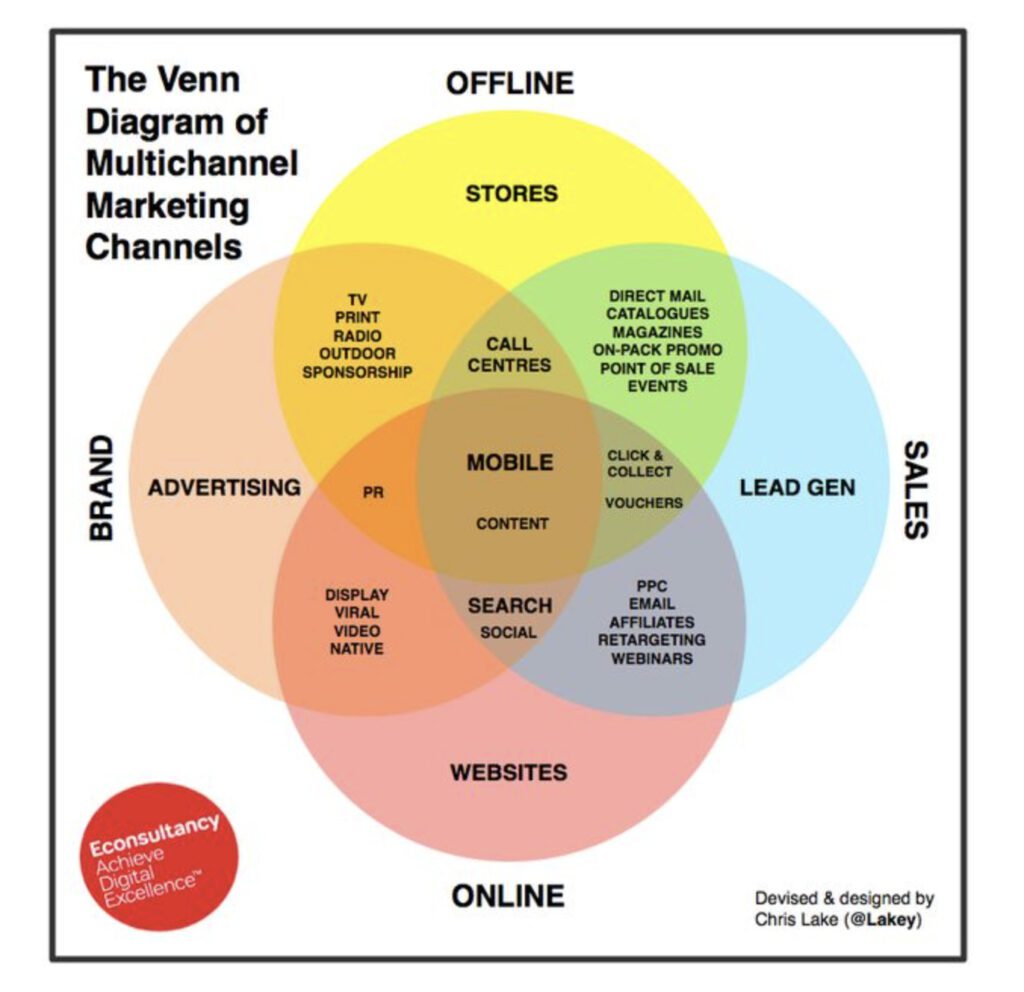 Source: Neil Patel
Simply put, we need to be where our customers are and how we can grab their mind space.
Ask yourself the following questions:
Where are they hanging out?

Which websites do they visit the most?

Which YouTube channel or podcast do they actively consume?

Are they present online or offline?

Which social media platform are they likely on?

Are they actively looking for a solution to their problem, or do they need to be educated about it?
Solution: Learn about marketing and various channels, such as organic and inorganic. This will help you generate a steady flow of clients for your business.
5. Do you struggle to take business profits home?
Now that we have zeroed down on our buyer persona, performed a competitive analysis, and developed a marketing strategy, it's time to carry profits home.
Oh, wait. Do I hear you saying, "I have none?" If this is the case, is it cash flow mismanagement?
In simple words, cash flow is the amount of money entering and leaving your business over a given period. It helps you learn how much 'profits' you are taking home after all the income and expenditures are taken care of.
A business should always aim to be cash-flow positive. This helps pay rent, salary, production costs, software subscriptions, etc.
Business owners also need to understand that a cash-flow-positive business can save more and spend more on its marketing efforts, which in return helps generate more cash flow. So, you are investing money to earn more money.
The money saved can be used to hire better talent and improve their product and services. So, how should we manage our finances?
Glad you asked. By subscribing to online tools such as Upmetrics. It helps you quickly plan, manage, and track your finances, generate financial forecasts, and generate summaries in seconds.
Solution: The most straightforward way forward is to track your daily Profit and Loss. This will give you an estimate of your daily cash flow. You can also save some profits as 'contingency funds' to fuel your business on rainy days.
6. Do you feel confident in approaching business investors for funding?
A lot of business owners can manage their cash flows. It's an achievement. But what about scaling your business? What if you could seek funding and expand your business? You would be able to serve your clients better and achieve your dream life fast.
But, there is a problem. Many business owners lack the confidence and a sure-shot strategy to bag funding. They are inexperienced with creating business pitches that help influence and persuade investors and venture capitalists.
There are a host of online solutions that help you create pitch decks. This helps leave a lasting impression on your audience. These tools provide easy-to-use pitch deck templates, which business owners can customize and use. This decreases their efforts, saves precious hours, and improves productivity.
Solution: If you want to scale your business, seek funding from investors. Use online tools and craft perfect pitch decks that never fail to impress. Alternatively, you can even look for grants and micro-loans.
7. Do you make decisions based on 'gut' feeling?
Do you know what large corporations like Amazon, Walmart, and IBM have in common? The answer is 'objective data-driven decision-making.'
Entrepreneurs and business owners tend to make decisions based on intuition. They live too much 'in their head.' But the reality is way different than what they 'perceive.' According to recent studies, more than half of Americans rely on their "gut" to decide. 
Collecting and analyzing data gives a competitive advantage to your business. It provides solutions that help attract more customers and, eventually, marginalize your competitors.
Solution: Start tracking and analyzing your customer data to serve them better. For example, you can use tools like Google Analytics to track and analyze your website visitors.
8. Are you paying attention to what your customer thinks about you?
Business owners are so busy running the show that they often forget to collect feedback. This is a crucial part of any business since it gives the owner scope for improvement.
Not only do you get a chance to understand what your customers love about your product/service, but it also tells you probable areas of improvement. Business owners should use this as an opportunity to delight their customers.
Google My Business
Check whether you are registered on Google My Business. The easiest way is to search for your business name on the Google Search Engine. If you find your business there, it means you are registered. If not, you can easily register yourself here.
Now, head over to the reviews section. There should be feedback given by your customers who have used your service. You can sort these reviews based on the highest and lowest ratings. Take notes and improve on your offer.
There are many review sites for studying and learning from customer feedback, such as:
Trustpilot.

Yelp. 

Amazon. 

TripAdvisor. 

Angie's List. 

Influenster. 

G2. 

Capterra.
Solution: Depending on your industry, you can find customer reviews of your business and your competitors. Learn their strengths and weaknesses. This will help you strategize accordingly.
9. Do you act as a one-person army or a team?
Do you struggle with juggling things on your to-do list as a business owner? If yes, there is a high chance that you are functioning as a solo-person-operated business or have not yet learned the art of delegation.
To scale any business, you need a specialized team. Each team member needs to be highly skilled in their specific task. This helps businesses achieve their goals fast and serve their customers better.
Hiring external consultants and business mentors is always advisable, even if you do not have permanent employees. They help guide you in the right direction through their expertise.
For this, you need a platform to collaborate and discuss your business plans effectively. Online business planning tools such as Upmetrics offer business canvas models to generate, shape, and collaborate on your ideas.
This helps you brainstorm new ideas and find new avenues of growth. And if you are just starting, use their built-in canvas models to create actionable plans.
Solution: Use business planning software for effective collaboration and faster growth. 
Summing up
Mark Zuckerberg, the founder of Meta (Facebook), once famously said, "In a world that's changing quickly, the only strategy guaranteed to fail is not taking risks."
Zuckerberg highlighted the importance of taking risks and moving out of your comfort zone to take action. Paying attention to how meticulously and strategically you plan your business operations is equally important. Business owners should identify common business mistakes and fix them quickly.
Alternatively, business owners can learn from their competitor's mistakes and avoid the pitfalls they fall into. They could even read autobiographies by successful entrepreneurs and learn how they can operate their businesses.