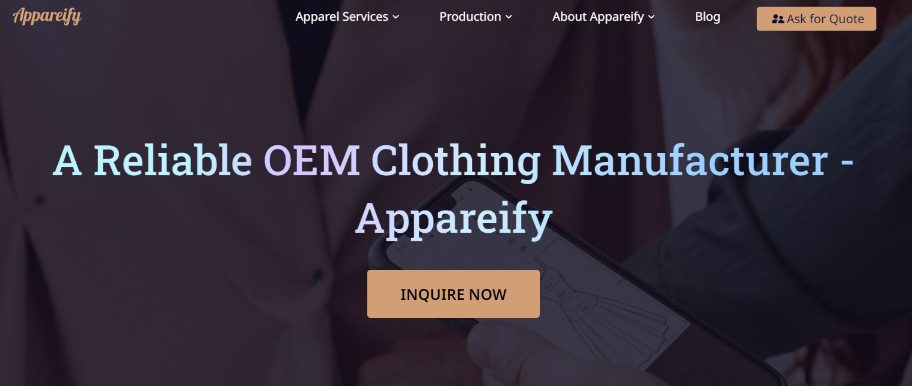 Finding the right OEM clothing manufacturer is crucial to building a successful apparel brand. After all, they're responsible for producing the high-quality goods that represent your brand's vision. But with so many options out there, how do you find a manufacturer that's the perfect fit? 
The good news is that, by asking the right questions and doing your due diligence, you can find an OEM clothing manufacturer that will help your brand thrive. This article will walk you through the key things to consider when evaluating potential partners, how to spot red flags, and how to build a long-term relationship with a manufacturer that shares your values. 
With the right OEM clothing manufacturer like Appareify by your side, you'll be well on your way to creating apparel your customers will love.
Define Your Target Market and Brand
To find the right OEM clothing manufacturer for your brand, you first need to define your target market and brand identity. Who are your ideal customers? What style of clothing do you want to produce? The more specific you can be, the easier it will be to find a manufacturer like Appareify that specializes in your niche.
Once you have a clear brand vision, start researching potential manufacturers. Check out their websites to see examples of their products and the clients they currently work with. See if they produce clothing in a similar style, fabric, and price point as your brand. If they do custom orders, even better.
Reach out to a few of your top choices and ask for quotes, samples of their work, and references from other clients. Make sure to inquire about minimum order quantities, turnaround times, and the overall quality of their products. For the best results, you'll want a manufacturer that can deliver high-quality goods at a reasonable cost within your required timeline.
When evaluating candidates, consider things like their experience, available production capacity, use of ethical labor practices, and willingness to sign a non-disclosure agreement to protect your intellectual property. The right OEM partner will be able to scale with your business and become an extension of your team.

With some diligent research, you can find an OEM clothing manufacturer like Appareify on this website that will help bring your fashion brand to life. The key is taking the time to find a trusted partner you can work with for the long haul. Your customers will surely appreciate high-quality, well-made products that reflect your brand's unique style.
Choose the Type of OEM Manufacturer You Need
When starting an apparel brand, one of the most important decisions you'll make is choosing the right original equipment manufacturer (OEM) to produce your clothing. There are a few types of OEMs to consider:
Full-package OEMs handle everything from design and pattern making to sourcing materials and manufacturing the final products. These "one-stop shops" are convenient but often more expensive. They're best for brands just getting started or with limited resources.
Material/component OEMs specialize in certain materials (like denim or knit fabrics) or components (such as zippers, buttons, or lace). They require you to source other materials and handle assembly separately. While potentially more affordable, this requires more work on your end to coordinate everything.
Cut and sew OEMs provide pre-cut fabric and sew the final products. You'll need to design the garments, create patterns, and source the fabrics yourself. This offers significant cost savings but also requires the most effort to manage. It may be too difficult for new brands to handle alone.
Private label OEMs manufacture clothing for your brand to sell under your own name. You provide the designs, but they source materials and handle production. This allows you to build a brand identity without the challenges of full manufacturing responsibility. However, you have less control over quality and production.
The key is finding an OEM that matches your brand's needs and resources. Talk to a few manufacturers and consider starting with a private label or full-package OEM before moving on to more complex options. With the right partner, you'll be well on your way to building a successful apparel brand.
Conduct Thorough Research on Potential OEM Manufacturers
To find the right OEM clothing manufacturer for your brand, conducting thorough research on potential manufacturers is key. 
Check References and Reviews
Look for reviews and references from other brands that have worked with the OEM manufacturer. See what their experience was like and if they recommend the manufacturer. Reviews from third-party sites can also provide insight into the quality of service and products.
Evaluate Their Capabilities
Determine if the OEM manufacturer has the capabilities to produce your desired products. Can they make the specific types of clothing you want, like t-shirts, dresses, suits, etc.? Do they have the technical skills and equipment to manufacture your products to your specifications? Make sure they can handle the volume of production you need.
Assess Quality and Compliance Standards
The OEM manufacturer must meet high standards for quality and compliance. Ask for samples of their products to inspect the quality firsthand. Check that they follow all required compliance standards for manufacturing and safety. They should be using high-quality, ethically-sourced materials and have solid quality control procedures in place.
Visit the Production Facility (If Possible)
Visiting the OEM manufacturer's production facility in person is the best way to evaluate them thoroughly. You can see their operations, equipment, quality control processes, working conditions, and more. While not always feasible, an in-person visit should be a priority if possible. If not, request detailed photos and virtual tours of their facility.
Negotiate the Best Deal
Once you've found an OEM clothing manufacturer that meets your needs, negotiate the best possible deal. Discuss minimum order quantities, pricing for different volumes, delivery timelines, and payment terms. Make sure the agreement is fair and beneficial for both parties before officially selecting them as your manufacturing partner.
Conducting in-depth research on OEM clothing manufacturers and evaluating them carefully based on multiple factors will help you find a trusted partner like Appareify that can produce high-quality products for your brand. Taking the time to find the right match upfront will lead to a successful long-term relationship and help your business thrive.
Evaluate Important Factors: Quality, Capability, Price
When evaluating potential OEM clothing manufacturers, several factors should be carefully considered to find the right partner for your brand.
Quality
The quality of materials and construction are extremely important. Look for manufacturers that use high-quality, durable fabrics and components with strong stitching and seam work. Request samples of their products to inspect the quality firsthand. Check that sizing is consistent and that the overall fit and finish meet your standards. Poor quality will reflect badly on your brand, so don't compromise.
Capability
Make sure any manufacturer under consideration has the capability to produce your specific product types and volumes. Ask about their production capacity, turnaround times, and ability to scale up as your business grows. 
They should have experience producing similar products and be able to provide references from other clients. Consider how much control and oversight you need over the production process to protect your intellectual property. A manufacturer with a proven track record of producing high-quality goods at the scale you require will minimize the risk to your business.
Pricing
While price is important, don't choose a manufacturer based solely on the lowest bid. Cheaper production often means lower quality materials, poor workmanship, and limited capabilities. Get quotes from multiple manufacturers to compare, but also evaluate what you're getting for the price. 
Consider the total cost of sourcing from a particular manufacturer, including any shipping, duties, or additional fees. A higher upfront cost can be worthwhile if it means a quality product, reliable production, and a long-term partnership.
Finding the right OEM clothing manufacturer, like Appareify, is key to building a successful apparel brand. Do your due diligence by thoroughly evaluating prospective partners on the factors that matter most: quality, capability, and fair pricing. The manufacturer you choose can make or break your business, so take the time to find one that shares your values and will support your growth for years to come.
Conclusion
Finding the right OEM clothing manufacturer is crucial to building a successful apparel brand. Do your research; check references and samples of their work. Make sure their production capabilities, minimums, and quality standards align with your brand's needs. Appareify is a great option for your OEM clothing manufacturing.
Visit them in person if possible to get a feel for their operation and see if you connect on a personal level. The manufacturer you choose will become an important partner in your business, so take the time to find one you trust and feel confident will represent your brand well. With some diligent searching, you'll find an OEM clothing manufacturer that will help turn your vision into a reality.