The criteria of the top Windows data recovery software
In the digital and information economy era, data is essential in one's file. No one can afford to lose important data due to accidental deleting, formatting, and other data loss situations.
Instead of spending considerable money on data recovery services or trying hard to get data back by themselves, users prefer utilizing Windows data recovery software nowadays.
Do you know how to pick a good data rescue app that offers you the best user experience and is highly efficient? Check out the criteria you need to take into consideration.
Capability – recoverable data types
Capacity is the top criterion of a good app. The best file recovery software users will prefer must be competent in performing data recovery.
Specifically speaking, it is required to be competent in these aspects.
Firstly, it should be capable of recovering multiple types of data, whether deleted or lost;
Secondly, it ought to recover data from both internal and external storage devices;
Thirdly, an eligible data recovery app should apply to multiple data loss circumstances, such as deleting, formatting, recycling bin emptying, etc.
Usability – the cost of learning & using
Usability requires apps to be easy to use for most users. A good app should not be only open and accessible to well-educated users who have expertise.
If ordinary users can also operate the software in a breeze, the app is a successful one that users will like.
Also, users will prefer an app that won't cost much to learn how to use. For instance, Microsoft released an official file rescue app for expertise named Windows File Recovery.
It doesn't offer a graphical user interface and requires users to type commands and parameters to scan the hard disks for lost data. Then this app is not a recommended choice for ordinary users.
Compatibility – OS/file system supports
Another significant standard is compatibility. Users also emphasize this point because some are using an old operating system, and some may upgrade their OS.
If a Windows data recovery tool cannot support a wide range of OS, it covers only a few users.
Performance – speed
A pleasant data recovery experience will be picky on speed. Users will not be willing to use a Windows data rescue utility if it is slow/sluggish.
Some apps don't support data recovery while scanning. Users have to select the wanted data after finishing the scanning, which wastes much time and is not convenient.
With all these criteria considered, which is the best data recovery software? Check out the following part.
Which is the best Windows data recovery software?
The best choice must meet all the requirements that a good Windows data recovery app should meet. In this case, we will recommend MyRecover.
This app totally meets the demands. It is capable, easy, compatible, and also quick.
∙ More than 200 sorts of data are supported. Documents, photos, videos, audio, emails, etc., are recoverable.
∙ The data recovery process is in 3 steps. The user interface design is also simple and eye-pleasant.
∙ It supports Windows Operating Systems. It is accessible for Windows 11/10/8/7/Server users.
∙ Data recovery during scanning is supported. The process is pretty quick and usually lasts for 5 – 30 minutes.
How to use MyRecover to recover accidentally deleted hard drive data?
The operation is simple. Just in 3 steps, you can restore accidentally deleted hard drive files.
Launch the program > select the source drive. Connect it to your Windows machine if you use external hard drives.

Click 

Start Scan

. It supports filters and wildcards to help you locate and detect the files.

Choose the scanned data > click

Recover xxx files

. File recovery in certain types is also available. Click Other missing files > choose your wanted types.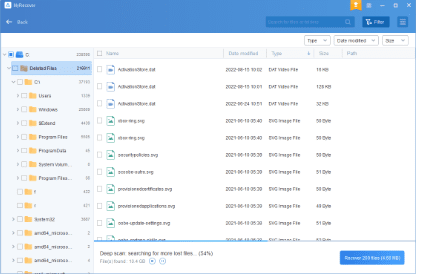 This software will save the recovered files in your chosen target drive without changing the original file formats, filenames, and directories.
The best file recovery software makes it easy to recover data from hard disks.
Verdict
What should be taken into account when choosing Windows data recovery software? To make a wise choice, users might as well pick one that meets capability, usability, compatibility, and also efficiency.