Bityard is the world-leading cryptocurrency derivatives exchange, fully regulated and compliant with international laws, with the main activity in cryptocurrency contracts with leverage and derivatives exchange. Contract trading is the method of trading that aims to gain profit from market volatility. This method allows the user to forecast if the price of an asset will go up or down, involving leverage.

Bityard's Affiliate Program, known as KOL, is a unique system that rewards active users by bringing new users through the referral link.
The influence can be converted into commission, and Bityarders can earn up to 60% of commission on all the trading fees. This Business Partner perk comes with 1:1 assistance from the Business Department and real-time settlement of commission. Data Transparency is at its highest with a multi-dimensional report and information available for transaction data and commission records. The 1:1 professional assistance and a guaranteed commission can boost the Business Partner and help him achieve financial independence.
It is easy as 1,2,3 to become a Bityard Business Partner and to earn a commission. Share your referral link on social media, either Facebook, Twitter, Telegram, or Reddit, or even email your friends the signup link, and convince them to join the Bityard family. When a new referral will join, his activity can be seen in the affiliate influencer records, where the stats and commission records can be found. Every new referral will upgrade the KOL level, boosting up the rewards.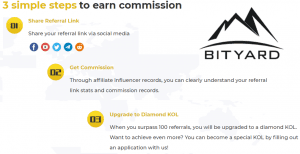 There are five levels of KOL membership: Basic, Bronze KOL, Silver KOL, Gold KOL, and Diamond KOL, all with different sets of perks and benefits. The basic level will expire after 6 months and has a 5% commission. After referring 10 sub-affiliates, the membership is upgraded to Bronze KOL. From this level, the perks will last forever, and the commission level will rise to 30%.
The Silver KOL level is obtained after referring 30 or more sub-affiliates and comes with a 40% commission rate.
The Gold KOL Partner is a Bityarder who has 50 or more affiliates, and his hard work is rewarded with a 50% commission rate. When 100 sub-affiliates joined Bityard, and the commission will reach 60%, the maximal level.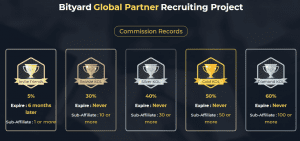 The referral history, current commission records, and statistical data can be checked by clicking the "Commission Records" button. Doing so will open the affiliate stats page. The contract rebate, spot rebate, referrals, number of traders, and the total volume can be checked here. As you can see in my screen-shot, I have 12 referrals but none of them had any trade, so my spot rebate and total volume are zero.

The registration link and the invitation code can be found on the Bityard affiliate stats page. The affiliate stats will show the referral name, the daily volume, total volume, and the total number of orders. The registration date and last login can be checked, which can be really helpful to see if the referrals are active or not.
Anyone can become a KOL partner and generate residual income by bringing sub-affiliates to the platform. This active flow of income will create a competitive system, where every active user will try to bring other active users, therefore improving the overall quality of Bityard
And if you have any question, You can ask directly in their Telegram group.