YouTube is one of the most popular websites in the world and almost everyone uses it. However, downloading YouTube videos directly from the site may be a problem. Although YouTube has developed a part of the video download function, it often shows an error that prevents it from being downloaded, and the definition of the downloaded video is not satisfying, let alone downloading the whole playlist at once.
Facing so many problems, you will surely feel troubled when you want to download some YouTube videos to MP4 on your PC. But these difficulties are not insurmountable. On the contrary, by using the right YouTube video downloader, you can circumvent all these troubles. VideoHunter YouTube Downloader is a wonderful one, helping you quickly and easily finish downloading tasks. With this Downloader, you have access to a solution for effortlessly downloading YouTube videos in MP4 format. Read on to find out how to download YouTube videos to MP4.
Reasons Why YouTube Videos Can't be Downloaded
There are multiple reasons why YouTube videos are not easily downloadable. First of all, YouTube keeps improving its coding and network layout, which makes downloading YouTube videos more and more complicated and troublesome. Secondly, since many YouTube videos are copyrighted, YouTube charges for downloading a large number of videos due to copyright protection, which makes downloading costly for the average user. Again, because many YouTube videos are created and uploaded by private creators, these videos are often forbidden to be downloaded by others.
Thus, many reasons constitute the current situation that YouTube videos are difficult to download. In order to change this inconvenient situation, using high quality third party software like VideoHunter YouTube Downloader can help you a lot. They are not only convenient but also easy to operate, so hurry up and take a look at the instructions below!
How to Download YouTube Video to MP4 on Win or Mac
How to use VideoHunter YouTube Downloader
VideoHunter YouTube Downloader is very easy to use. The interface of the client running on Windows and Mac systems is almost the same. Therefore, this article will show you how to use VideoHunter YouTube Downloader on PC, using Windows as an example.
Step 1. Install VideoHunter YouTube Downloader on your computer. Launch it and log in to your account.
Step 2. Before officially starting the download process, you need to go to YouTube and copy the URL of the video that you want to download.
Step 3. Paste the URL you just got into the box as shown in the following picture, then click "Analyze".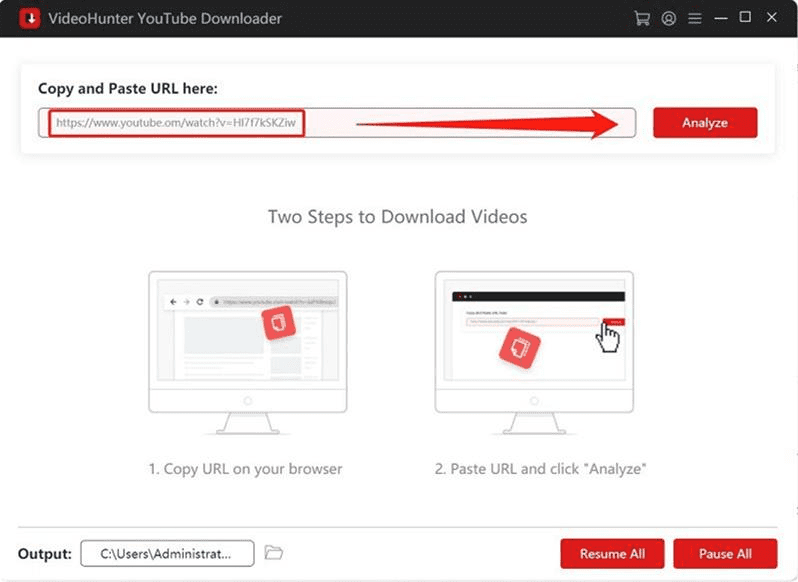 Step 4. Wait for the software to parse the video URL until the output options window pops up. Select your desired output format, video picture quality, and MP3 bit rate. When you are done, click the "Download" button to start the download.
Step 5. After the above steps, you will find that your videos are downloaded successfully. Go to the "History" section to check all the downloaded files.
Advantages of VideoHunter YouTube Downloader
Efficient Batch Downloads
You can download as many YouTube videos as you want without any restrictions. Both playlists and channels are OK. You can either download the entire list or just a portion of it, depending on your needs.
High-Resolution Video Quality
VideoHunter YouTube Downloader can download all types of YouTube videos in up to 8K resolution.
Extract and Merge Subtitles without Efforts
VideoHunter YouTube Downloader helps you extract and download YouTube subtitles with the built-in subtitle extractor. And you can choose to merge the subtitles in the video file before starting the download process.
Easy to Get Started
Simple interface costs users just a few clicks to complete the whole download, saving both time and effort.
How to Download YouTube Videos on Android
Of course, in this age of frequent cell phone use, you will want to ask if you can download YouTube videos on your phone. Of course you can. With VideoHunter for Android, you can download video or audio from different kinds of streaming sites including YouTube, Instagram, TikTok, etc. The following section will show you how to use VideoHunter for Android to download videos to your phone.
How to use VideoHunter for Android
Step 1. Copy the URL of the video you want to download and paste it to the browser on VideoHunter for Android. Or you can go to the websites and navigate to the video.
Step 2. Tap the blue down-arrow button on the bottom right corner to add the video to the download list.
Step 3. After the video download is complete,check your downloads under the "Downloads" tab.
Conclusion
VideoHunter YouTube Downloader is one of the most convenient YouTube downloaders available today. Its simple interface and easy operation have attracted a large number of users. It deserves your trust! Give it a try and enjoy the easy downloading of any YouTube video to your PC or mobile device.