PDF is a widely known file format used in office and school work. One good thing about this format is that it preserves the documents' formatting even if you shared it many times. However, you may experience that you need to turn it into a Word file to edit or to add extra information to the document. Here, we will show the two methods you can follow to convert PDF to Word using LightPDF. Besides that, we will also introduce the beneficial features of this program that can help you to solve your PDF problem quickly.
How to Use LightPDF to Convert PDF to Word? 
LightPDF is an all-in-one PDF solution that you can use to create, edit and convert your documents to different file formats. This tool has desktop and mobile versions for Windows computers that you can download from Google Play Store and App Store. At the same time, its online version is accessible to popular web browsers, including Mozilla Firefox, Google Chrome, and Safari. So what are you waiting for? Check the written steps below on converting your documents using this PDF to Word converter online.
Method 1: How to Convert PDF to Word via LightPDF Web? 
First, go to the tool's official website.

Second, head on to the "PDF Tools" and select the "

PDF to Word

" function.

Third, click the "CHOOSE FILES" button to upload the PDF from your pc.

Fourth, click the "Convert" button to proceed.

Fifth, click the "Download" button to save it on your pc.
Method 2: How to Convert PDF to Word via LightPDF Desktop App? 
Download and install the app from the official website of the tool.

Next, launch the app to open the document to start on how to convert PDF to Word.

From here, go to the "Convert" section and select the "To Word" function.

After that, click the "Open" button to see the file location of the output.
What Are LightPDF's Notable Features?
Turn PDF into Different File Formats
This tool supports a wide range of document formats, allowing you to simply convert PDF files. It allows you to convert PDF files to .docx,.pptx,.xlxs,.txt,.png,.jpg, and.dwg for free, or vice versa.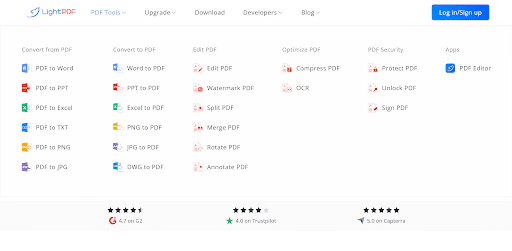 Can Optimize PDF
Not to mention this program can modify PDF files to improve the content of your document. Its PDF to Word free online and desktop program provides editing tools such as adding watermarks and notes, as well as splitting, merging, and rotating your documents.
Optical Character Recognition (OCR)
Next, we have its OCR feature. This feature is really important since it can turn photos, scanned PDF files, and other documents into editable Word, Excel, and other formats.
Add Security to Your PDF Files
One notable feature of this tool is the ability to add further protection to your PDF files. By entering a password, you may restrict your papers from being edited. You can also verify papers by including a digital signature as well as a handwritten signature on your PDF document. This PDF to Word converter online and desktop can also decrypt password-protected PDF files.
Bulk PDF Process
The last feature that will surely help you to save time on processing PDF documents is its batch process feature. With this feature, you can convert, split, compress, and OCR multiple PDFs in one process.
Conclusion
As we mentioned above, LightPDF is one of the best programs that you can use to turn your PDF into a Word file instantly. Besides that, we've also introduced the most straightforward steps to do it using its online and desktop versions. In addition, you can also see its notable features that will surely help you to solve your PDF problems.