The versatility and portability of inflatable paddle boards have made them increasingly popular in recent years. Paddleboarding is a great way to enjoy the outdoors, whether you're on a lake, river, or ocean, and it's a great workout, too.
However, with so many brands and models available on the market, choosing the right one can be challenging. So, how to choose the best inflatable paddle board?
Well, to get the right inflatable paddle board for you, the first things that you need to know are how you are going to use it and is it fitting your body.
But these are not all, before you head out to buy an inflatable paddle board, there are a few more things you need to consider, so you can make the best decision for your needs.
So, if you are looking to get the best inflatable paddle board, here are the factors you need to consider-
1.  Types of Inflatable Paddle Boards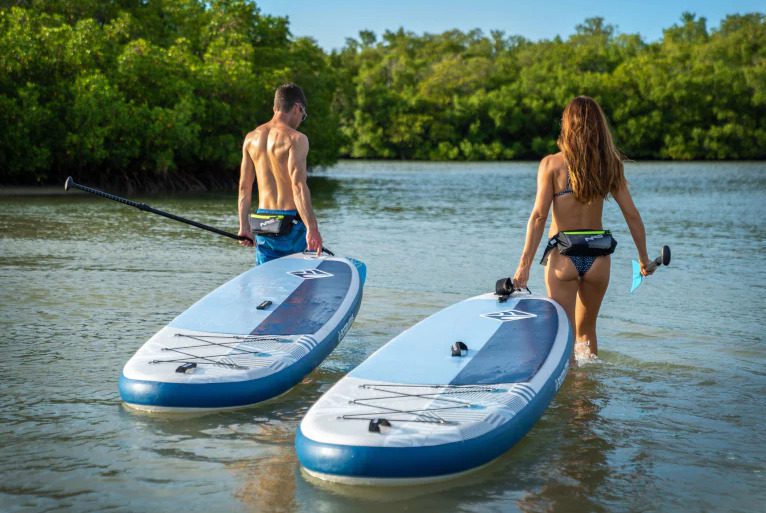 There are generally three types of inflatable paddle boards, and each comes in different sizes that determine why you want to use the board and what kind of performance you want to achieve using it. For example,
●     All-Around Inflatable SUP
These boards have a wide deck and rounded nose that usually comes with a length of 10 feet (3.05 meters) or more. All-around SUPs are best for simple paddleboarding, tandem paddleboarding, SUP yoga, SUP fishing, and learning the basics.
●     Surf Inflatable SUP
Surfboards are shorter and come with narrow and pointed noses, and are about 7 to 10 feet in length. These SUPs are made for extra maneuverability and speed. They are very sensitive to the rider's weight distribution and are mostly recommended for more experienced riders.
●     Touring Inflatable SUP
These are long and streamlined with a narrow deck and pointed nose and are about 10 to 13 feet in length. These SUPs are best for racing and long-distance paddling.
2.  Shape and Size
After deciding what type of paddle board you want, the next thing you need to consider is its dimensions. And when it comes to inflatable SUP dimensions, the following are the three aspects that most affect your paddleboard's performance.
●     Width:
The wide your paddle board is, the more stability you will have than a shortboard. In that case, if you are looking for stability, look for a board that comes with a 34″ width range. On the other hand, if you are a racer, then you will need something narrower. Apart from that, a 32″ board will do just fine for the beginners.
●     Length:
Long and narrow boards work well if you require speed, but remember that longboards are harder to turn. Usually, the 10 to 12-foot range is a good length for beginner and intermediate paddlers, while 8-10 feet boards are good for SUP surfers, and 12-16 feet boards are perfect for racers.
●     Thickness:
Thickness determines how well a board will float also, it is the easiest way to ensure rigidity. However, an Inflatable SUP board with a 6" thickness is best to ensure durability and rigidity.
3.  Durability and Advanced Tech
When you invest in a paddle board, you want it to be durable and one that you can use for a long time.
In that case, you must consider a rigid board with the densest drop stitch, advanced tech like 3D weaving technology, and double-layer fabric to ensure durability, rigidity, performance, and stability.
The perfect example of such a paddleboard is the freein inflatable paddle board that comes with the best inflatable technology and more durability out there.
Besides these key factors to consider, make sure to keep the following in mind-
4.  How Often Will You Paddle?
If you plan to use the board several times per week and need to store it briefly, buy a board that is easy to inflate, deflate, and transport and has fins that are easy to install and remove.
5.  Where Will You Paddle Most?
If you like adventure and want to cruise the river or land often on the coast, then you should choose a board that has a handle on the nose.
6.  What Type Of Paddler Are You?
Tall paddlers and yoga practitioners choose a board with deck pads and handles. Those who prefer to keep them on board can go for a low-profile handle and full deck pad. If you like to sit or lounge on your board, consider a board that converts to a kayak.
FAQ
What Is The Best Size For An Inflatable Paddle Board?
If you weigh less than 200 pounds, then any standard paddle board will be fine for you. On the other hand, inflatable pedal boards of at least 175 L volume for a 200-235 lb person, at least 242 L volume for a 235-300 lb person, and at least 272 L volume for a person over 300 lb are acceptable.
What Type Of Paddle Board Is Most Stable?
Typically, inflatable paddle boards are inflated to their recommended pressure. This is why these paddle boards will generally be more stable.
Are Longer Paddle Boards Better For Beginners?
Not really, because longer boards are harder to handle. On the other hand, shorter paddle boards are easy to handle. So, as long as a paddle board for beginners is concerned, it will be better to start with shorter ones.
Are Inflatable Paddleboards Worth It?
Inflatable paddleboards are definitely worth it because of the advantages of their durability, portability, flexibility, weight, versatility, and injury resistance.
How Much Should I Spend On An Inflatable Paddleboard?
A good inflatable paddle board with durable construction, additional material layering, and unique design features will usually cost you $300 and up. But, yes, the price will definitely vary based on the brand you are choosing.
Conclusion
As a general rule, the best paddle board is the one that fits your specific needs the best.
That's why deciding on the best inflatable paddle board for your needs will require some reflection on how you intend to use it.
So, that's all for this how to choose the best inflatable paddle board guide.
If you're a beginner, it's best to start with an all-around board that will give you the most stability. As your skills improve, you can try different activities, experimenting with different paddle boards.
However, inflatable paddle boards are a great way to enjoy the water and get some exercise. So choose wisely and get out there