In the dynamic world of cryptocurrencies, buying digital assets with a credit card is an attractive proposition. It offers a simple, fast, and familiar method to instantly purchase a variety of cryptocurrencies.
Whether you're aiming to buy Monero, Ethereum, or any other crypto, this convenience, combined with the inherent speed of these transactions, places this method at the forefront of instant crypto investments. 
In this article, we will illustrate the process using Guardarian, a reputable cryptocurrency exchange service that allows for swift and hassle-free transactions.
Understanding Instant Crypto Purchases with Credit Card
Instant crypto purchases refer to the immediate acquisition of cryptocurrencies, using instant payment methods, such as credit cards. This stands in stark contrast to traditional methods of purchase that often involve lengthy wait times due to processing delays and multiple manual actions required.
Credit cards bring several advantages to the table. They offer unparalleled speed and convenience, allowing you to purchase crypto anytime and anywhere, provided you have internet access. Furthermore, these purchases are often accompanied by buyer protections, a significant benefit given the risky nature of the cryptocurrency market.
However, it's not all roses. There are potential drawbacks and risks associated with credit card purchases. These may include the possibility of incurring additional fees from your card issuer and the potential for debt accumulation due to the ease of making purchases.
Choosing a Reliable Cryptocurrency Exchange
Selecting a trustworthy cryptocurrency exchange is an essential step towards ensuring your investments are safe. Various factors come into play during this decision-making process.
Security measures are paramount – to ensure the safety of your assets from fraudulent activities. The exchange should employ robust security protocols such as two-factor authentication, encryption, and cold storage for funds. 
Fees are another crucial factor. These can vary wildly among different platforms, and lower fees could potentially save you a significant amount of money in the long run.
Lastly, it's beneficial to look at the supported cryptocurrencies. An exchange that supports a wide range of digital assets gives you more flexibility and opportunities for diversification.
Buying Crypto with Credit Card on Guardarian
What is Guardarian Exchange?
Guardarian is a time-proven platform for cryptocurrency exchanges, celebrated for its user-friendly interface and robust security measures.
Guardian is a non-custodial service, meaning that they don't hold on to your assets. Instead, they send your funds directly to your wallet of choice, keeping you in control at all times.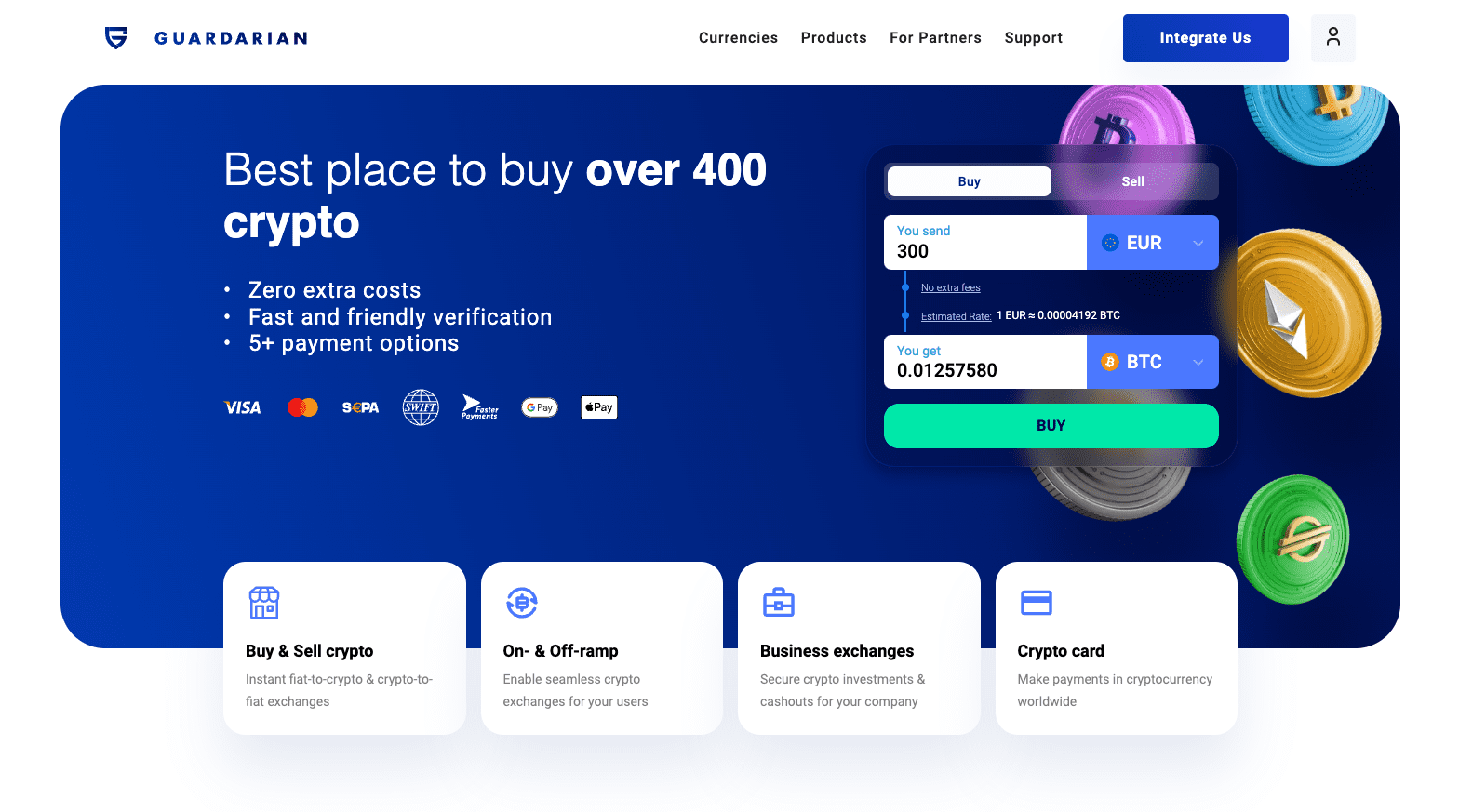 Guardarian supports instant crypto purchases using credit and debit cards, along with a variety of other payment methods such as bank transfers, Apple & Google Pay, Revolut Pay and others. This makes it an excellent choice for both newcomers and seasoned investors alike.
Range of Cryptocurrencies on Guardarian
Guardarian offers over 400 different cryptocurrencies for instant credit card purchases. Whether you are seeking to buy Bitcoin, Ethereum, or other popular crypto, or want to explore lesser-known altcoins, Guardarian has got you covered.
How to Buy Crypto Instantly with Credit Card 
To buy crypto with credit card without registration, follow these steps:
Go to www.guardarian.com

Choose the cryptocurrency you want to buy & the amount required.

Choose "

credit card

" as your payment method.

Provide your wallet address where you will receive your assets.

Complete the payment using your credit card.
That's all it takes – your crypto will arrive in your specified wallet only minutes after the payment is processed.
Conclusion
The option to buy crypto instantly with a credit card simplifies the process and accelerates your journey in the realm of digital assets. Its benefits, such as convenience and speed, make it an attractive method for purchasing cryptocurrencies. However, it's crucial to remain vigilant about potential risks and to choose a reputable cryptocurrency exchange like Guardarian for your crypto transactions.