Exploring the plethora of ways in which Vantage FX has revolutionized Stock Trading in today's post-pandemic economy

The use of stock trading apps in the trading industry has significantly proliferated in the last couple of years. 
The most prominent stock trading apps all share a couple of distinct traits. For one, they offer the ability to buy and sell at zero commission. Additionally- and as we will further explore below, they commonly enable users to independently research their investments, quickly input orders to purchase or sell, and consistently track their personalised portfolio. 
In exploring the plethora of ways that the Vantage FX trading app has unequivocally 'revolutionised' the trading market in 2021, this article will take a look and consequently consider the company's: unrivalled pricing and monetary fees, corporate constitution, investment opportunities, and research options.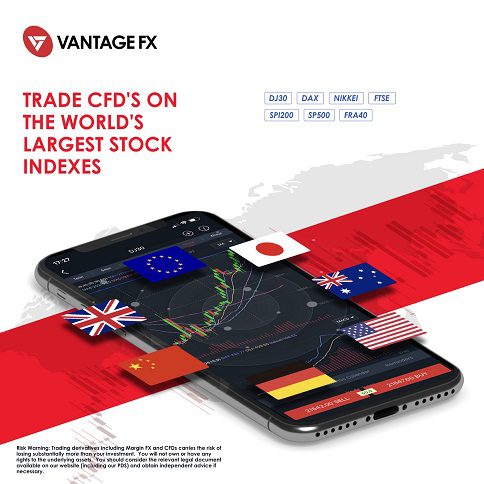 An Unrivalled Approach: The Vantage FX Trading App
The Vantage FX trading app has undoubtedly differentiated itself from the more conventional industry apps on the market in 2021. 
This is because the Vantage FX App has unilaterally been enhanced via the powerful Technology- resulting in a quite significant differentiation between Vantage FX and the other prominent competitor applications (such as eToro, or Plus500), Years of development experience and an in-depth insight into the industry paid off as it ensured a holistically successful process in relation to the redesignment, functionality, and user-satisfaction of the app.
Moreover, the Vantage FX trading app has significantly transformed the Trading Industry in that it has provided first-ever, exclusive charting features. Such features have allowed the prolific number of traders on the aforementioned app to link a plethora of their preferred analysis-based tools directly onto their charts- saving a significant amount of both time and capital and once again differentiating Vantage FX from some of the more 'traditional' trading apps on the market today.
Accordingly, traders around the world have chosen to utilize the Vantage FX app as a way of incorporating both: a) Fibonacci Retracement, and b) Trendlines in their trading portfolio so as to assist them in the organization of their corporate strategy. The eminent app enables traders to view a variety of different charts in a variety of different timeframes and consequently has provided a much needed 'pragmatic' alternative to the trading apps currently in the industry.
Vantage FX App: Key Features and Benefits
The revolutionary Trading App has introduced a prolific amount of exclusive, unparalleled benefits to the trading market. These include: a) the ability for traders to set their own levels with technical indicators and notifications, b) the ability for the app to run and operate in a plethora of languages- including English, French, Thai and Chinese etc.) 24/5 live chat support provided via specialised industry experts, d) the option to liaise with leading political, technological, and economical news outlets, and e) a weekly summary analysing users' personalised trading performances.
Furthermore, the aforementioned colossal company has ensured it consistently administers a variety of platforms in order to allow for a more holistically smoother login process- having all trading apps connect to Vantage FX MetaTrader 4 accounts (MT4). Desktop versions of the MetaTrader 4 are additionally synched with their mobile counterparts; this way, they instantly show up on mobile applications (and vice versa) and consequently omit any need to create new accounts in light of the proliferated industry attention that apps have seen in the last couple of years.
A Final Take
When focusing on the specific traits and pragmatic elements that make stock trading apps the most useful- including the apps' pricing, industry information, and server types, it is clear why Vantage FX has significantly increased in popularity in 2021. 
The Mobile App's detailed account history, real-time pricing and execution, and option to open and close live positions and amend orders has provided a much needed 'consumer-friendly' market alternative, and potentially paved the way towards a significantly more robust and reliable industry standard in the near future.