Have you ever wondered how technology has spiced up our beloved audiobooks? Thanks to the digital age, we're experiencing a whole new way of consuming literature. But not just consuming – your sweet voice can please a lot of ears while filling up your wallet. Sounds like something costly and challenging? Not at all. Check how to make money on Audible if you don't believe me.
Nevertheless, 90% of us won't become creators, even though 100% will enjoy the work of others. So, in this article, we'll take you through the fantastic journey of how tech has reshaped the audiobook world, making it more accessible, convenient, and downright fun! A little tip: you can even turn this article into speech voice using plugins like Read Aloud.
Mobile Devices and Apps: The New BFFs for Audiobook Lovers
Smartphones and tablets are more than just our lifelines – they're the ultimate audiobook companions! With a whole universe of titles right in our pockets, we can listen to our favorite books anytime, anywhere. Apps like Audible, Libby, and Google Play Books are a reader's paradise, packed with features that make listening to one's favorite content a breeze.
In-app goodies like customizable playback speed, sleep timers, and bookmarking let us create the perfect listening experience. And get this – these apps can even sync with note-taking apps, so we can jot down thoughts and ideas as we listen. Besides, it's super easy to switch between devices and pick it up right where we left it off. How cool is that?
Voice Assistants, Smart Speakers, and Studio-Quality Productions
Remember when listening to an audiobook meant wrestling with a cassette player? Well, now it feels like something from the Middle Ages. Voice assistants like Alexa, Google Assistant, and Siri are now in the mix, making it a breeze to control playback with voice commands. Moreover, with smart speakers like Amazon Echo and Google Home, we can kick back and enjoy audiobooks in the comfort of our homes.
But the awesomeness doesn't stop there. Audiobook production quality has just skyrocketed! Thanks to top-notch recording equipment and audio editing software, our listening experiences are more engaging and immersive than ever. Celebrity narrators and full-cast productions add some serious pizzazz to the stories we love. And let's not forget the sound effects and background music that transport us right into the action's heart.
Audiobooks for All: Accessibility and Affordability at Its Finest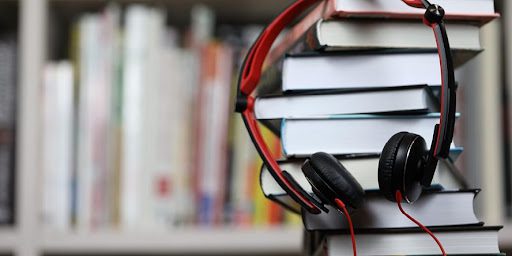 Gone are the days when audiobooks were reserved for those willing to splurge. Instead, digital platforms, subscription services, and library partnerships have made audiobooks accessible and affordable for everyone. Services like Audible and Scribd give us access to thousands of titles for a small monthly fee, while apps like Libby and Hoopla let us borrow audiobooks for free through our local libraries. It's like an all-you-can-eat buffet for book lovers!
Text-to-speech technology is another game-changer, making content accessible for people with learning disabilities or visual impairments. This nifty feature turns any text into an audiobook, allowing users to consume literature in a format that suits their needs. And with AI stepping up its game, text-to-speech voices are sounding more natural than ever, making for a truly enjoyable listening experience.
Wrap-up
There's no denying it: technology and audiobooks are a match made in heaven. By making audiobooks more accessible, convenient, and engaging, tech has ensured that the joy of reading can be experienced by everyone, no matter their lifestyle or abilities. As technology continues evolving, who knows what the future holds for audiobook enthusiasts? One thing is certain: it's going to be an exciting ride!