Wearable devices that are capable of understanding our bodies have become so commonplace that smartwatches and FitBits have fully-fledged mainstream devices. But with the power of technology continuing to develop at a rapid rate, we could see wearables become an essential part of our healthcare in the future. 
Driven by the increasing demand of consumers to monitor their own health and follow vital signs themselves, the use of wearable technology has more than tripled over the past four years. According to data, over 80% of consumers are now willing to wear smart fitness devices.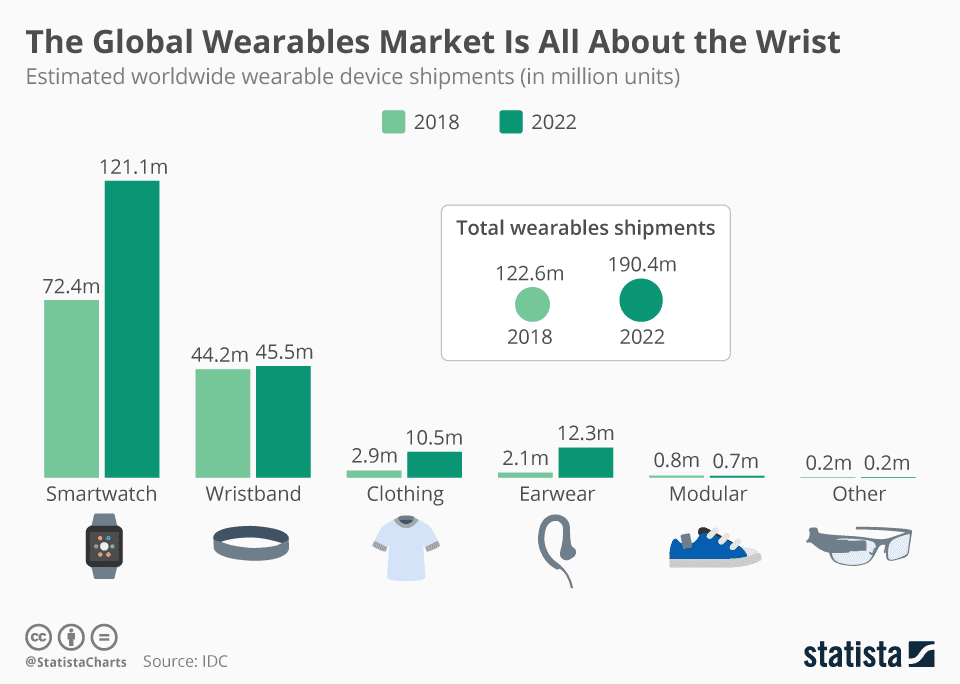 (Image: Statista)
As we can see from the chart above, wearable technology will continue to grow exponentially over the coming years, but the market will remain largely dominated by smartwatches and wrist-based wearables. 
But how will the development of smart technology improve wearables further in the future? Let's take a look at how smart wearables are set to get smarter:
The Next Generation of Wearable Technology
Interestingly, in 2019, Apple chief executive Tim Cook claimed that "if you zoom out into the future, and you look back, and you ask the question, 'What was Apple's greatest contribution to mankind?' It will be about health."
Apple's efforts to move into consumer health is built on an artificial intelligence strategy that utilises sensors and algorithms within its wearables to analyse medical data with the support of a collaboration with Stanford Medicine. 
Within the cutting-edge new features of the Apple Watch Series 6, we can find a blood oxygen monitor that enables the user to track their heart and respiratory health in real-time and an ECG sensor that reads heart rhythms and has the power to detect irregular patterns. This type of advanced wearable device offers proactive warnings and clinically tested decision support alerts as tools for users to take action to stay healthy. 
Early data shows the potential for fitness trackers to evolve into sickness trackers. As the quality of the insights that wearables can bring consumers improves, so too can our quality of advice regarding general health and fitness without the need for initially consulting doctors. With more developments in smartwatches on the horizon to build on the features of the Apple Watch Series 6, we could see Tim Cook's words quickly become more prophetic. 
Hands-Free ECG Monitors
Wearable ECG monitors are on the cutting edge of consumer electronics, and while these devices can take on forms similar to smartwatches, they can also be entirely hands-free in terms of usage. Taking the form of discreet IoT enabled smart patches that can transmit data to smartphones, these stick-on ECG monitors can provide continuous monitoring without the wearer needing to lift a finger. 
Other not-so-'smart' wearable ECG monitoring devices come in the form of the 2019 Consumer Electronics Show award-winning Withings Move ECG – an analogue watch that enables ECGs to be taken anywhere by sending data to a smartphone. 
The Move ECG is capable of measuring electrocardiograms to send to the user's doctor, as well as detecting atrial fibrillation. It can also track pace, distance and elevation as well as providing data on walking, running, swimming and biking. 
Wearables Data to Provide Fairer Healthcare Coverage
The growth in the amount of data that can be collected surrounding our health means that providers can gain an increasingly informed picture of where and when intervention may be necessary. 
The COVID-19 pandemic has shown that there is a general willingness to share personal data when the benefits to our overall health are clearly communicated. This has been shown by the implementation of various track and trace systems that have been designed to keep infection rates down in various regions. 
This is potentially financially significant. The COVID-19 pandemic has been costly for private healthcare, with revenue falling by 50% in the US due to patients avoiding hospitals and surgeries. However, the growth of smart wearables that can increasingly detect our vital signs could help to generate more appropriate levels of healthcare and insurance plans for patients by enabling services to map out our metrics and anticipate when resources could be needed. 
This more comprehensive view of risk factors means that we can ultimately live with tailor-made levels of healthcare that can be on hand when we're likely to need it – all while avoiding having to pay for levels of coverage that we're unlikely to need.