You'll need rapid manufacturing to produce the pieces for testing if you want your products to reach the market as soon as possible. The fast-prototyping sector has risen dramatically in the previous decade as a result of technology improvements. Between 2010 and 2015, the rapid prototyping industry in the United States grew at a rate of more than 20% per year, with growth exceeding 25% between 2015 and 2020. This market is now worth millions of dollars and is changing how manufacturers design new parts. The present market value is estimated to be more than $309 million, with a global market value of $2.6 billion predicted by 2025.
In recent years, numerous developments in the manufacturing business have occurred, including several rapid prototyping technologies that can be highly useful during the product development process. Rapid tooling is one of these ways.
Rapid Tooling, also known as soft tooling, prototype tooling, or simply RT, allows for the rapid fabrication of product parts to test and validate before production. In other words, quick tooling will enable firms to reduce the time spent on product development and, as a result, the time it takes for an item to get from concept to sale or time-to-market (TTM).

What is Rapid Tooling?
Engineers tried to develop a means to manufacture molds using a plastic injection within days, rather than requiring months to create a single machine mold, in the last decade of the twentieth century, and they came up with rapid tooling.
Rapid Tooling (RT) is a method of developing a product prototype in a short amount of time using quick prototyping techniques such as 3D printing.
The RT method converts CAD models into physical molds or tools, cutting product development cycles in half. Even though machined or 3D-printed molds are not appropriate for large-scale production, they allow firms to analyze and verify the durability and prototype before pushing it into large-scale production.
There are a few different RT approaches, each with its advantages. Several aspects, including technology, consistency, precision, size, and the materials you'll utilize, will influence your decision.
You'll need to keep some limits in mind regardless of which RT approach you use. To begin with, the mold must be sturdy and robust in order to endure the molding injections. Second, the mold must be smooth in order for the plastic to be injected cleanly. Some RT techniques build components on top of each other, necessitating extra finishing.
One of the most appealing features of RT is that it uses the same material as the finished product, giving you a sense of how the pieces will be used after the product is built.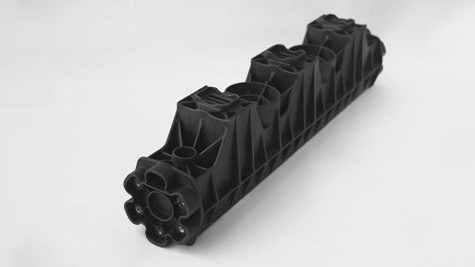 Benefits of Rapid Tooling
Product Optimization
The most crucial benefit of RT, as previously said, is its potential to modify and improve the product design process. Traditional tooling procedures limit the number of iterations of individual parts due to their length and cost. In contrast, RT allows the mold design to be improved and tweaked until the result has the desired functions and attributes. Rapid tooling also will enable you to spot any design flaws early on and fix them before going into production, sparing you money and time in the long run.
Unlike other forms of fast prototyping, before moving a prototype model into production, you can test and evaluate it for form, functionality, scalability, and features using RT. Because RT prototypes are more than just idea models, they can be assessed the same way that the final product can.
Saves Time
Rapid tooling shortens the time it takes to make a tool. Traditional tooling procedures can take months to complete, whereas RT reduces this time to weeks or days by eliminating the need for patterns, specific tools, and molds. These short TATs in the early stages of product production help to reduce overall time-to-market and increase production flexibility.
Cost-Cuttings
RT has a significant cost advantage over traditional approaches, with more than 90% savings. Businesses may now make molds and tools at substantially lower costs, allowing them to develop designs with greater flexibility. Furthermore, the price makes tooling more affordable, especially for enterprises with limited resources.
Increased ROI
Rapid tooling also reduces the time it takes to develop a product. As a result, you can earn your ROI quickly. As you begin to sell your goods, the process also results in decreased production costs, enhancing your overall ROI. If you have a restricted production budget and want to keep your operations as lean as possible, this approach is appropriate.
Applications of Rapid Tooling
RT has a wide range of uses, including:
Creating cores and casting molds
Molds made of non-metallic and metallic materials
Electrodes are used in EDM.
Hybrid pattern creation for casting
Making stamps for marking
Splintering tools are made.
Industries that Benefit from Rapid Tooling
Medical Device Prototyping
Because medical devices are subject to stringent regulatory compliance, manufacturers might hope to finish clinical trials and put their goods on the market considerably faster by speeding up the development of functioning prototypes.
Aerospace Manufacturing
Aerospace production typically uses smaller batch sizes, which is ideal for tooling that produces a lesser number of parts. Another reason RT is appropriate for aircraft manufacturing is the complex design specifications, expensive items, and high cost of aerospace components.
Automotive Design and Prototyping
The process of automotive prototyping is costly and time-consuming, but RT may reduce the cost and time associated with creating prototype parts, allowing the TTM to be shortened.
Conclusion
Rapid tooling services are critical in manufacturing because of the flexibility, reduced production costs, and shorter lead times. There are several approaches to rapid tooling in manufacturing, each of which can be useful in achieving optimum results. The topic "what is rapid tooling?" was answered in this article. It also demonstrated the benefits of rapid tooling services and how to select the best solution. In terms of the proper decision, several companies offer clients sophisticated quick tooling processes and technology.