The Industrial Revolution of the 1800s and the introduction of personal computing in the 1980s brought about huge changes in how work is done, but the advent of artificial intelligence (AI) is bringing about more profound changes – The era of digitization is going to be history and Radixweb the pioneer of innovation. 
BPR (Business Process Re-engineering) efforts are seeing a high return on investment, owing to process robotics and cognitive automation. The synthesis of natural and artificial factors has resulted in tremendous change and difficulties for enterprises and the process of enterprise application development. These factors are causing many to revaluate their strategies and techniques they, as well as the locations where they must be in order to develop and innovate.  
At Radixweb, we've pondered how to uphold and enhance a culture that fosters transformation with the power of innovation. As a result, there is now accord on a few fundamental ideas that have guided Radixweb culture for 22 years, until today, and so on.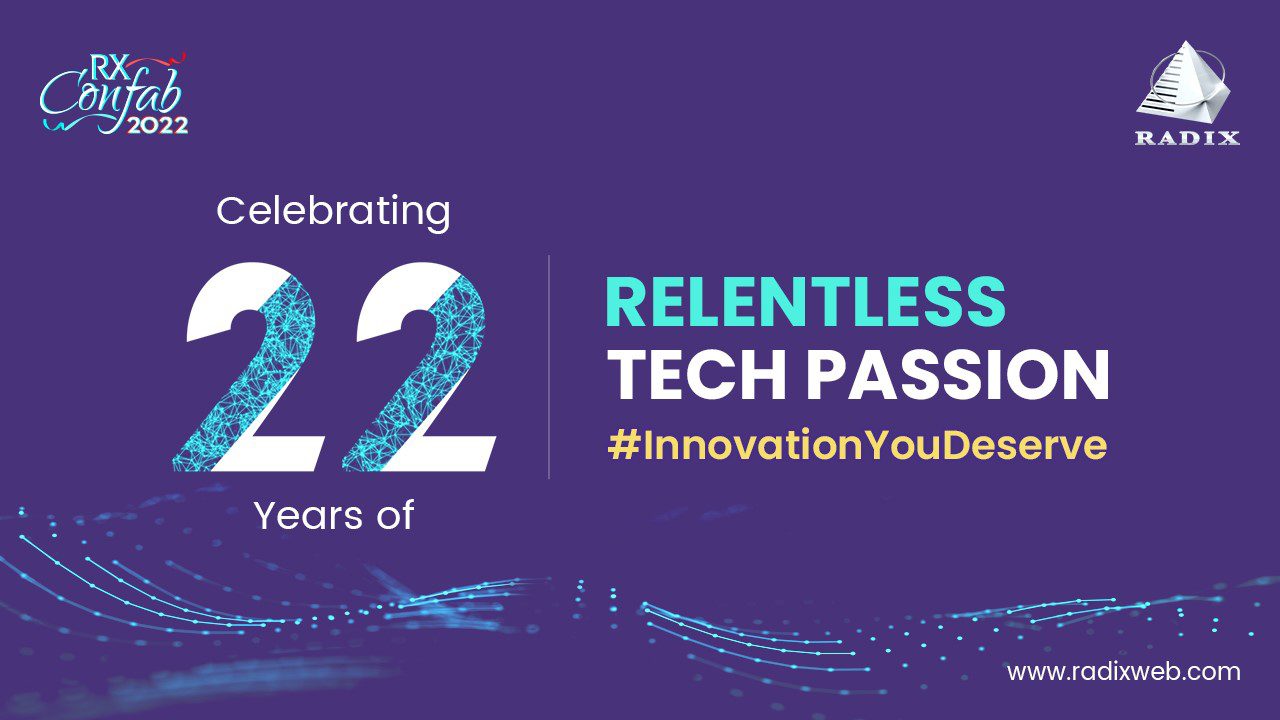 An Innovative Approach to Re-imagine Business Processes
Radixweb combines the inquisitive approach of BPR with a focus on where automation and AI may have the biggest impact to help organizations realize the full capability of automation. 
"More than ever, there is a biting need for resilient processes that can cope with the pace of change and embrace transformation with agility and has tailored focus."  – Dharmesh Acharya, COO. 
By utilizing a thorough, bottom-up strategy, BPR is intended to fundamentally alter how organizations balance their primary resources against their most urgent business concerns. Many of our clients and partners have successfully used our creative transitional framework in the process of enterprise application development. This plan has been "re-imagined" to provide an interesting sidenote for automated solutions in response to the evolving re-engineered strategy. To discuss this in detail, check out the roadmap. 
The Effective Roadmap of Our 22 Years of Journey 
Scan and take a note of the current approach

 
Analyze the gaps and loopholes as the market evolves.

 

Transform with the power of Innovation.

 

Validate the changes and adopt a new approach. 

 
Now, as we are off to celebrate our 22nd Anniversary on 21st July 2022, we believe the same approach would successfully help us revolutionize technology in the decades to come.  
Incorporating BPR with Enterprise Application Development for 22 Years 
The most common industrial requirement for apps is mobility. Businesses are providing best-in-class elements to rapidly, effectively, and reliably mobilize and enhance business applications across a variety of mobile platforms. It doesn't end there; clients also seek continuous evaluation and transformation to keep up with the market shifts. So, we, Radixweb, the pioneer of technology and enterprise application development, offer the #InnovationYouDeserve with the BPR approach.  
Until recently, the main purpose of using widgets and APIs was to make it possible to integrate different methodologies. They are now widely used by organizations to achieve vying advantage not only from the point of expending but also in catering and constructing them for usage. As a result, we, with our tech experts, create value for all the connected stakeholders in the chain of agility. 
The Mission, Vision, and Ethos for Enterprise Application Development 
Radixweb's goal is to offer useful, business-oriented technological solutions. Our team's deployment in enterprise software development has improved communication, permitted carefully monitored information flows, and enabled enterprises to transcend territorial limitations. 
Finding novel approaches to problems while developing an app requires a multifaceted approach like BPR. It can also relate to altering company models and adapting to changes in order to deliver better goods and services. The new development strategy in the IT industry is to incorporate pre-emptive, preventative, and omnipotent counselling into the project lifecycle to lessen the severity of an organization's sticking points.  
Knowing when and how to delegate responsibility while keeping the teams sufficiently aligned to maintain open lines of communication with customers is crucial for success as a renowned software development company. With 22 years of such technical transformation and delivering a great customer experience, we take pride in celebrating our achievement.  
Join Us in Extending our Legacy of Innovation 
The global structure of enterprise technology has changed to restructuring its technical skills and see enterprise apps in a new light. And so have we delivered in the past 22 years. Radixweb has been utilizing agility to blend in with the ongoing changes in the market and industry. At Radixweb, we see it as our duty to help you fully grasp your enterprise application development process, focus on business objectives, and implement the necessary tactics to help you reach your intended innovative milestones. 
Technology has been shown to be the primary driver of modern innovation, and as fast-evolving technologies continue to proliferate, this tendency is only expected to be true. However, a corporation that is innovative will stop considering these technologies to be beneficial to coming generations. It must continue to change for the benefit of the company overall, hence the BPR approach to software development. 
Innovation integration is more important than ever because change is happening at a faster rate than ever before and because perseverance is more important than ever. 
We can unleash the full potential of digitalization by working together with our relentless tech passion and persistent excitement. If you want to boost your enterprise application development process and achieve the necessary technological edge, Radixweb can be the bearer of your success.