CardSnacks is your one-stop destination for all things eCard and gift card-related. With a user-friendly platform trusted by thousands of individuals and companies alike, the platform makes gifting fun, convenient, and so satisfying. Whether it's a birthday surprise or a token of appreciation for an employee, CEO Mark Wachen shares how CardSnacks takes the guesswork out of finding that special something. Find out more in this exclusive interview with TechBullion and experience why CardSnacks has earned the coveted title as the top eCard and gift card platform on the market.
Please tell us more about yourself.
My name is Mark Wachen and I am the CEO and Founder of CardSnacks, the leading platform for individuals and businesses to send personalized e-greetings and gift cards via text or email. I am also Founder and Managing Partner of Upstage Ventures, a firm that advises and invests in consumer internet and interactive marketing companies.

What is CardSnacks and what unique solutions are you providing?
CardSnacks allows individuals and businesses to send personalized e-greetings, invitations, and gift cards. We have more than 5,000 card covers to choose from, or you can create your own, which you can further customize by including photos, videos, gifs, stickers, voice and much more. We also operate as an employee engagement platform that lets employers create employee and customer recognition programs by sending cards and gift cards by text or email. This has become a staple for many businesses who are looking for an easy-to-use and easy-to-implement solution to show employees they care. Businesses use them for anniversaries, birthdays, work milestones, or congratulating them on special life moments.
What inspired this AI innovation for emotional intelligence? Could you give us more insights into the AI trends for human behavior, how big is this market and which products are setting the trends?
Anyone who has ever sat down to write a personalized greeting knows that finding the right words to say can often be difficult, even if it's a simple birthday message or congratulations. Having writer's block is a real thing, and sometimes you just need an initial spark from some other source to find your way through the barrier. So the inspiration was to act as a starting point to help people find what they sincerely wanted to say. With our new AI technology, users can put their own feelings into words faster and easier. While using the feature, users can input who the card is for, the occasion, the style of writing, and sentiment. So no matter what the occasion or who the recipient is, the suggestions are sure to find the right words and add a touch of humor or sincerity depending on the option chosen. Whether they adopt the AI suggestions fully or simply use them as a starting point for their own creativity, we are providing our users with a faster, more simplified approach to best express how they feel about those they love or respect. 
CardSnacks allows individuals and businesses to send personalized e-greetings and gift cards, how does this work? could you give us a walkthrough of this platform's ecosystem and the technology behind it?
The process begins by visiting the Cardsnacks homepage, or downloading the app to your mobile device. From there, the customer has access to our collection of greeting card covers  for both personal or business use, such as a birthday, thank you, get well soon, invitations,  congratulations, and much more. 
With regard specifically to business e-cards, the business e-card section has a very large selection of greeting cards appropriate for both employees and customers, or potential customers. For instance, we have 'nice meeting you' e-cards to quickly send to a new business contact and a thank you e-card for referrals. We put a lot of work into our selection for appreciating and acknowledging employees, primarily because our customers are very focused on employee retention and motivation. Once you select a card cover, you can then personalize your message with photos, music, videos, voice, and of course text. This is where you can choose to use our AI message creator to craft the perfect message, or at least give you a spark of inspiration. Next, you can decide whether to include a gift card with your e-greeting card. Then you simply specify the address that you want the card emailed to or texted to, and we do all the rest.
 With the boom in remote work since the pandemic, there has been a dramatic effect on how employees are evaluated. When everyone went to work at the office, people were to some degree evaluated based on how much time they spent in the office. Evaluation is now based much more on results than being physically present at work. This is a good thing overall, but it certainly puts the onus on people to be more self-motivated and focused since their boss is no longer right down the hallway observing them all day. But on the flipside, hard-working remote employees may lose the daily affirmation they used to get from grateful co-workers in the office. CardSnacks is an effective mechanism for supervisors and managers to show they value their strong-performing remote co-workers, which keeps them motivated and more likely to stay with the company. 
 Many of our business clients have made CardSnacks central to their employee appreciation efforts, probably because we have made the platform so easy to use. For instance, September 29th was National Coffee Day. So many companies sent their teams a Happy Coffee Day e card, with a small gift certificate to Starbucks or Dunkin' to celebrate or even to just encourage people to have a cup of coffee together. There are reams of research on the value of micro-gifting, but people know intuitively that telling people that you appreciate them, without it being connected to a specific instance, is powerfully appreciated.  
Our technology is proprietary, so I don't want to get detailed about it, but I will say it takes a lot of hard work to make the platform so easy for people to use. We've touched on our AI tool, but we also have a group greeting card feature that is, technically speaking, very sophisticated. When everyone was in the office, it was normal to pass around a birthday card for everyone on the team to sign for whoever's birthday it was. We've created a digital version of that, which can be adapted for any occasion, like a promotion or whatever, in addition to a birthday 
What kind of early data has CardSnacks gathered regarding customer usage of the AI feature, could you give us some statistical examples and use cases?
One analysis that we did was on the number of users using AI for their message as a percentage of users sending cards in each category. Since launching this feature this past May, it was interesting to see that the two card category types that used the AI feature the most were "I Miss You" and "Good Luck" cards. Interpreting this data is a bit speculative, but it seems people are using the AI tool to jumpstart their own writing, and perhaps these are sentiments that people need more help with expressing since they are not as common as birthday cards for example. 
In what ways does CardSnacks ensure that users don't simply rely on the algorithm to write their messages, but still maintain a personal touch?
We don't. It's really up to our users how they choose to write their messages. If they use AI to do that, the extent to which they do is between them and the recipient.  But we do find that many use the AI messages as a jumping off point, and then further enhance their messages with more text, or photos, videos, stickers, and voice to make sure they always have a personal touch
How can businesses benefit from integrating personalized e-greetings and gift cards into their overall marketing strategy?
Every large company, and most of the not-so-large companies, use customer relationship management programs to stay in touch with customers and clients, both those who have purchased from them and those who have simply expressed an interest. Integrating personalized e-greetings, whether birthday e-cards or holiday e-cards, whatever example you might use, is a logical integration with those systems. CardSnacks makes it easy to use the customer data you already have to take the customer relationship up a notch. A personalized multimedia birthday card to a client or potential client tells them they value the relationship they have with you. The same logic applies at whatever stage the customer relationship is. 
Are there any privacy or safety concerns associated with using an artificial intelligence tool like CardSnack's emotion-assisting feature?
No, because we have strict privacy policies that cover all the ways our data is used in the AI feature and in the platform in general.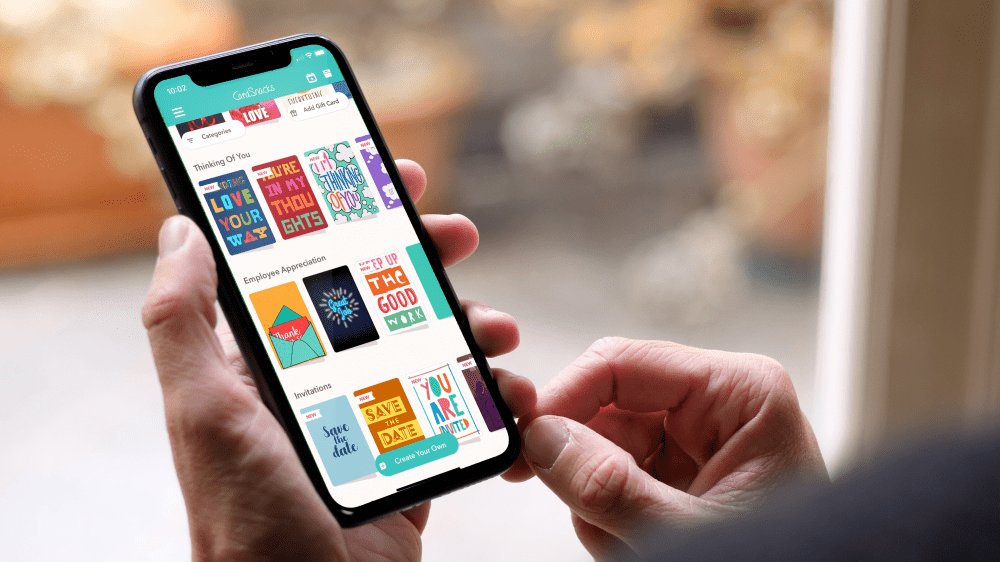 Can you share any success stories or testimonials from users who have found great value in incorporating this AI feature into their message-sending experiences?
It's only been available for a short period of time, so we have not yet been able to put together an AI case study, like we have for businesses that use the CardSnacks platform more generally. We have more than 49,000 customer reviews, and a cumulative rating of 4.8 out of 5 and those numbers have continued to grow since we rolled out the AI message editor. While we don't have testimonials specific to the AI feature that we can share at this point, we can see that the use of the AI message editor continues to grow which seems to indicate that our customers are enjoying and finding value in this feature.
What are you currently working on at CardSnack, Are there any available opportunities for investors and partnerships in the business?
Like every other tech business, we are constantly developing new features, based on customer feedback. We are always excited to explore partnerships with other companies that are looking for an ecard solution, whether that be other ecommerce sites, media properties, or companies in the HR space that are looking for a new, innovative tool for showing appreciation and recognition of employees or customers.