Having an RV wrap will enhance your little home-on-wheels, no matter how old it may be, and make it look stylish and sophisticated, no matter how old it happens to be. RVs are a convenient and comfortable way to travel and experience new places while still possessing many of the comforts of home. Additionally, wrapping is an ideal way to stand out and make your vehicle more interesting and could even turn it into a conversation piece.
A full wrap can be as costly as $2,500 in some cases, while the higher-end options can cost upwards of $10,000 in some cases, depending on the size and style of the RV.
There is no doubt that for many RV owners, the exterior of their RVs is just as important as the interior of their vehicles. In addition to the fact that an RV wrap allows you to keep your RV's original paint for resale in the future, it will make your vehicle more eye-catching and appealing. If you decide to enhance the appearance of your RV, no matter what your reason may be for wrapping up the RV, you will need to set aside a reasonable budget for it. In order to determine how much an RV will cost, you will need to read on to find out what it will cost to cover it. Read on to find out how much it will cost!
What Is An RV Wrap?
The RV wrap is a vinyl film that is applied to a vehicle either to enhance its appearance or to protect it from the elements. The RV wrap is becoming increasingly popular as it is a way to completely change the exterior of the vehicle and protect it from damage, scratching and other wear and tear. There are a number of colors, patterns, and designs that are available on the vinyl material, including custom designs that can be printed on it. 
Vinyl wraps can either cover the entire exterior of the vehicle or they can just be vinyl decals and graphics applied to the exterior of the vehicle. The vinyl material used for RV wraps is durable and can last for several years with proper care and maintenance. If the wrap is not properly maintained and cared for, it can be easily removed without damaging the original paintwork.
Wrapping Costs Are Determined By What Factors?
RV wraps can range in price, so it is difficult to give an exact quote before inspecting the vehicle and knowing what you need. Ultimately, the cost will be determined by the size of the RV, the quantity of materials needed, the labor costs, and the installation time. Here are the factors that influence the price:
The Type Of Vinyl Wrap
The type of vinyl wrap you have opted for also affects the cost. For example, if you want a full wrap that covers both sides of your RV, you will need to pay more. You can also partially wrap your RV for less money. This includes a three quarter- and a half-cover. It is an excellent way to integrate your car's color into your wrap design and create a captivating look.
If you wish to opt for just the decals, they will cost even less. On the other hand, if you have opted for custom wraps in which you want to place your own design on the wrap, the price will go up due to the fact that these are hard to come by and include the cost of printing as well.
Quality Of The Vinyl
The quality of a wrap is also important because well-made wraps are expensive. It is wise to invest in a high-quality wrap over a cheaper, low-quality one since it will last you a long time. If you compromise on quality, you will end up spending more. A Vinyl Frog wrap is a medium stretchable wrap with anti-corrosion, anti-stain, anti-scratch properties that is durable, premium quality, and has anti-corrosion, anti-stain properties.
The Size Of The RV
It is important to consider the RV's size when determining its wrap cost. Larger RVs, such as class A motorhomes, require more vinyl material, which may increase the cost. Additionally, the design or type of vinyl you choose varies from vendor to vendor, and complex patterns like a custom wrap are much more expensive than standard designs.
The Wrap Installers
Lastly, who will wrap the RV? Depending on the installer, you are likely to be quoted a different price. Labor costs will not be included if you do it yourself or if you know someone who can do it for you, so you will have to decide. If you prefer, you can have your RV professionally wrapped. Labour costs vary from region to region, so it is important for you to understand exactly what you will be getting into with each of these.
The cost of wrapping an RV depends on the size of the RV
RV type can also affect the cost of the wrap. As a result of slide-out sections, multiple wheel wells, and roof access ladders, motorhomes usually require more labor when applying the wrap than small travel trailers with one access door. For those interested in wrapping their RV, the following costs are provided.
Motorhome
The size and shape of Type A motorhomes makes them the largest and most difficult to wrap. A complete vinyl wrap for a 20-foot RV with an average height of 9 feet will cost $3200. The cost of materials and labor increases with the length of the RV. For example, a 28-foot motorhome will cost $4500, while a 40-foot motorhome will cost $6400. Typically, a complete RV wrap costs twice as much. Please note that this is an approximation. It may vary depending on the cost of labor and the vinyl you have chosen.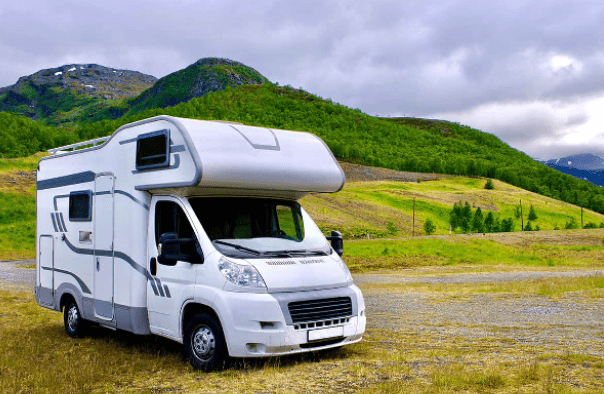 A class B or C motorhome is typically smaller and simpler to wrap because of its smaller size and simpler body. It typically costs between $2,500 and $6,000 to cover one side of a Type B motorhome. A full wrap on one side will cost you between $2,500 and $6,000, depending on the length of your RV. For example, if it is 36 feet long, it will cost about $4500 to cover one side completely. It is recommended that you have at least $8000 to $10000 in hand for a professional job, no matter if you have a motorhome, fifth wheel camper trailer, or travel trailer. If you are on a budget, partial wraps or just side images can be an easy alternative. Please note that this is just a rough estimate. Different vendors may provide you with a different price estimate for your RV based on its size and shape.
Travel Trailer
The cost of a half wrap on the sides of a trailer 28 feet long and 8 feet tall would be about $2,000, while a full wrap would be about twice as much. Fifth wheels would be a little more expensive because they are higher than bumper-pull trailers.

In spite of the trailer's size, it would cost about $500 to wrap the front and back. For a partial wrap, it would cost about half of that. The front of a fifth wheel is less expensive to wrap, at about $200. Additional charges may apply for designing and delivering as well as wrapping windows and slide-outs.
Different Types Of Vinyl Wraps For An RV
Essentially, vinyl wraps are used to customize the look of your RV and you can choose from a wide range of hues, textures, and finishes. However, the closer you get to customizing the wrap, the more it will cost. Here are a few options available at Carwraponline that will make your RV stand out from the rest.
Glossy: If you are looking to add a sleek and modern touch to your RV, then gloss vinyl is the way to go. As well as offering an excellent finish that can help to enhance the overall appearance of your RV, it also provides a protective layer that can extend the life of the paint you have already applied. These wraps offer the greatest variety and are available in vibrant colors that can give your vehicle a fresh look. A roll of five feet x ten feet costs approximately $159 in total.
Metallic: There are a variety of metallic wraps on the market that are popular for adding a unique touch to your car. These wraps are made up of metallic particles that reflect light, giving the vinyl a shimmery appearance. Depending on the type of particles used, metallic vinyl can have a variety of colors, ranging from silver and gold to blue and green. These colors are available in many shades. 
The glossy metallic vinyl has a distinctive sheen that adds to its appeal. The matte metallic wrap has a sleek look, while the glitter metallic wrap has bold colors. A textured Brushed Metallic wrap is a great choice if you're looking for something unique. This vinyl film will cost you $159 for a five-foot x 10-foot roll.
Carbon Fiber: The price of a 5 foot x 10 foot roll of this one-of-a-kind vinyl wrap is $169. It can also be used to wrap the interior of an RV, since it has a textured appearance that simulates genuine carbon fiber. 
Chrome: There is a luxurious appearance to these wraps that makes them very appealing, and this makes it possible for your RV to shine both during the day and at night. We, at Vinyl Frog, offer enchanting Opal Chrome wraps, exquisite Satin Chrome wraps, and sparkling Mirror Chrome wraps. A 5ft x 10ft roll costs about $169.
Matte: With this wrap, you are able to give your vehicle a sleek, elegant, futuristic look while avoiding the addition of shimmers. Another great thing about these wraps is that they are not scratched as easily as the rest of the vinyl wraps, so they are perfect for RVs. You will need to pay between $149 and $159 for a roll of these wraps that measures 5 feet x 10 feet.