Apple is one of the most famous brands in the world. Its users have been increasing since the launch of the iPhone in 2007. Now, Apple company claims that it shares around 23.4% of the total smartphone market. There are more than 1 billion consumers of the iPhone.
iOS generated 63% of the total app revenue in 2021. So, it is evident that developing iOS apps for your business can be a wise decision in 2022. For this, you have to hire iOS developer who is experienced and skilled.
In addition, the number of iOS app users has also scaled more than ever before. You can notice in the below image that the number of iPhone users is constantly increasing. It is a positive sign for enterprises who want to develop iOS apps because more users will generate more revenue.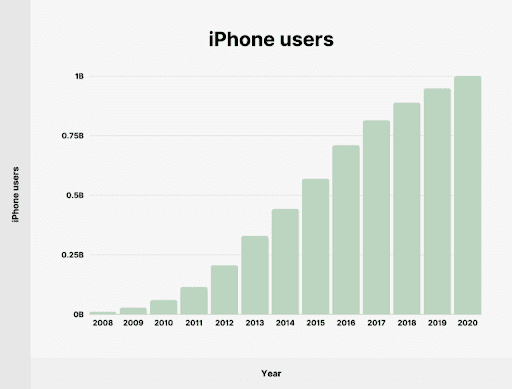 I will highlight some crucial points to help you determine the cost of iOS app development in this post. But before this, you must have a look at the cost differences between iOS and Android app development.
Comparison Between the Cost of iOS and Android Developers
The cost of iOS developers is more than Android. It is because specific skill sets are required, the complexity of the features and functions, high-quality expectations, and the availability of efficient developers. And iPhone is popular in locations with high incomes like Japan and the USA.
An Android developer's cost is around $20/hour for a simple project. While the iOS developer cost starts from $25/hour. If the project is of large size and requires more innovative idea implementation the price can go higher.
An Android developer's cost can be $30-$100 for a complex project. On the other hand, iOS developer charges $50-$200. That is why some businesses hire android developers who have tight budgets. Let's know about the complete project cost.
| | | |
| --- | --- | --- |
| Difficulty Level of Apps | Android  App Cost | iOS App Cost |
| Simple | $20,000 | $50,000 |
| Intermediate | $30,000 | $75,000 |
| Advanced | $50,000 | $150,000 |
However, the cost of developers varies in different regions. For more insight have a look at the image below.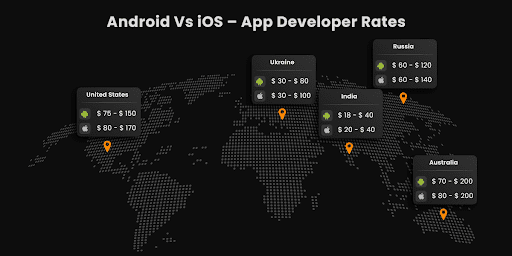 5 Factors That Affect the Cost of iOS App Development
If you are planning to hire an iOS app developer in 2022, you must know the factors that affect the cost. It will help you understand better why the cost varies and is higher in some cases.
As you read above, the cost of developers is based on the regions they are from. So when you hire developers for your iOS app you have to check the type of developers. Decide on whether you want freelancers, an in-house team, or offshore developers for your project. Developers in the USA and Canada charge more than that in other countries like India, Russia, and Ukraine.
The experience of iOS developers also affects the app cost. It is because highly skilled developers ask for more. While beginners and intermediate-level of developers can complete your project in a lesser amount than the experienced ones. However, there can be chances of flaws and errors in the final product. So, most businesses go for experienced and skilled developers even if they have to spend more.
Cross-platform apps are the new buzz in the town because they offer several benefits and reduce the cost of an app. So, developers have to create UI and UX designs that are responsive and can work impeccably on any screen. They have to analyze the business objectives, target audience, features, and functions to build interactive UI/UX designs. Moreover, tools and frameworks used for engaging designs also affect the cost.
Third-party Integration or API (Applications programming interface) is crucial to improve the security and performance of the app. However, it requires excellent skills to integrate API into the iOS apps. As a result, it turns out to be costlier. Third-party integration is crucial for secure and quick access to Google maps, Facebook APIs, Booking API, Movie Database, and more.
Since iPhones are best known to offer a secure platform, building secure iOS apps also becomes evident. That is why developers focus on creating robust software solutions for iOS. Moreover, effective testing is important for building secure apps. Check out the price for different testing for the iOS app.
Security testing cost of iOS app- $700-$15,000

UX testing cost of iOS app- $300-$1500

Performance testing cost of iOS app- $130-$550

Platform and device testing cost of iOS app- $120-$250
How to Hire the Best iOS App Developer for Your Project?
Hiring the best developer for a project is not a cakewalk. You have to take care of various things. Since this is your dream app, you must not hassle with hiring a developer or a team. Consider the points I have curated in the space below so that can pick the best from the pool of developers.
Be clear about your requirements

Make a list of the best firms

Check reviews and feedback

Talk to the clients of the app development company

Check the idea security policies

Compare the iOS app development costs

Ask questions for clear understanding

Check the portfolio of the developers

Know about different software development methodologies
These are some of the important points that you should not miss while hiring an iOS developer. Besides it, also decide whether you want freelancers or an in-house team for your project.
I hope, this write-up will help you find the best talent at a reasonable cost for your iOS app. The cost of development highly depends on the factors I have talked about above. So, always consider them and put your best foot forward. It will save your project from getting delayed and going over your budget. You can talk to one of the experts of any prestigious app development company for free and get clear your remaining doubts. I hope this will add to the information you got in this blog.
Best of Luck!