How much does a neon sign cost? It's a frequently asked question when it comes to the purchasing process of a neon sign. Normally, the prices vary from $100 and above for the ranges. This also depends on many components that we are about to mention down below.
1. Factors that impact the neon light cost
How much does it cost to make a neon sign? There are numerous factors that impact the price of a custom neon signs. If you're looking for a neon light sign, be sure to consider these factors in the cost of installation, as those can add up.
1.1 Text
The neon sign price will also depend on how many letters or phrases you want. The price increases as you require more words. Also, if you're trying to make intricate fonts, it will also raise the cost because of all the twist and turn in the production process. 
1.2 Size
Size is the primary factor in determining a custom neon sign cost. Naturally, the price of your sign will increase with its size. This is because more materials were utilized in the construction process and because there was more labor involved in the assembly.
1.3 Design complexity
The cost of buying a sign of this kind can be greatly increased by design complexity. Complex designs are more difficult to create, require more time to complete, and are more expensive. The price will rise if you want to add custom logo work or pictures to your LED sign. 
A simple and straightforward graphic design for your neon sign might be substantially less expensive than a complex one. Additionally, if you want color coordination to be more intricate, this might raise the cost as well.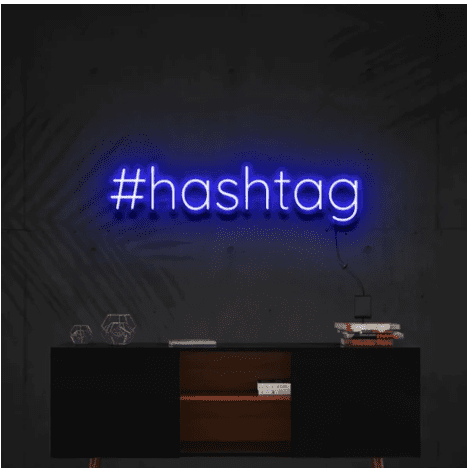 A simple neon sign will be cheaper than a complicated one
2. How neon LED signs are crafted?
The light-emitting diode is what it stands for LED. These tiny individual Light Emitting Diodes are used to create LED neon signs. They are arranged closely together on a thick plastic backing that can be twisted into the desired form and trimmed to the required length. Compared to classic neon lights, LED lighting items are smaller and lighter. Additionally, this new light source uses less energy while producing noticeably more brightness. 
3. How do LED neon signs work?
LED neon lights more effectively imitate the lighting effect of glass neon lights. Different Light-emitting diodes or LEDs are put on a strip in these lights. The color, brightness, and hue of the neon light generated depend on these LEDs.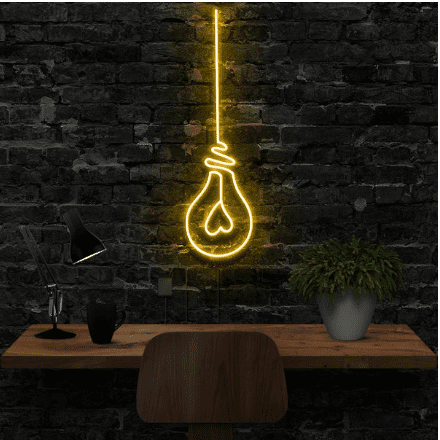 LED can create many colors
4. How much should I spend on a LED neon sign?
How much you spend actually depends on your need. If you need a big sign for your business to draw attention and create an amazing spotlight, this will definitely not be cheap. If the budget is tight, get yourself a simple sign and be happy with it!
5. Why should businesses use LED neon signs?
A professionally designed outdoor sign is necessary for every business to give a polished appearance. Whether you own a diner, salon, gym neon sign or delivery service, adding a bright neon sign to your storefront is unquestionably eye-catching.
LED lights are renowned for having better brightness and using less energy. LED lights can provide superior energy efficiency levels in comparison to other lighting solutions, consuming roughly 50% less energy than other contemporary signs.
LED neon signs are also highly customizable. As an owner of a business, you would always want to give your company signage a unique feel. You can make your business stand out from the competition and establish stronger relationships with your customers by adding a personal touch.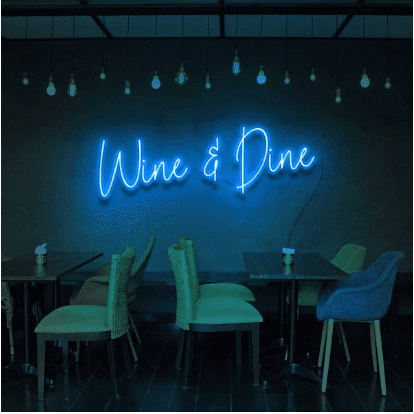 Wine & Dine Neon sign for diners
6. Custom neon signs price
You can use Orant Neon's custom design tool to create your own text-based neon sign. After finishing all the detail, you'll receive an exact best custom neon signs. From there, you can proceed to check out directly and finish the purchasing process. If you have an idea about a special light, please send the design through our form and our team of neon experts will respond to you as soon as possible with the best offer.
7. Production times for a neon sign
When the order is confirmed, it takes around 5-7 business days to create a sign. After manufacture is complete, we provide standard free delivery to all countries, which takes an additional 3-5 business days. The total order time from when you place your order to receive your sign is 12-15 business days, for express shipping (extra 75$), the total time will be 10-12 business days.
In the article above, we have learned how much does a neon sign cost? And some of the primary factors that impact the price. As you can see, size and complexity will mostly determine the final price. After this, we're pretty sure you can get yourself a beautiful sign that fits your budget.