There are billions of smartphones users and they are mostly busy in using mobile apps. Only you need an effective strategy to provide them accessibility to your app to make more customers.
Do you know how the world's famous coffee retailer Starbucks increased its number of customers?
In 2009, Starbucks launched a dedicated mobile app for their customers 'myStarbucks app', and created Starbucks Reward Loyalty Program.
What happened after that?
The company now serves 22 million active members through the customer reward program and their mobile app contributes 25% of all nationwide sales revenue in 2021.
Read one more success story
IKEA is a Swedish MNC that sells furniture and home appliances across the world.  This company launched the Augmented Reality Home Planner app, known as IKEAPlace. This mobile app enables customers to take a picture of a place in their house and virtually install IKEA furniture there to see how it fits with their room.
Customers impressed with such an amazing feature and as a result, the company reported their app streamlined customer's decision making and purchasing processes which made up 16% of overall sales in 2020.
This is the power of a mobile app in the modern world.
Today, we will tell you how a mobile app can help you make a large number of customers for your business and boost revenues.
Why your business needs an app?
We live in an age where half of the world's population uses a smartphone. Mobile apps have become the blooming world of business opportunities.  According to eMarketer report, users spend around 90% of mobile internet time in using apps.
If you see last year's data, you would understand how much the usage of apps has increased tremendously in the current time and there is no sign of going down in the future.
Enterprises and business organizations are investing in mobile app development to reinforce their sales and customer relations. Maybe this is the reason, on average, more than 100,000 new Android apps are released on the Google Play Store every month.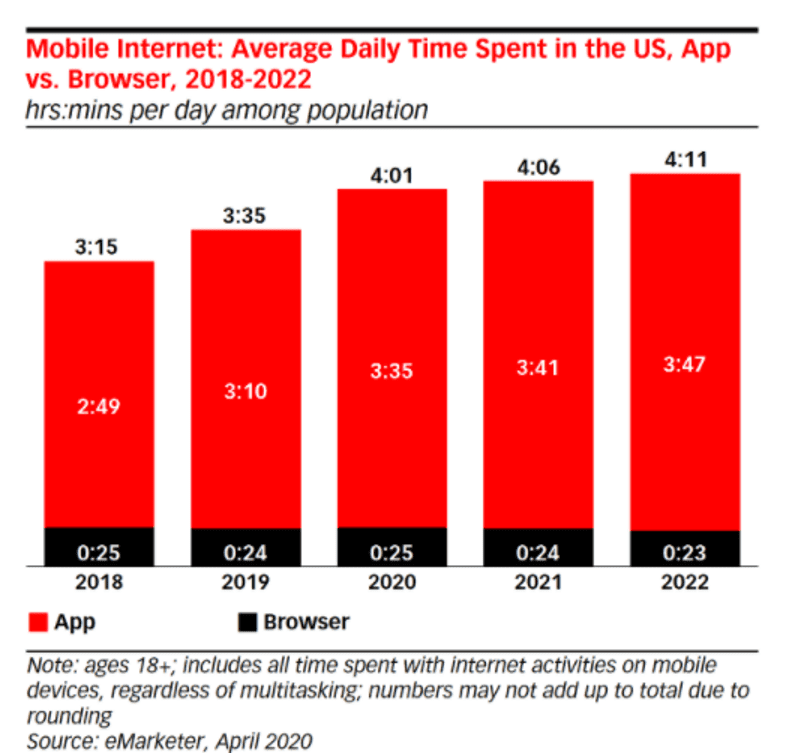 The world is full of Android users. So, it gives a wide range of market scope to increase the customer base. Android app development company in India specifically making the most of creating mobile apps for startups, entrepreneurs, and small businesses and making great revenues.
In the US, mobile app market revenue is expected to show an annual growth rate CAGR of 8.38% for 2021-2024, which is an estimated market volume of 1,799m USD.
Well, there is no end to data and statistics for proving the dominance of mobile apps. Let's move to understand how a mobile app can help your business make millions of customers.
Mobile app can help you build a database of customers
Whenever a user downloads your app to find something or make a purchase, you get an additional channel to collect information about that user. However, it goes through taking user's permission first before collecting the data, but in this process, you get the chance to make a useful database of customers.
This data can be highly valuable to a business who wants to know what relevant content is optimal for their target audience. It will then enable you to create engaging content and as a result, your app will get more number of interested customers.
Make your brand more human
A mobile app can work as a great channel of communication between you and your customers. Apps allow you to quickly resolve customer issues and make them aware of the latest discounts or offer that you are providing, and give a platform to customers to directly interact with the company.
Especially, Apple users are very choosy in selecting the apps whether the apps are more user-friendly and give value to their time. iOS app development company India focuses on creating interactive UI&UX that stands on all expectations of iPhone users. That is why mobile app is a great product to make your business process more human and interactive.
Provide ease of access
Customers don't put extra effort to search for anything online, instead, they go with the options which come first to them. As people are more available on their smartphones, mobile applications can provide ease of access to your company's products & services that they are looking for.
It will also stop them from going for web browsing if your app is catering to what a customer is looking for exactly. Additionally, customers feel secure to buy and interact with brand in a mobile-friendly environment. Therefore, the app ensures customer satisfaction which in turn results in an increased number of customers.
Mobile apps allow you to create reward program that boosts your customer base
Reward program has always been an effective strategy to inspire customers to spend more on a product or service. Today, in this age, where almost everything is happening on a smartphone, mobile applications have been proven to be a successful channel to reward customers and thus, attract more customers to your business.
For example, allowing customers to earn points within a company's own mobile app encourages loyalty to your product or service. These points can be utilized as in-app currency to exchange for personalized rewards.
Boost visibility 24×7
In the US, the average user spends over two hours on mobile apps daily. And globally, there are more than a billion smartphone users who spend more time on phones than PCs.
When you have a dedicated mobile app for your business, it gives visibility at all times as people can access the app anytime they want no matter in which time zone they are living.
Your business will be exposed to countless eyeballs 24×7 if you have mobile app presence. People generally have mobile devices on their fingers, palms, or pockets. This simply means the mobile app can work as a trigger to connect with customers whenever you want.
Conclusion
Making millions of customers may sound challenging, which is in fact true, but only you need an effective strategy to make your mobile app more accessible to users who are already present in large numbers.
When you develop a mobile app, it empowers your business and makes your product & services more accessible to users. Businesses all across the world are already embracing the trend of mobile app development to ensure they don't miss a single potential customer.
If your business is also struggling to reach a large number of customers, collaborate with eSearch Logix and we will build a mobile app that will provide impressive user experience and help you make huge customers.