Business owners often wonder what makes a marketing campaign go viral. What particular elements make a smart idea ripple across the internet? How can it be manufactured or encouraged?
While a cunning concept is integral, many other factors help a campaign snowball into a viral success. Timing, universal appeal, and a little internet magic contribute to a more significant impact on marketing campaigns.
However, an unsung hero is often the foundation of a successful viral marketing campaign – technology.
Although campaigns of yesteryear may have relied more on word-of-mouth and novelty to spread, such as the wear "pink for breast cancer" concept coined back in 1992 by Alexandra Penney, editor-in-chief of Self Magazine, today's public is different.
Their attention is spread thin: social media, email, text, podcast, video, and countless communication channels overwhelm the average person. These channels create noise that organizations must creatively break through to find viral marketing success.
The only way to do this in today's media landscape is to leverage the right technology to support your strategy. If it's not on the internet – it doesn't exist.
This is the backdrop for a recent marketing collaboration between Jotform and the Cincinnati Zoo.
Meet Fritz, the Baby Hippo
The Cincinnati Zoo's new baby hippo was born on August 3, 2022. It's industry code that cubs, calves, and babies of all kinds (and species) create a potentially valuable spike in popularity. If properly used, this spike can mean, in the zoo's case, more public awareness and, ultimately, more visitors. Who wouldn't love a new cute baby hippo?
Knowing this, the Cincinnati Zoo decided to have fun with naming their newest resident.
Enter Jotform, a San Francisco-based tech company specializing in user-friendly, powerful online form-building software that elevates organizations, businesses, consultants, marketers, and others to take their data collection, analysis, and use to the next level.
"Jotform has been the Cincinnati Zoo's online forms solution for years, so when it came time to collect and organize data for the baby hippo name decision, they naturally chose our tool to help with the process," Jotform's VP of Marketing, Chad Reid, says. "We contacted the zoo's corporate relations team and received a positive response from them to work on this together. In just a few days, the zoo collected over 200,000 votes to decide between the two name finalists: Ferguson and Fritz."
At their core, The Cincinnati Zoo is a mission-driven organization with complex technology requirements running on non-profit resources. However, with the right technology, such as a tool like Jotform, they don't have to compromise. Their data collection, online customer interactions, and viral marketing can be as streamlined. The result is both a wonderful baby hippo name, Fritz, and a very successful viral marketing campaign.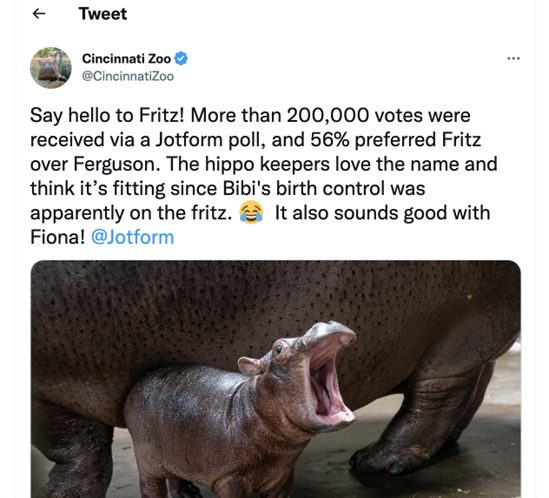 The campaign went so well, there were thousands of social media hits, countless coverage on popular media outlets like CNN, The Guardian, Fox, People Magazine, and tons of local outlets, as well as a huge turnout in public participation with over 90,000 names submitted and over 200,000 votes cast as votes for the final name.
How Did Technology Like Jotform Make This Campaign Go Viral?
"This was an enormous undertaking as the Cincinnati Zoo collected votes from every U.S. state and more than 60 countries. With Jotform, it was easy for them to create the form, distribute it, and collect responses to uncover the perfect name for the baby hippo," Reid says. "Jotform helped the zoo build a form in seconds, saving hours of manual labor to process the data quickly and get them back to doing what they do best: caring for animals."
Reid identified three critical elements that made this campaign successful: data, simplicity, and functionality.
"Data fuels growth," Jotform's Chad Reid commented. "Enterprises collect it from employees to make sure they're happy, SMBs collect it to sell things, and healthcare organizations collect it to improve patient care. If your organization isn't collecting data, it's missing out on an invaluable tool to improve business functions."
In this case, the Cincinnati Zoo's work with Jotform involved a massive and highly-engaging online survey that enabled the public to play a role in naming the new baby hippo. By capturing and analyzing data quickly and easily, the zoo could share the public's voice by amplifying it through its online channels. This got them tons of attention and encouraged participation on a global scale.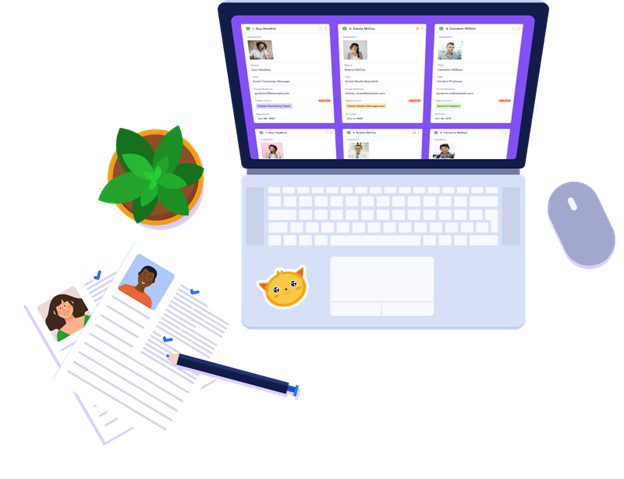 Another critical technological element here was simplicity. Ease-of-use for the public to submit names and votes and simple implementation for the Cincinnati Zoo removed barriers to participation and encouraged viral sharing as everyone could spare a minute to join in on the fun.
"Jotform is a tool everyone can use, regardless of technical skill. We have over 17 million users globally, including Fortune 500s, healthcare organizations, nonprofits, small businesses, and schools," Reid commented. "Tools like Jotform have changed the business landscape because they are "no-code," meaning they open the door to more people using them since no technical skill is required. Jotform makes it easy for organizations to automate workflows and reduce manual labor."
It's one thing to quickly and easily capture data. Still, it's another task to analyze, organize, and manipulate, especially when dealing with hundreds of thousands of data points.
"There are endless ways to use Jotform. It's a marketing tool. It's an HR tool. It's a legal tool. It's internal; it's external. For nonprofits especially, it's invaluable because of all the ways you can use Jotform to collect the information without breaking the budget. Donations, applications, membership feedback, event registrations — you name it, Reid says. "Our 17 million global users always surprise us with how they use our online forms to create powerful workflows and get things done."
This campaign from the Cincinnati Zoo is an incredible example of how organizations can do more with a good idea and the right technology.