Digital Transformation in the Real estate industry has progressed as a requirement to remain relevant and in tune with evolving business and market trends.
Among the fastest-growing industry sectors is real estate. For the record, 58 percent of real estate businesses stated that they already had a digital strategy in place.
To sustain in the real estate market, you must act quickly.
No business can avoid the digitalization that is occurring around the world to ensure a bright real estate future.
If you want to learn everything there is to know about digital transformation in the real estate industry, this blog can help you out.
You can find information about the meaning of digital transformation, its significance, and other real estate-related topics in this blog. So, without further ado, let's start by defining digital transformation.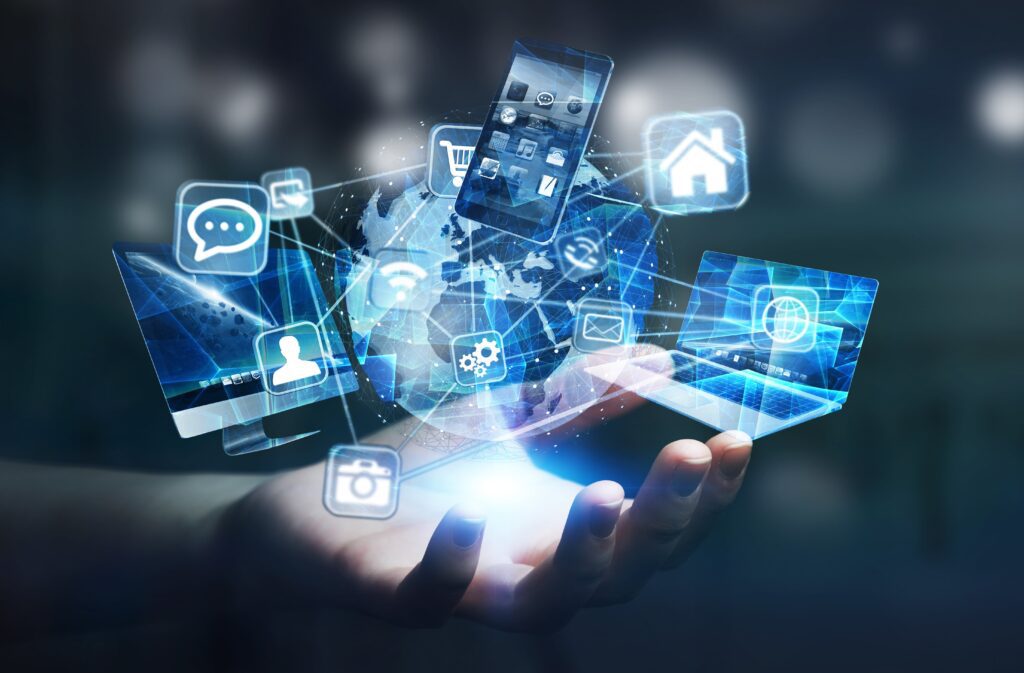 Why real-estate professionals should go for digital transformation?
To cope-up with changing customer behavior.
Sellers and purchasers nowadays prefer to interact with real estate businesses online as opposed to individuals. Furthermore, they conduct preliminary online research to find the best agent.
The digital world offers them all of the data they require, such as reviews, feedback, and other pertinent data, to select the best real estate agency.
Because of this shift in consumer actions and expectations, businesses in the real estate industry must invest significantly in their digital footprint or risk losing out on opportunities to interact with prospective sellers and buyers.
Improved performance & reduction in costs
Real estate businesses can reduce costs and improve performance on a large scale by implementing and optimizing various digital technologies. The Covid-19 pandemic is having an impact on a variety of industry sectors, such as the real estate market, where it is no longer possible to ignore the need for digital transformation.
Leveling up to enhancing digitization needs
Prospective tenants will look on the internet for their potential space, and streamlining your webpage to also include 3D views of the building helps people visualize themself there. Even so, the large-scale advantages of digital transformation in the real estate industry can be discovered.
When it comes to overseeing business operations for real estate companies, automating manual processes aids in discrepancy reduction, increased productivity, and improved communication among all stakeholders.
Make it efficient and easier for everyone involved!
Real estate digitalization not only meets home buyers' aspirations, but also makes the entire environment more effective, such as property owners, estate agents, brokerage firms, and mortgage companies.
Online contract generators deliver the necessary information straight from the clients without face-to-face interactions.
To make the environment less hectic, use a single inbox for everything.
Property management processes are being transformed by cloud-based software.
Overall, new technologies simplify and streamline processes, and more employees work part-time or as freelancers, increasing their chances of achieving a healthy work-life balance.
Virtual tours
Investors can now visualize properties all over the world with the click of a button. These 3-D digital recreations can take a shareholder thru the entire home, giving them the impression that they are visiting the land in person without needing to travel to the location.
Furthermore, investors can request that their trusted real estate digital representatives take them on a virtual tour of the property.
They can maintain an open communication channel while also assisting their clients in viewing properties all over the world by using WhatsApp, Facetime, Skype, and other video communications.
Eliminates the need for a middleman
With so many real estate digital listings, websites and mobile app development readily available these days, it is very simple for both buyers and sellers to come into direct contact and cut out the middleman. Even Whatsapp, Facebook, and other social media channels have grown in popularity as a means of sharing property information and finding buyers.
However, the best part is that agents are not entirely out of the picture. Not if they see these different channels as possibilities to expand their market reach through digital advertising and offer tailored services based on analytics.
Digital Images and easy filtration options
Think about manually handling listings for thousands of properties, choosing and posting photos, and entering details. Wouldn't it sound daunting?
Fortunately, agents in the real estate business can now utilize digital picture categorization to digitize photo selection by categorizing site photos and even tagging them in secs using deep learning.
They now can easily figure images based on a variety of criteria, such as room type or number, special features, design features, position, fixtures, required schedule, and other factors.
Agents can operate more focused emailing advertisements and location-specific advertisements by incorporating this tool into their online marketing.
Streamline sales process with CRM.
Do you know why the digital revolution is so important in the selling process in the real estate industry?
If your company is unable to address a client's concern, they will seek out another real estate business that really can. If your competitors have initiated an automatization procedure to cope with measures, they are one step ahead despite whether your item or administration is well-known.
To assist you, various CRM tools help to promote sales through digitalization, as enhanced CRM tools help expanded a wide range of possibilities. Even digital software will assist you in synchronizing tools for social media to advertise the selling process through digitization.
Technologies Real Estate Industry is using for better digitization!
Artificial Intelligence and Machine learning
Artificial intelligence and machine learning have completely transformed the real estate industry, from improving processes like pertinent home search to fine-tuning transaction records.
Real estate businesses can use artificial intelligence to recognize qualified leads who attend their website and mobile app development. The Ml model saves a lot of time by recognizing leads with the highest likelihood of becoming legitimate buyer.
AI can assist real estate agents and brokers in predicting the eventual value of a property in a given market. In this manner, AI can provide you with a competitive advantage in the real estate digital market without incurring additional costs on your company's infrastructure or assets.
Cloud computing
Cloud computing refers to calculations performed in the cloud. SaaS software and services task and shop information in the cloud, enabling simple and rapid connectivity.
It will enhance customer relationships, provide faster responses to questions and demands, and lower IT maintenance expenses for server hosting.
Cloud services are used by 80 percent of top real estate performers for advertising, revenues, customer relations management, real estate future management, shared collection, data gathering, as well as other activities.
BlockChain
The use of smart contacts represents one of the most helpful blockchain queries in the real estate market. This remedy can eliminate the time-consuming required documentation process.
Blockchain enables transfers to be carried out via smart contracts, eliminating the requirement for an intermediary to resolve disagreements and enabling transfers to be carried out between indistinguishable parties.
Blockchain can help real estate agents optimize transfers by eradicating middlemen and affiliate costs like transaction fees, lender fees, settlement costs, and legal fees.
Big data analytics
Real estate is a sector that collects massive amounts of data on property, owners, businesses, renters, and agents. Data analytics remedies can assist real estate companies in understanding customer sections and forecasting the behavior of customers.
CRM tools are frequently used by real estate companies to reach out to potential clients or to gather customer information for forecasting market trends, property buying, investment viewpoints, or prices.
Building Information Modeling
Building information modeling(BIM) has historically resulted in significant cost savings for the construction industry. It is a procedure by which the entire project team reveals all project information, such as graphical 3d objects and non-graphical information, which are then linked together to create a 3D model using BIM.
With a single click of their mouse, users can access data such as what fabric it is made of, who created it, the amount it will cost, how it will take to finish, and other advanced information. Real estate companies can provide a detailed analysis of the property that has never been done before by merging BIM with augmented reality.
Internet of Things(IoT)
The internet of things is a method that employs the internet to connect interconnected computing devices embedded in everyday objects.
The Internet of Things will provide advantages to the real estate industry such as preventive analytics, energy efficiency, and a more convenient lifestyle. Another IoT mobile application development that improves the value of properties is smart home devices with embedded sensors.
To wrap up!
So, I hope by now you have understood how digital transformation in the real estate industry has evolved.
Sufalam Technologies understands that digitalization does not happen overnight. On the contrary, before you can make a technology transformation that will hinder the market, you must first understand your audience, the demand, and your industry from the ground up.
As a sector that has only recently been introduced to the enormous potential of digital evolution, it is only a short amount of time before the market is completely reshaped.
And if you want to succeed in the real estate industry and are searching for a digital companion, we can play a crucial role in the real estate industry's digitalization by delivering the appropriate solution to the relevant customers.