Hosting events during a pandemic presents new challenges to overcome. These issues include managing visitor foot traffic and space reservations, which can be difficult with large crowds.
This is where desk booking software comes in. Though initially designed for office use, they have a surprising number of benefits. Their versatility allows hosts and organizers to streamline the process and make things easier for themselves.
What is Desk Booking Software?
Hoteling systems, or software, are essentially tools that allow users to reserve spaces in advance. However, because of their inherent flexibility, it's possible to customize them with unique features to address specific needs.
These features can range from single sign-on options to status board displays and Outlook integration for analytics reports. It's even possible to include kiosks for handling visitors.
How Room and Desk Reservation Software is Crucial for Hosting Successful Corporate Events
Successfully organizing corporate events has always been a challenge. With the pandemic changing the landscape of hosting events, it's no surprise that many were scaled down or postponed. However, with desk booking software, specific issues become more manageable.
Here's how it can help you with hosting corporate events, big and small:
Trade shows 
Trade shows (also known as trade expositions or exhibitions) are crucial for showcasing products and services. These often occur in large convention centers and are usually for industry members only.
A desk booking system comes in handy for the following activities that happen in a trade show:
Exhibit spaces – Vendors who need booths to showcase products and services benefit significantly from reservation software. It also helps organizers in the case of no-shows and double bookings since they can clear them automatically.
Networking events – Trade shows are the chance for companies to network with key personalities from various industries. Desk hoteling systems help in monitoring foot traffic via sensors.
Seminars and workshops
Seminars and workshops are straightforward. Both are valuable for hosts and attendees who want to attain a personal or professional level for a specific skill. They also involve people going through different rooms.
A hot desk software can streamline the process of hosting one in the following ways:
Scheduling – Event organizers reserve rooms for workshop activities, so it's essential to do so in advance to prevent overlap. This is especially crucial when hosting different workshops simultaneously.
Lobby kiosks – Visitor management is more straightforward when attendees know where to go or sign in. Whether replacing or being used alongside a physical front desk, kiosks are a huge help in providing directions.
Conferences
Conferences involve guest speakers and audiences. In many cases, there will be more than one guest speaker at a time. The conference may sometimes resemble a movie theater, but it will be speakers in different rooms instead of movies.
A desk booking system helps minimize reservation and scheduling mix-ups to ensure that keynote speakers can present without a hitch. If a speaker cancels or isn't available, the software can automatically clear it for the next booking.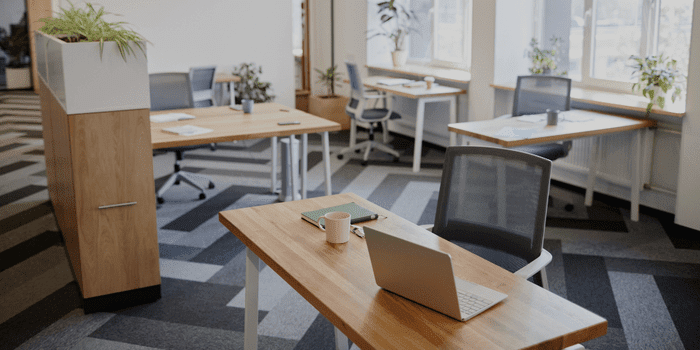 However, there are other ways this software can help, such as with the following:
Catering – External companies need to get in and out to deliver food, which means they also need directions.
Activities – Volunteers and admin teams need to track which rooms are used for affairs.
Event Organizing, Social Distancing, and You
A hot desk software is an excellent tool in any company's arsenal, but there are still ways to optimize it to suit your needs.
Team leaders and managerial staff consider many things when planning company events in the office. Aside from managing foot traffic, they also need to ensure health and safety. To get the best of both worlds, here are a few additional tips to keep in mind:
Support wayfinding – It's vital to have routes planned out beforehand. This serves to give guests directions while following social distancing guidelines. Lobby kiosks and 3D floor maps are great ways to achieve this.
Keep your events handshake-free – The lack of touch is an essential aspect of social distancing. Bluetooth sensors and RFID cards work alongside hot desk systems to ensure this.
Require face masks and gloves – Meeting people is unavoidable in a corporate event; the next best thing is to keep them safe. Requiring face masks before entering the building helps with this.
Hosting momentous events in physical spaces requires the right tools. The good news is that they're not that difficult to find, and they can be surprisingly flexible. Co-working space booking software can do most of the event organization tasks for you and much more.