Singapore – Global digital assets trading firm BiKi.com gave its take on the blossoming DeFi economy. Ethan Ng, the SEA CEO of the exchange delivered a keynote "What's Next" at the exclusive Blockchain Impact, 2020 Perspectives "Supply Chain" to a full-house turnout. With a panel of speakers that included the Director of Trade at Infocomm Media Development Authority (IMDA) of Singapore, Founder of World Food Chain, Founder of enterprise blockchain solutions provider JedTrade and CEO of metals mining blockchain platform Karuschain, the BiKi CEO joined the discussion on the major blockchain trends in 2020, especially with regards to the role of supply chains.
Mass Adoption is Coming
While the world was fixated on the Libra controversy in 2019, the potential of decentralized economies had not escaped the IMF, which had already suggested in 2017 that central banks work on CBDCs.
Ng declared that "BiKi was banking on this" and that this was "why we believe mainstream adoption will happen."
Elaborating further, Ng said, "When one of the major CBDCs is ready, which we anticipate may happen in Q1 or Q2 this year, they will eventually influence the MNCs who are likely to adopt the CBDCs. SMEs under them, through the network effect, will provide many more channels to market, to spread the use of digital currencies to the masses. We're then going to go through a plateau of competition, figure out what works and what doesn't and find the model that works."
He singled out blockchain solutions in supply chain as playing a big role in enterprises, stating that, "with increased efficient supply there will be increased demand."
The Elephant in the Room
The early hype of blockchain went to a head in 2017 and 2018 when the technology was touted as a solution to almost everything. Since then, actual adoption has been lower than expected.
Ethan Ng pointed out that one of the reasons this has happened was because the huge elephant in the room had been ignored. He compared traditional markets in the supply chain industry, where a financier (a bank) was a central figure for the space to function, to the current space where he proposed that exchanges would fill out this new financier category.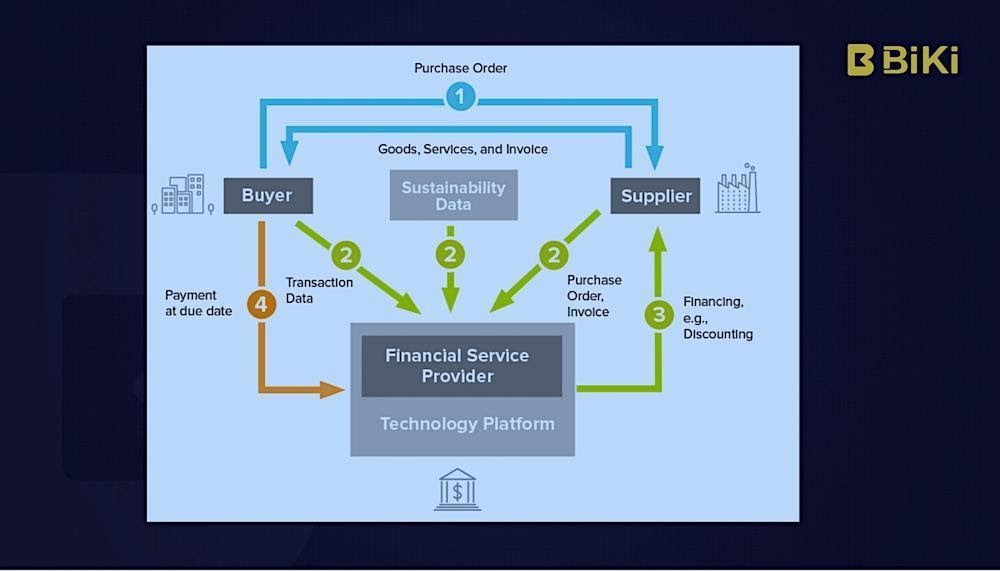 Decentralized industries would require new financial institutions that could offer the services from traditional financial institutions but adapted to the new DeFi (Decentralized Finance) economy. Ethan Ng believed that exchanges that offered DeFi products would be the new financial institutions of the future.
Blockchain Supply Chain Solutions Can Gain Market Share
Citing the sharing economies initiated by companies such as Uber and Grab that disrupted the taxi industry, Ethan compared them with the new disruptive industry-specific solutions using blockchain. Good examples included the  pharmaceuticals and food industries, amongst others, where logistics and supply chains experienced massive pain points. If companies could offer useful and viable solutions, they would be able to gain market share and scale. 
When all these factors are in place – a maturing blockchain industry that has spilled over to mainstream enterprises, a proliferation of CBDCs and DeFi products, they will bring about a boost in decentralized economies. Digital currencies such as  BTC and ETH will increase in usage and significance. 
BiKi.com is Well-Postioned for the DeFi Economy
BiKi.com has been working hand in hand with their partner Node Capital to initiate steps towards DeFi products.
BiKi will launch a lending product on BiKi exchange

that does not use BTC but

USDT

, which would be a lot more stable for most players. 

BiKi will launch a public financial chain in Q3 2020. This is something  which Ng strongly felt would be one of the core aspects for future financial institutions in the blockchain space. 
Once more, Ethan Ng stressed the core priority of the exchange –  serving the needs of its users. He believed that in the upcoming DeFi economy, this was done by providing their users with a varied lineup of financial services and products that included new and innovative ways to trade on the platform.
In conclusion, the BiKi SEA CEO was optimistic about the exchange getting its license from the Monetary Authority of Singapore (MAS), in accordance with the Payments Services Act. He pointed out that becoming a regulated exchange would be an important next step for the exchange as it would gain further recognition and instil user confidence as a global brand, thereby cementing BiKi's position as a leading exchange in the blockchain and crypto industry.
About BiKi.com
Headquartered in Singapore, BiKi.com is a global cryptocurrency exchange ranked Top 20 on CoinMarketCap. BiKi.com provides a digital assets platform for trading more than 150 cryptocurrencies and 280 trading pairs. BiKi.com is focused on providing the safest, most stable and most effective cryptocurrency trading platform. 100% of the transaction fees are used in buyback and burning of platform token, BIKI. Since its official opening in August 2018, BiKi.com is considered one of the fastest-growing cryptocurrency exchanges in the world with an accumulated 2 million registered users, 150,000 daily active users, over 2,000 community partners and 200,000 community members. BiKi.com has received investments from Huobi co-founder Du Jun, Genesis Capital Zhu Huai Yang, FBG Capital, ChainUP and others totaling approximately 10 million USD.