"Today's Banking world don't have 'customers' anymore; as the people are more engaged in the community who likes to use different services. So there is a need for banks to focus more on the creation of apps and digital services rather than focussing on the internal development. A customer doesn't want to roam around different companies for trying the services; all he wants is a trusted brand that will do the required work digitally."
Technology has grown at a rapid rate in every industry. This has made the work life easier for people in all the aspects, whether it is education, transportation, communication and any other field. One of the biggest achievements in technology is Artificial Intelligence that has brought drastic changes in various fields like Agriculture, automobiles, Telecommunication, Banking and Finance. There are multiple companies who are offering artificial intelligence services into healthcare and banking sector. Banking sector is one of the main fields affected by Artificial Intelligence.
AI NOURISHING THE BANKING SECTOR:
Artificial Intelligence in Banking helps in developing a better understanding of customer's behaviour and their choices based on the past interactions and latest trends. This enables banks to customize their products or services and deliver the perfect customer engagement which helps to build strong relationships with the customers.
Predicting future outcomes: With the help of AI, Banks get the power to predict the future situations by analysis of the past behaviours. It plays a significant role in the identification of frauds, detecting anti-money laundering pattern and making customer recommendations. By the use of powerful Machine Learning and cognition, AI can identify the hidden actions which can save millions for banks. The key recommendation system of AI can study past behaviour to predict the future behaviour of data points that will help in successful up-sell and cross-sell for banks.
Cognitive system automation: This service enables automation of various information-intensive, costly and error-prone banking services such as claims management. The advantages offered are secure ROI, reduction of costs, and it also ensures the accurate and fast processing of services.
Effective decision making: The cognitive systems whose thinking and responding behaviour is same as human experts, offer the optimal solutions based on available data within real time.
Realistic interactive interfaces: Chatbot can perfectly identify the emotions in the text chat and then responds in the most appropriate way. It can save not only time, but also improves efficiency and saves millions of dollars for the banks.
Robotic automation of activities: AI applies Robotic Process Automation (RPA) to transform various processes or activities. This removes the need for repetitive work processes that makes the working easier and faster.
BENEFITS OF AI IN THE FINANCE INDUSTRY:
Artificial Intelligence is playing a very significant role in the Finance industry which helps the Banks to grow their business at a rapid rate.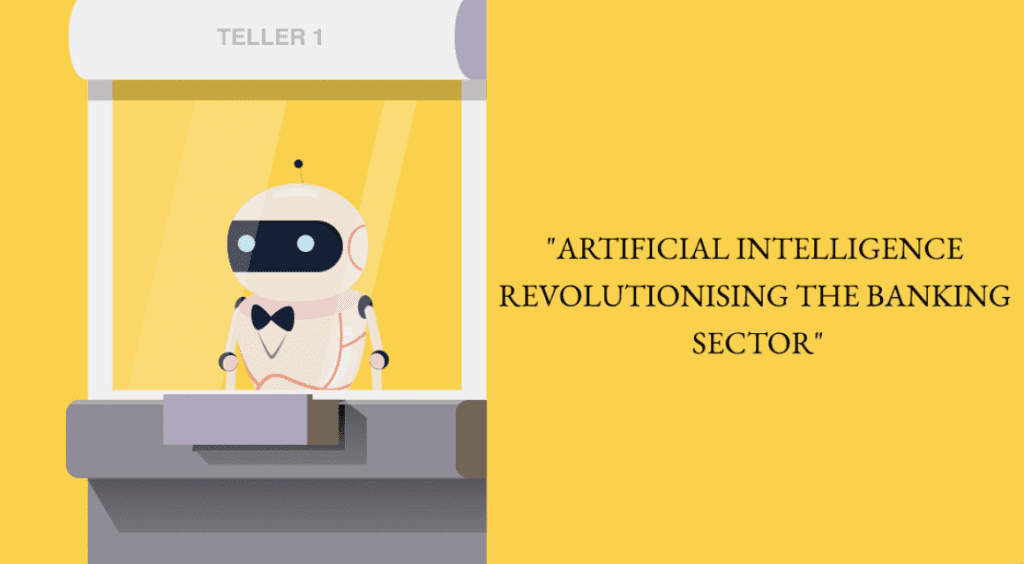 Image Source: geckolyst.com
Credit Decisions:
Credit is the king. Most consumers worldwide prefer to pay using debit or credit card and very few favour cash payment. Other benefits of having a credit card include receiving favourable financing options, landing jobs and renting an apartment. The approval process for loans and cards has become important than ever.

DataRobot:
DataRobot supports financial institutions and businesses to build highly accurate predictive models that improve decision making process of issues like fraudulent credit card transactions, digital wealth management, direct marketing, block-chain, lending and more.
Risk Management:
Time is the most precious thing in the finance world, but risk also plays a notable role in the banking industry. If proper attention is not given, risk can be deadly for a business. Accurate forecasts predictions are very crucial to both the speed and protection of many businesses. The predictions made by machine learning create more exact and agile models. Artificial Intelligence in Banking pinpoints trends, identify risks, conserve manpower and ensures better information for future planning.
Fraud Prevention:
AI is very effective in preventing credit card fraud, which has been growing exponentially in recent years due to the expansion of e-commerce and online transactions. Fraud detection systems analyse the clients' behaviour, location, and their buying habits and trigger a security mechanism when something is not working properly and contradicts the established spending pattern.
Trading:
For faster processing, you need faster decision making which will result in faster transactions. Intelligent Trading Systems monitor both structured and unstructured data in a sprinkle of time to process it. And the saying "time is money" is nowhere truer than in trading.
Future Expectations of AI in the Financial Industry
AI is swiftly reshaping the business landscape of the financial industry. There are high hopes for increased transactional and account security, especially with the expansion of adoption of block-chain and crypto-currency. This will also affect the transaction fees due to the lack of intermediary.
With cognitive computing, Machine learning and Artificial intelligence, the digital world of banking sector will keep on improving themselves. It will make the management of personal finances easier, since the smart machines will be able to plan and execute short- and long-term tasks, from payment of bills to preparation of tax filings.
Better customer care can also be expected by using sophisticated self-help VR systems, as natural-language processing advances and learns more from the expanding data pool of past experience.
A new level of transparency will evolve from more comprehensive and accurate know-your-client reporting and more with due-diligence checks, which now would be taking too many human work hours.
Conclusion
The benefits of Artificial Intelligence in banking sector are huge in number. Many positive changes will be seen in the banking and finance sector, which will transform the industry on a positive basis in the long run.