The development of AR technology may deliver an even more lifelike and interactive user experience with the help of holography. 
According to a recent whitepaper published by UK tech software company, VividQ entitled Holography: The Future of Augmented Reality Wearables, holographic display technology is now not only "within reach" but it can be a key component in helping augmented reality realize its potential as the "future of computing."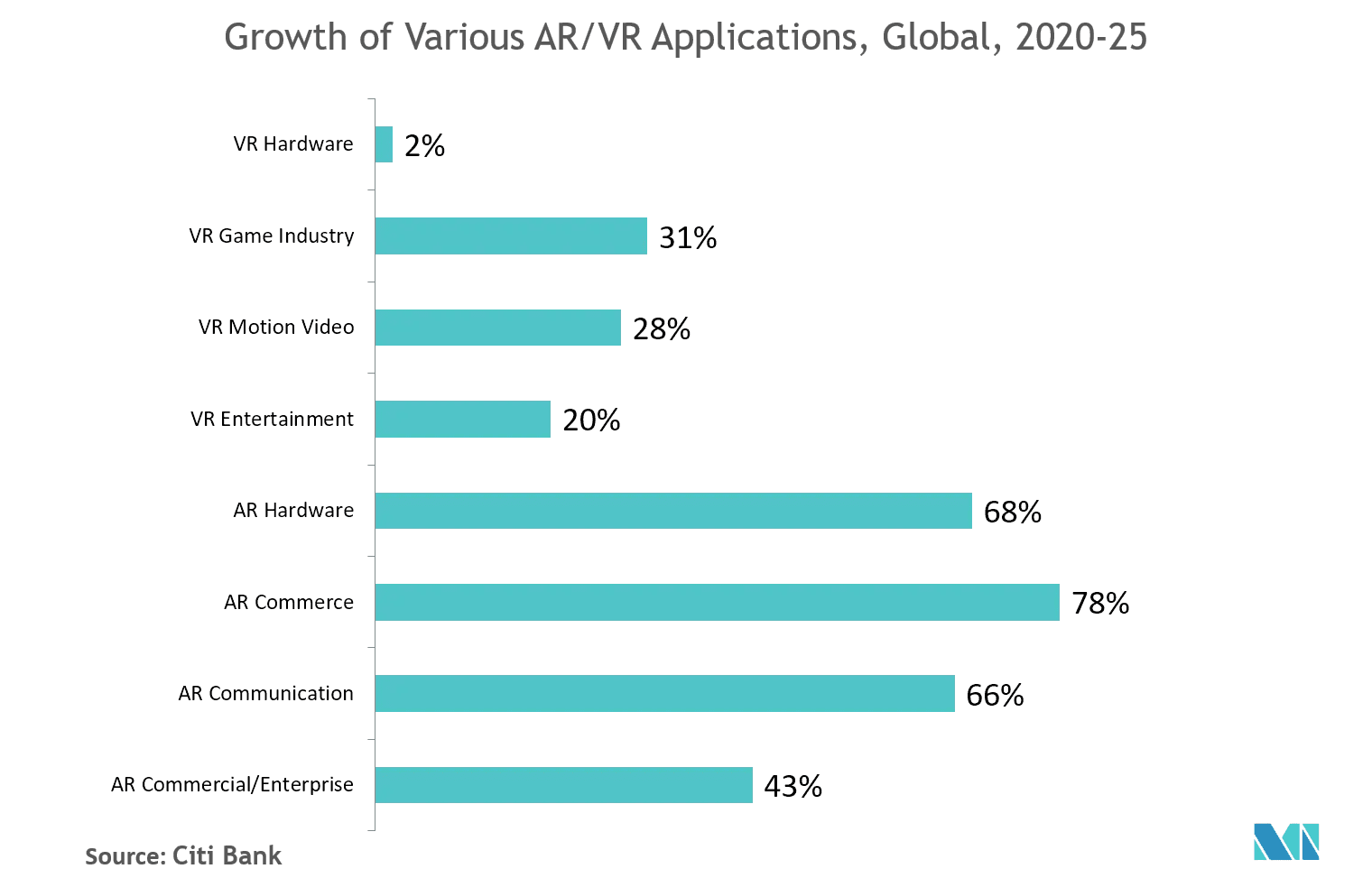 (Image: Mordor Intelligence)
According to data from Mordor Intelligence, the augmented reality market is expected to grow at a faster rate than that of virtual reality between 2020 – 2025, with AR hardware devices set to be the second-highest performer – experiencing growth of around 68%. 
Ultimately, holography may not only play a driving role in empowering AR technology but it could also effectively act to eliminate existing barriers to the widespread adoption of AR hardware. 
What is Holography?
Holographic AR represents the next generation of augmented reality, which enables users to overlay digital items in real-world settings. The incorporation of holography into AR technology provides a significantly richer user experience compared to traditional AR.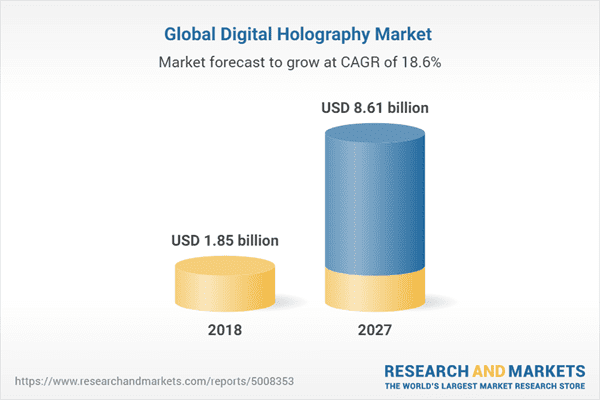 (Image: Research and Markets)
The holography market is set to expand at a CAGR of 18.6% between 2018 and 2017. The application of the technology can provide a more immersive learning experience in teaching environments – especially in environments where students may struggle to stay engaged. 
Likewise, three-dimensional digital overlays can help to benefit multiple industries – especially healthcare and engineering – where remote collaboration may be key for problem-solving and complex scenarios where professionals could benefit from external guidance and help. 
How Holography Can Benefit Immersive Technologies
When it comes to AR wearable technology, the benefits of incorporating holography into lenses may seem self-explanatory – after all, visualizations can be much richer and more interactive when rendered holographically. However, VividQ's whitepaper details a much more vast array of potential applications of holography within augmented reality hardware. 
Notably, the image quality of holographically rendered images has the potential to be akin to retina-levels of resolution. The technology can also automatically match renderings to their environments while also delivering greater levels of comfort with less danger of eye-fatigue. 
The technology can perform admirably within smaller frames – meaning that the glasses themselves can be lighter. Furthermore, holography can bring with it more adaptable levels of brightness to offer a greater level of contrast in both light and dark environments. 
VividQ aims to encompass the benefits of 3D holography as a means of revolutionizing the development of AR glasses while encouraging faster adoption rates among consumers. Having been founded in 2017, VividQ developed its first holographic display algorithm at the University of Cambridge Photonics Lab – leading to the securing of funds from angel investors hailing from both the UK and US.
While the ambitions of VividQ are clear, They're not the only key players in the race to utilize holography within future AR eyewear products, with Google, Apple, and, significantly, Microsoft all working towards combining the immersive technologies. 
Microsoft Leading The Way in Holography Wearables
When it comes to observing the race to incorporate holography with AR wearables, we can discover a lot regarding the future plans of key industry players from the patents they file. 
According to the United States Patent and Trademark Office, tech giants Microsoft filed a patent application relating to computer graphics systems. Specifically, the document largely refers to MicroLED display systems and color management related to HMDs and smart glasses. The patent also appears to explain why MicroLED displays will ultimately become the key to Microsoft's smart glasses. Despite six years passing since Apple acquired LuxVue – an industry leader in MicroLED technology – we haven't seen any evidence of MicroLED displays that can be used in Apple hardware. This patent may indicate how both Apple and Microsoft share the same idea surrounding how MicroLED displays could be ideal for usage in smart glasses. 
It's fair to say that the likes of Microsoft, Google, and Apple are all capable of developing augmented hardware, but the larger conundrum surrounds which company is bold enough to take the lead and release a product first at an affordable price. 
Significantly, hardware requires software in order to work with it, and although it could be a matter of years before the technology matures to the state where it can effectively replace smartphones with smart glasses. Already, with the recent introduction of Echo frames, we could be close to seeing a fully-functioning AR and VR smart glasses introduced. Goldman Sachs has highlighted that VR and AR will ultimately become the next generation of computing platforms following on from computers and smartphones. 
Although there's much industry interest in developing AR holographic technology, there are still issues to be ironed out – such as delay and various other technical problems. However, according to Globe Newswire, even if the industry develops at the slowest rate, the revenue scale is expected to reach $23 billion by 2025. The main technological obstacles that restrict the industrial growth of holographic eyewear stems from underdeveloped technology sustainability and poor mobility. If it develops at a faster rate, the growth rate may be the same as that of tablets and smartphones. Although AR holography isn't expected to disrupt the existing market, shipments of hardware AR holographic products could rise to as much as 125 million units by 2025. 
In the wake of the COVID-19 pandemic, demand for AR applications in many public sectors has risen. However, in the future, both augmented reality and virtual reality devices have clear potential to not only be an industrial or entertainment tool, but to become the next generation of computing platforms following on from the smartphone. 
Breaking Down The Barriers to Adoption
Despite there being a bright future ahead for AR smart glasses, there are still plenty of reported barriers to adoption. However, the arrival of holography could help the industry to overcome the hurdles ahead and create more marketable hardware. Let's take a deeper look at how holography can counter specific challenges ahead for AR smart glasses adoption: 
Poor Depth of Field

: Depth of field helps to create the impression of a 3D environment. By utilizing light, holographic technology can create lifelike three-dimensional objects. Through holography, issues in the depth of field rendered by AR eyewear can be effectively countered and replaced by accurate, rich digital constructs. 
Instances of Motion Sickness

: In some cases, the level of 3D technology used in AR and VR applications today can cause some adopters to experience nausea, disorientation, eye fatigue, and even vertigo in some cases. Holography can help to

ease these symptoms

by alleviating the strain on the user's eye and brain – potentially empowering customers to wear the technology for longer periods of time. 
Bulky Eyewear

: To create an augmented reality overlay on to real-world environments within smart glasses technology, lots of computing power is needed. This generally means that eyewear and headsets will require large batteries to cope with long-term use. However, holographic technology consumes less power, paving the way for lighter devices. Through holography, AR glasses could even have the potential to be much more compact and even foldable in a similar way to modern reading glasses. 
2021's Key Trend?
Despite the arrival of holography within AR hardware still seeming like a development that's many months and years away, this hasn't stopped renowned AR thought leader, Tom Enrich, from predicting the upcoming arrival of holographic imagery as a driving force in delivering a new kind of immersive AR experience.
Notably, Enrich anticipated that AR holography would become accessible in 2020, but later conceded that the trend was hampered by the COVID-19 pandemic. Furthermore, he noted that holographic AR is an experience that best functions outdoors – a luxury that has been out of reach for much of the world over the past twelve months. 
Despite holographic AR failing to take-off as meaningfully as Enrich had anticipated, he points to many examples of holography within the world of entertainment as a sign that the technology's relationship with augmented reality is blossoming. 
"Whitney Houston was just one of many holographic singers to hit the stage as part of a posthumous tour in 2020, joining Roy Orbison, Buddy Holly and Maria Callas," Enrich explained.  "While projection mapping experiences from the likes of ARTECHOUSE and the traveling Immersive Van Gogh, which features 600,000 cubic feet of projections, engulfed visitors in a magical new reality. And who could forget Kanye West gifting Kim Kardashian with a holographic message from her father."
Although we're taking our early looks into the potential of technology that may one day replace smartphones as the world's favourite portable hardware, there are clear signs that holography and augmented reality are already making strides across a series of industries. 
Holographic concerts in the world of entertainment may be looked upon by the likes of Microsoft, Google, Apple, and even VividQ alike as an example of how far holography and AR have come. 
With both industries set to experience exponential growth over the coming years, the race is on to develop functional smart glasses that utilize both AR and holography in a practical and affordable way.