Solar PV is rapidly evolving with an utmost need to bring carbon emissions under control. In other words, solar PV is looked upon as a mainstream electric source. Demand for PV installation is rising beyond the limit due to the added advantage of it being free from emissions.
High purity quartz is abreast with unique characteristics used for producing c-Si modules and cells, along with quartz glass for windows, rods, and tubes. Crucibles are also used. High purity quartz is used for producing Si-grade metallic semiconductors. Herein, the crucible has poly-silicon placed in it. It is then heated to a higher temperature and the crystalline silicon ingot gets drawn from the melt. High-grade high purity quartz is the only material used to serve this purpose as even a bit of impurity is bound to result in a loss amounting to millions of dollars. There are multiple uses of high purity quartz in the semiconductor industry.
An optical fiber is known for being immune to electromagnetic interferences. The optical fiber comprises a transparent core, all surrounded by transparent material that's made out of high purity quartz. The transmission line's efficacy stays maintained with HPQ-based cladding material.
How is the High Purity Quartz market categorized?
The high purity quartz market, by grade, spans HPQ powder, grade I, grade II, and grade III. By end-use, it's semiconductors, solar, lighting, telecom & optics, microelectronics, and likewise. Persistence Market Research has entailed these facts with probable calls to action in its latest market study entitled "High Purity Quartz Market".
Region-wise Analysis
North America and Europe are at the saturation stage of the high purity quartz market. However, the Asia-Pacific is expected to witness maximum turbulence in the high purity quartz market in the years to come. This could be credited to the region being home to various upcoming as well as established players. China holds the largest market share as of now in the production of crucibles and the status quo is expected to remain unchanged even in the upcoming period. Persistence Market Research has sketched these findings with insights in its latest market study entitled "High Purity Quartz Market".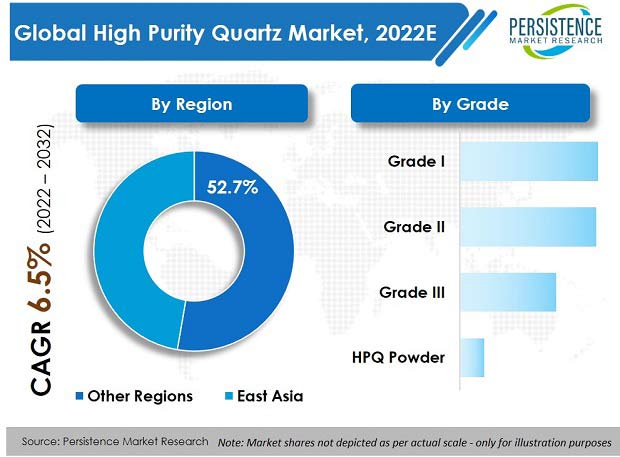 Competitive Landscape
Persistence Market Research has profiled the key players in the high purity quartz market as Covia Holdings Corporation, The Quartz Corp, Russian Quartz LLC, Jiangsu Pacific Quartz Co., Ltd., High Purity Quartz Pty Ltd., I-Minerals Inc., Creswick Quartz, and Nordic Mining ASA. It has gone further by mentioning the latest developments on this count. For instance – Golovach Quartz, which is a new entrant in this market, makes use of technology that incorporates dry enrichment over traditional physical and chemical methods to enrich. Moreover, the technology makes use of regenerating recoverable reagents.
Pyogenesis PUREVAP QVR is a kind of process significantly reducing the environmental footprint while manufacturing Si through the Siemens process. This technology is evolving at a rapid pace in poly-silicon manufacturing techniques due to broader coverage. The key players mentioned above are into the adoption of this technology.
For in-depth competitive analysis, click here to Buy Now
What's further?
The global high purity quartz market is bound to grow on a remarkable note between 2021 and 2031 – Persistence Market Research.
To remain 'ahead' of your competitors, click here to request a sample