Over the last decade, the healthcare sector has given investors market-beating returns. The rise of the healthcare sector is driven by an aging population and high levels of underinvestment in healthcare by the federal government. The pandemic poured gasoline on an already combustible situation and sent biotech stocks soaring. The success of biotech firms in developing the Covid-19 vaccine made those firms that much more valuable.  As Investors Observer notes, healthcare stocks have lost none of their momentum, as biotech stocks lead their upward march.
Healthcare is a Solid Investment Theme
The last decade has been a golden age for healthcare stocks, with the Dow Jones U.S. Health Care Index earning investors 13.16% per year compared to 11.26% for investors in the S&P 500. However, highlighting the high-risk-reward nature of biotech, the once-high-performing S&p Biotechnology Select Industry Index, has earned investors just 8.65% per year in the last decade, due to post-pandemic declines in demand.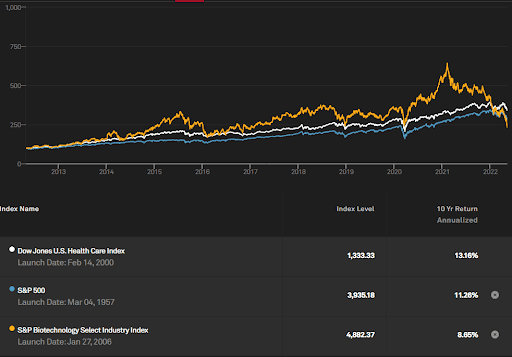 Source: SP Global
What is Driving Demand for Healthcare?
Healthcare in the United States is some of the most expensive in the world. Decades of underinvestment as the population has grown and aged, has pushed prices ever higher. The result is a combination of high prices and a still-limited supply of healthcare solutions and the best primary care doctors.
The Covid-19 pandemic made the need for investment in healthcare even more important. It also triggered permanent changes in the way that healthcare solutions are delivered; with telemedicine becoming a viable at-scale solution.
The pandemic also showed the speed at which new drugs could be developed thanks to AI's potent drug discovery ability. Although biotech is down since 2021, it will play a crucial role in securing healthcare in the future.
The Future is Bright for Healthcare Investors
At a time in which the market is weak and volatile, defensive sectors such as healthcare, which perform well in volatile times, should be in every investor's portfolio.
We are also seeing a shift in market leadership away from tech to sectors such as energy, financials, and healthcare.
The Biden Administration's proposed tax reforms will also generate opportunities given that the administration's infrastructure plan contains numerous sources of direct support for health care, renewable energy, and other sectors.
As healthcare delivery embraces telemedicine, regulations ease, and funding pores in for research and development, healthcare is set to do well in the years ahead.
The sector's status as a defensive sector means that investors will always seek to have some exposure to healthcare in their portfolios.
Given the aging population, technological breakthroughs in biotech, remote monitoring and telehealth, and advances in the treatment of chronic diseases and conditions; healthcare stocks are growing at a much faster rate than the rest of the economy.
Indeed, a recent report from the banking giant, Credit Suisse, suggests that there is still plenty of room for new investors. Credit Suisse analyst; Richard Law, believes that the sector still has stocks that can deliver generational gains.