The pandemic has significantly impacted the healthcare sector, and investors are quickly changing their direction by investing in various business categories. The analysis of investments in the health market, presented by digital health and wellness company Kilo Health, shows that in 2022 the annual increase in funding may rise up to 29% and reach $29.6 billion. A total of 14 categories were analyzed in the study. What kind of investments can we expect this year?
Increase of investments into the elderly health
According to the World Health Organization, the population aged 60 and over will reach 1.4 billion by 2030. As stated by Tadas Burgaila, the co-founder and CEO at Kilo Health, countries worldwide are struggling to ensure that their healthcare systems are prepared for the demographic challenge.
"Healthcare systems are not ready to provide quality services to such a large number of people, so digital health start-ups are easing the burden. As societies age, an evident change in investment is also noticeable. For example, investment in the elderly health increased more than twelvefold compared to 2019 ($80 million) and by 2021 reached $1.2 billion. It is likely that in 2022 investments in the category of elderly health will reach as much as $1.9 billion," says T. Burgaila.
In addition, the pandemic and various constraints have opened up new opportunities for companies to deliver solutions for older people. Social care, social networks for the elderly, monitoring devices, remote healthcare are just a few of the many areas expanding and entering the market.
Will investments in the beauty sector recover?
The pandemic has changed the habits of consumers; therefore, the beauty sector was hit the hardest. Decreased contact and closed stores negatively impacted sales of beauty products. 2019 investments reached $2.2 billion but fell to $44 million in 2020. In 2021 it slightly recovered to $106 million.
"It looks like the beauty sector is set to recover this year, but investment in this category will depend heavily on the companies' ability to prioritize digital channels to adapt to the changing needs of consumers," Burgaila said.
On the other hand, the mandatory wearing of masks, frequent hand washing, and the use of hand sanitizers during a pandemic have resulted in an increased number of skin irritations, rashes, and skin punctures that can take months or even years to treat. Skincare will become the most crucial subcategory in the beauty sector and by 2025 should reach $181 billion, according to Euromonitor International.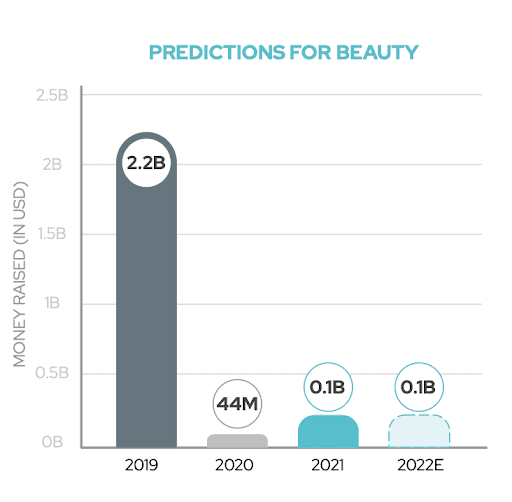 Investment in family and children's health is shrinking
Birth rates are falling worldwide, and this trend has become even more apparent during the pandemic.
"Low birth rates may be one of the reasons why this category isn't attracting a lot of money. Our analysis shows that investment in this area is steadily declining: in 2019 – $112 million, 2021 – $81 million. The funds raised are expected to fall to $60 million this year." says Burgaila.
Burgaila recalls that infertility is another major problem exacerbated worldwide, so its solution could be a niche for new opportunities and incentive to invest in the family and child health category.
The leader in investment – personal health and self-care
The pandemic, tension at work, and fear of visiting doctors during the COVID-19 pandemic increased the demand for personal care products and services. As smartwear and the number of diagnostic tests performed at home become more popular, it seems that investment in personal health will grow in 2022.
"We see that investment in personal health solutions has been growing steadily at 12–14% annually. Emerging trends and the challenges posed by the pandemic may raise even more funds. In 2022, it is expected to reach as much as $6.9 billion," says T. Burgaila.