MATERIAL HANDLING EQUIPMENT
The experts at Automotive Equipment Solutions can help you determine the best material handling equipment for your specific needs. They can assess your facility's layout, the types of products you need to move, and your budget to determine the equipment that will be most efficient and cost-effective. By taking into account factors such as weight, size, and frequency of movement, they can recommend the right equipment to maximize your warehouse floor space and improve your overall material handling process.
In addition to recommending the right equipment, they can also assist with the installation and maintenance of the equipment to ensure its long-term reliability and efficiency. With their expertise and experience, they can help you create a streamlined and efficient material handling system that meets the unique needs of your automotive business.
A well-designed and high-quality pallet transfer system can have a significant impact on the efficiency and productivity of your operations. FHOPE's industrial equipment can provide you with the components you need to create a complete pallet transfer system, including high-quality plastic pallets, pallet inverters, and other components.
The use of plastic pallets, which are durable and easy to clean, can help reduce the maintenance costs and downtime associated with traditional wooden pallets. Pallet inverters, on the other hand, allow you to easily turn pallets over, improving their stability and reducing the risk of damage to your products.
Having a fully functioning automatic pallet transfer line can help reduce your dependence on manual labor and increase the speed and efficiency of your material handling operations. With the right components, you can create a pallet transfer system that is reliable, efficient, and designed to meet the specific needs of your automotive business.
Custom Automotive Equipment
Customization handling equipment from FHOPEPACK is great solution to work safely in workshop operations. These are just a few ways to enhance your automotive warehouse operations. It's important to assess the specific needs and challenges of your warehouse and implement solutions that work best for your particular setup.
Utilize space effectively: Maximize the use of space in your warehouse by using vertical storage solutions, like shelving and racks, and by implementing an efficient storage and retrieval system.

Improve product flow: Streamline the flow of products in and out of your warehouse by implementing an organized layout and using conveyor systems to move products efficiently.

Automate processes: Automating processes such as inventory management and order fulfillment can significantly increase efficiency and reduce the possibility of errors.

Enhance worker safety: Make sure your warehouse is safe for employees by properly training them, implementing safety protocols, and providing the necessary equipment and resources to do their jobs safely.

Invest in technology: Adopting warehouse management technology like barcoding systems, RFID tracking, and mobile devices can help improve efficiency, accuracy, and visibility into your operations.
The automotive manufacturing equipment offered by FHOPE's Industrial is designed to meet the demands of the industry and provide solutions to a variety of material handling tasks. We have a range of products to help you streamline your operations and increase efficiency. The products are ergonomically designed to assist with material handling, resulting in a faster rate of production and a safer working environment for employees.
Pallet Inverters: Our pallet inverters eliminate the need to stack and restack material in automotive industry material handling by allowing for 180-degree rotation. Our models come in a variety of styles and are made of durable materials that will withstand challenging lifting, rotating, tilting, and transferring applications.
90° Tippers and Upenders: Safely and efficiently rotate your heavy products within a 90-degree radius with tippers and upenders from our industrial equipment offerings. We offer mechanical upenders, hydraulic electric tippers, and coil positioners that are configured for economy, low duty, high cycle, mechanical, and high capacity operations. Whether you need a solution to change the vertical or horizontal orientation of one-ton products or equipment capable of handling up to 50 tons, we have you covered.
Lift Tables: Our lift tables are designed to improve worker safety and productivity. They are available in a range of capacities, platform sizes, and lift heights to meet your specific requirements. We offer hydraulic, pneumatic, and mechanical designs, and can equip them with casters for easy mobility.
Conveyors: Our conveyors come in a variety of configurations, including belt, roller, powered, non-powered, and specialty. We offer custom-designed and built conveyors for specific applications, as well as pre-engineered models that are quick and easy to install. Our conveyors can be integrated with other equipment in your facility, such as pallet inverters, tippers, and upenders, to provide a complete material handling solution.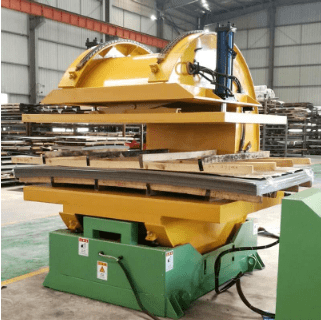 The fit for equipment for your special needs
FHOPEPACK will make it easy to help you for selecting the right equipment. Having the right equipment for your automotive applications can greatly improve your workflow and increase efficiency. Some factors to consider when choosing the right equipment for your operations include:
Material handling needs: Consider the types of products you will be handling and the specific requirements for their storage, transportation and handling.

Equipment durability: The equipment must be able to withstand the demands of a fast-paced automotive manufacturing environment.

Ergonomics: Equipment should be designed to minimize the strain on employees and improve their overall comfort while they work.

Safety: Safety is of the utmost importance in any industrial environment, and the equipment you choose should meet all necessary safety standards.

Cost-effectiveness: Consider the cost-benefit ratio of each piece of equipment to ensure you are getting the best value for your money.
FHOPEPACK'S ADVANTAGE
At FHOPE's, we understand the importance of having safe, efficient and reliable equipment in an automotive industrial plant. By providing top-quality automotive manufacturing equipment, we aim to help our customers improve their production processes and provide a safer working environment for their employees. We believe that a combination of high-quality equipment and expert support can make all the difference in the success of a business operation. Whether you're looking for a specific piece of equipment or a complete material handling solution, we are here to help you every step of the way.
Access to a wide range of high-quality equipment, including pallet inverters, 90° tippers and upenders

More efficient and timely delivery of your equipment

Regular equipment maintenance and repair services to keep your equipment in top condition

Competitive pricing and flexible financing options to help you stay within your budget

A commitment to customer satisfaction and a dedication to providing the best possible service.
By partnering with FHOPE's Industrial, you can be confident that you are getting the right equipment for your automotive operation and that you are working with a company that is dedicated to helping you succeed. Contact us today to learn more about how we can help you automate your material handling process and improve your overall operations.