Gold is still one of the hottest investments in the market today, and it just got a whole lot easier to buy and sell — especially for people concerned with making ethical financial transactions, such as those from the world's Muslim community. TijarX is a halal decentralized exchange (DEX) for trading tokenized physical commodities that just launched on the MRHB. Network DeFi platform.
The first halal commodities to be listed on the DEX are tokenized gold and silver offerings from Gold & Silver Standard (GSS) that can be bought and sold across borders, without having to deal with the fuss of storing bullion at home. As part of the Ainslie Bullion Group — one of Australia's leading bullion dealers for the past 50 years — GSS's Gold Standard ($AUS) and Silver Standard ($AGS) tokens are fully backed by physical bullion verifiably stored in Ainslie's vaults. The AUS and AGS tokens will be offered in USDT and USDC trading pairs on TijarX, with MRHB.Network waiving all transaction fees on the DEX for the first six months as part of a special promotion.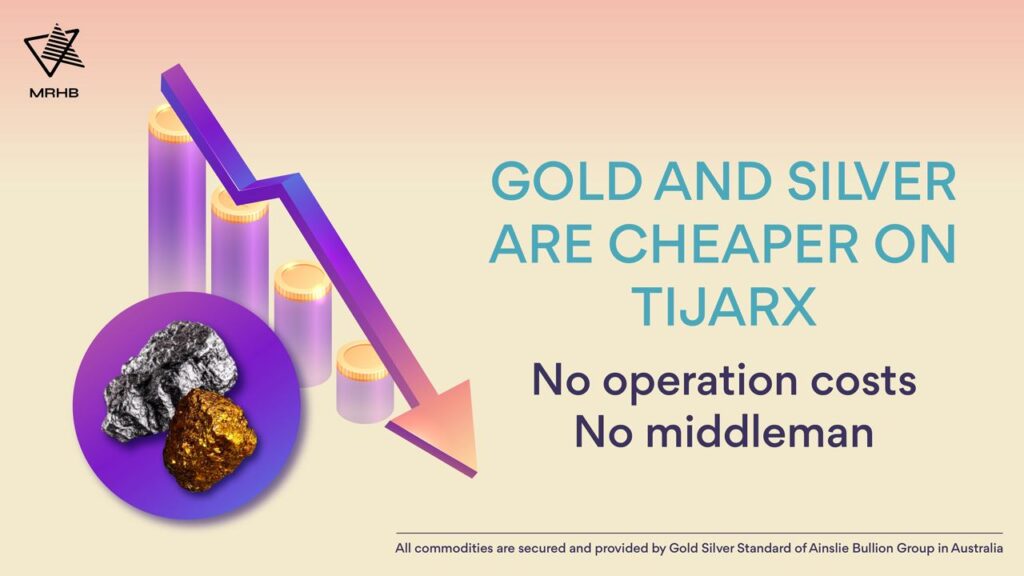 "Launching TijarX is a major step in our roadmap toward building out a full-featured ecosystem of halal decentralized finance products," said MRHB CTO Deniz Dalkilic. "We have big plans to partner with other companies to launch tokenized offerings of a wide assortment of commodities such as wheat, copper, oil and potable water, among others."
Users can access TijarX with the Sahal Wallet iOS and Android app. Sahal Wallet is a self-custodial wallet that provides a portal to MRHB. Network's entire DeFi ecosystem.
Decentralized for Transparency, Built for Maximum Trust
The blockchain-based TijarX DEX uses smart contracts to bring tokenized physical commodities such as precious metals on-chain. This allows for much easier trading of traditionally illiquid goods that are difficult to store and transport, finally opening up the commodities market to the general public.
In order to minimize arbitrage and protect liquidity for the commodities being traded, TijarX's token pricing model pulls data about long-established assets like silver and gold from oracle price feeds. While the automated market makers on other DEXes use different open-market methods of setting prices, TijarX needs to be able to honor very tight margin restrictions.
TijarX does not have a tokenization service and is instead built as an on-ramp for companies that already have their own tokenized commodity assets. Companies must be whitelisted by MRHB. Network, with full transparency of backing for their tokens.
All tokens listed on the platform must also be halal. MRHB.Network's ecosystem of ethical financial services primarily targets the world's Islamic Finance market — valued at US$3 trillion — although they are also of great appeal to anyone looking for a more ethical way to invest in crypto.
Existing products from MRHB.The network includes the aforementioned Sahal Wallet, along with the NFT marketplace SouqNFT. A halal staking platform and a liquidity harvester will launch within 2022, with more Web3 products coming next year including interest-free financing, decentralized philanthropy, and an entrepreneur launchpad.
About MRHB DeFi Network
MRHB (pronounced 'Marhaba') is an ethical and halal Web3 platform built to deliver empowering "Inclusive DeFi and NFT wealth and business solutions" to excluded communities worldwide in the easiest way possible. 
The diverse team comprises researchers, technocrats, influencers, Islamic finance experts & business entrepreneurs, who have come together to ensure that the MRHB Ecosystem brings the full power of blockchain and crypto to positively impact society as a whole, essentially bridging the gap between the "ethics-conscious" communities and the Web3 world. 
MRHB DeFi Network Official Channels