Smart planning turns any project into a successful undertaking. Luckily, the project management world allows making it successful as it offers dozens of robust solutions. They differ from each other by a variety of features: from the ways to create, assign, and track tasks to other critical details such as pricing plans and the ways of deployment.
However, in most cases, those solutions have something in common. In particular, the approaches they are based on. One of them is a Gantt chart. It is highly likely that you won't find a project manager who has never heard about it or never used online Gantt chart software.
Let's figure out why this tool is so efficient in planning.
What is a Gantt chart?
Before we start, we need to make it clear what a Gantt chart is.
A Gantt chart is a bar chart with horizontal and vertical lines. These two lines make up the classical idea of how it should look like regardless of a Gantt chart tool you choose for planning.
A horizontal line is used to show time.
A vertical line is used to depict tasks with the correlation to time intervals shown on the horizontal line.
In other words, every activity or task we need to perform is clearly shown on the vertical line with the time it requires or, put differently, duration on the horizontal line.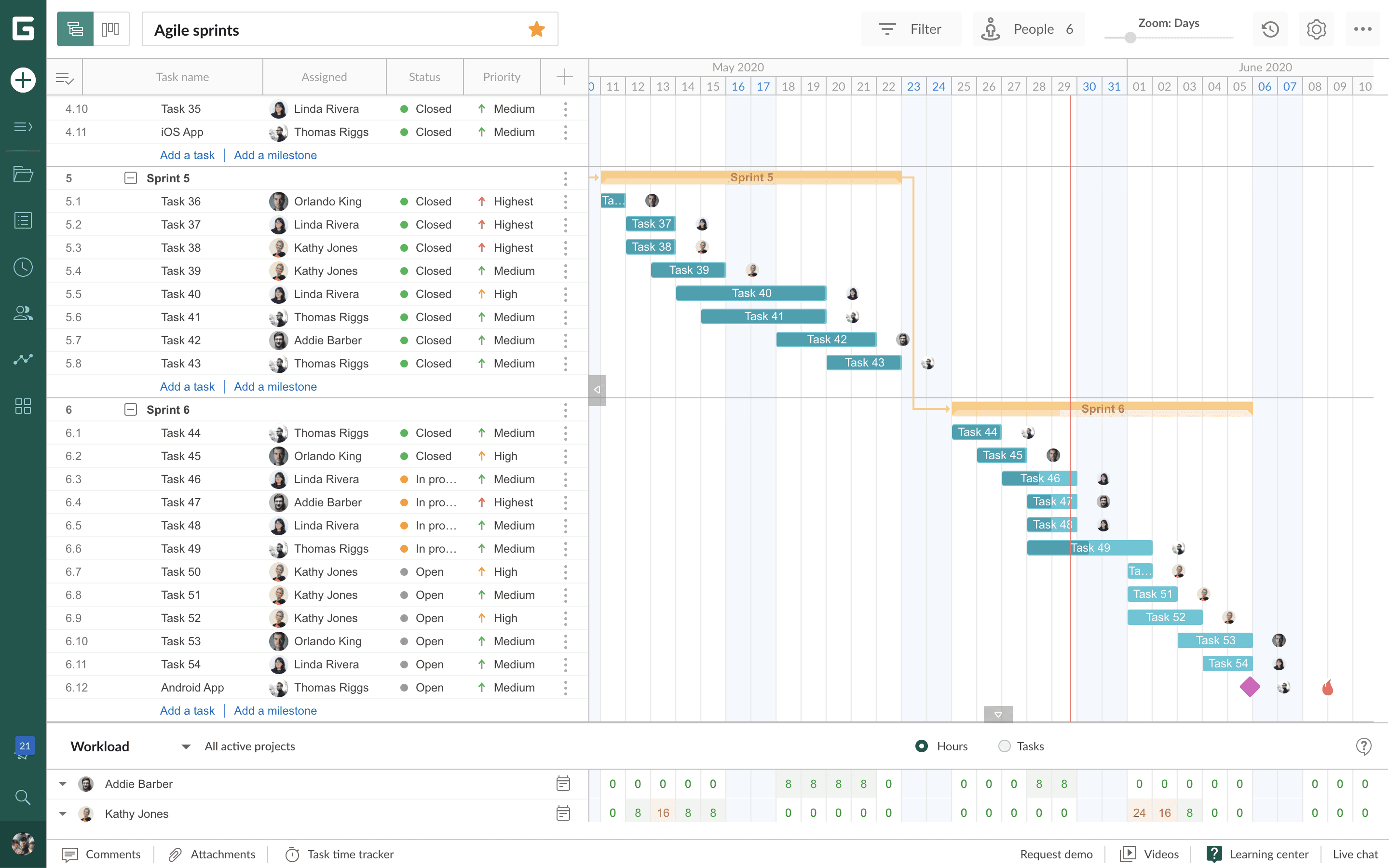 Once scheduled, a Gantt chart serves as a guiding light for project participants and team members showing not only future activities but also what has been done as well as tasks in progress.
What's the purpose of a Gantt chart
Among the most essential purposes of a Gantt chart are scheduling and progress tracking. If you spend a few hours, days, or even weeks on careful planning taking into account every task and dates, be sure – a Gantt chart will thoroughly lead you from task to task to successful project delivery.
However, scheduling and progress tracking do not make the full list. Also, a Gantt chart is used for:
Creating dependencies between tasks.

Milestones tracking.

Deadline management.

Collaboration.

Resource management.

Building critical paths.

Cost management (advanced feature).
How to create a Gantt chart
If you take any modern Gantt chart tool or any other PM application with a Gantt chart feature, you will see that the process of chart creation follows almost the same steps. However, keep in mind that before creating a plan in a tool, you need to break your entire project into smaller pieces with clear goals that are much easier to deliver. Without a distinct understanding of what it takes to finish a plan, you have no chances on success.
After you launch your new project, you need to add tasks and define their:
Start and end dates, start and end time.

Status.

Priority.

Duration and estimation.

Dependencies between tasks.

Progress.

Deadlines.

Assignees.

Cost.
These basic details are included in a classical Gantt chart. Depending on the software, this process can range from a few clicks and minutes to much longer periods.
In case you as a project manager rely on other tools and Gantt charts are not your wheelhouse, let's speak about their pros and cons to make a picture clear.
Advantages of a Gantt chart
Clear structure
One of the core advantages of a diagram is that you can easily break any task into smaller pieces turning it into a group of connected tasks.
Imagine you have a task to create a prototype of a marketing landing. What will your first step be? The next one?
It is hard to give a straightforward answer immediately as there is no clear understanding of what tasks it includes and their consequence. All you have to do is to think, plan, and break the whole task into smaller ones: mock-up, content, design, etc. Smaller tasks are much easier to estimate and set distinct deadlines for them. This, in its turn, allows getting the exact picture of the whole project duration.
Dependencies
Think about your working day. How many of your daily tasks are connected? Probably, all of them.
For example, the most widespread type of dependencies is Finish to Start. It means you won't start the next assignment until you finish the current one.
A Gantt chart allows creating all types of dependencies with lag time: Finish to Start, Finish to Finish, Start to Start, and Start to Finish.
Collaboration
A Gantt chart does not replace a messenger and actually, it shouldn't. However, it can certainly be a hub for collaboration between team members.
After you created a task and assigned it to a certain resource, you need to provide necessary information about this assignment: describe it, attach files if needed, and update on its status with the help of comments. Is there anything else you need to collaborate?
Engagement of third parties
Powerful Gantt chart solutions allow presenting plans to third parties as a presentation or simply as a non-editable plan for a review.
It largely depends on the software you choose, but this engagement can become possible thanks to Export, Sharing, or Report features.
The Export feature allows project managers to always have a printed version of their chart at hand.

The sharing feature allows sending a link to a chart that can be accessed by even not registered in a tool stakeholders, clients, etc.

Reports allow collecting certain information on one page and presenting it to third parties.
Critical path
This feature analyzes all the tasks in a project and distinguishes those that directly affect project delivery. In other words, the critical path shows the shortest way to complete a project.
Most of the tools highlight this path in red color.
Resource allocation
Not all Gantt chart makers allow working with resources. However, without this feature in 2020, any Gantt chart tool is considered incomplete.
Thanks to resource management, project managers can avoid situations when their resources are overloaded or underperforming.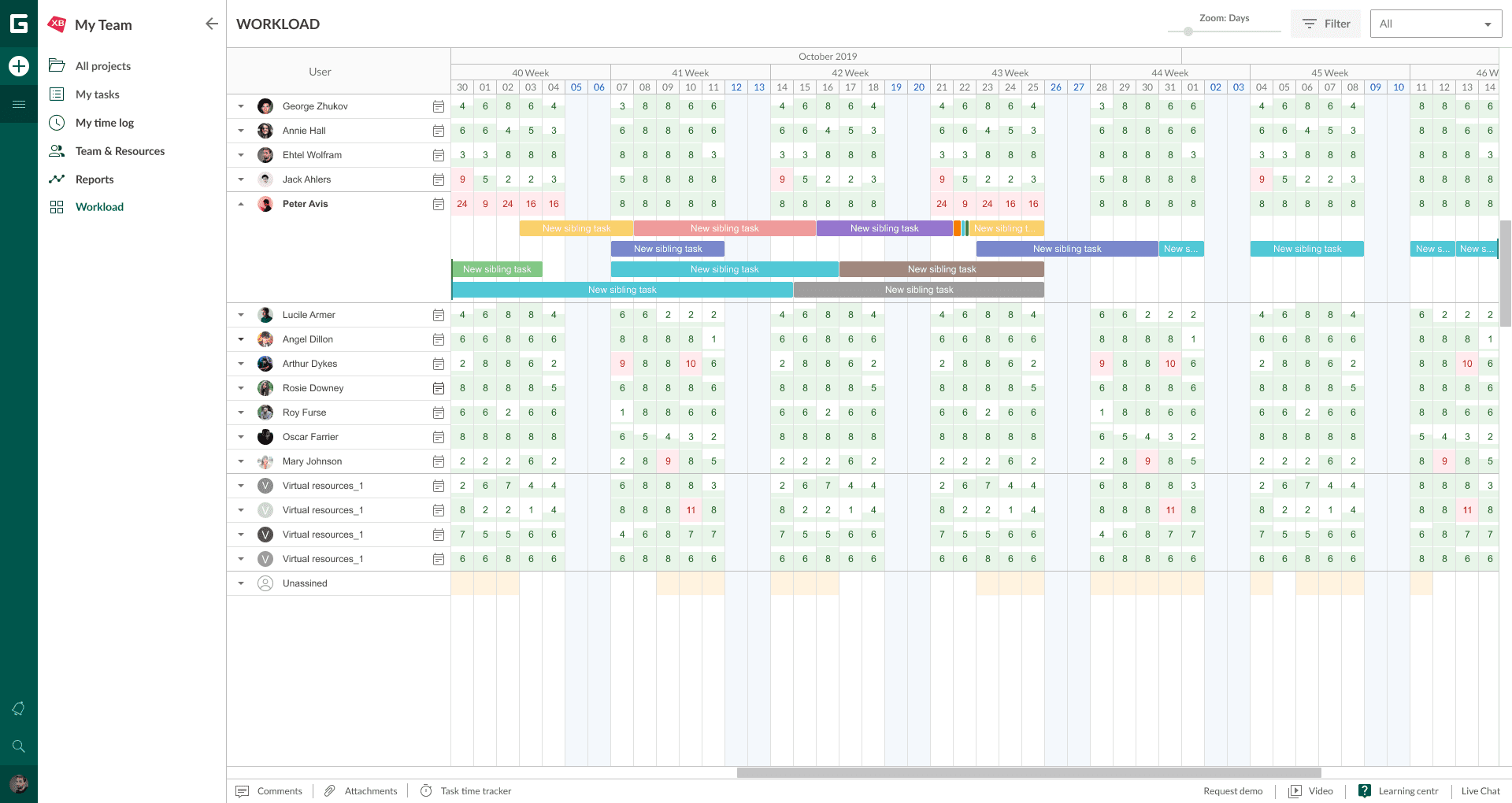 Disadvantages of a Gantt chart
In most cases, the disadvantages of a Gantt chart are determined by specific project nature and habits of a project manager. So, if you ask just a few of them, you will likely hear different answers about why they do not use them for their campaigns.
But before you start building a Gantt chart, be sure that you have planned and taken into account every single detail. If you are not aware of final deliverables and the steps you need to take to achieve them, this chart will probably be not an ideal choice. However, the Auto-scheduling feature in some apps easily solves this issue.
Also, one more detail is worth mentioning: a robust project requires time, probably, much time to plan and manage it.
Tips and tricks when working with a Gantt chart
Break large tasks into smaller ones and create groups with subtasks
The clearer goals and more vivid deadlines you have, the higher the chances are to be a pro in managing.
Use templates
Gantt chart templates are ready-made solutions specifically designed for professional spheres and certain events. They already include typical tasks and milestones for an easy start.
In case your campaign has nothing in common with the proposed option in templates, anyway, you will be able to grasp the general direction and customize your plan.
Save templates
If you have created a great plan and you know that there will be similar projects in the future, save this successful plan as a template and choose it once you start. It will help you save hours on planning.
Forget about useless constant meetings – use it as a collaboration platform
Always keep in mind that a Gantt chart can be a perfect place for collaboration with team members. It allows keeping all project-related information in one place and updating team members on statuses. There will be no need to hold constant meetings.
Use zoom
The Zoom option allows changing the way your project looks like in terms of time: from hours to years.
Work with milestones
Plot milestones to specify important events in your project that have no duration. These events can be of different nature: a review, end of a phase, deployment, release, etc.
Work with a baseline
A baseline is an initial plan. As your project progresses, it can change and go in the wrong direction. Turn on a baseline and compare the initial plan to the current one to see the differences.
Set deadlines
Do not want to forget about deadlines? Choose a tool that has deadline management.
How to choose the right Gantt chart software
When choosing a Gantt chart maker for your daily project management activities, keep in mind that this tool should smoothly incorporate in your everyday activity and be convenient for you and your team to work in.
Pay attention to these details about a Gantt chart software:
It should be easy to understand for you and your team so that anyone will be able to jump into a project within minutes. A short learning curve is a must.

It should be a SaaS solution so that you and your team can have access to projects from any place at any time.

It should provide immediate statuses and give a straightforward answer on what is going on in a project.

It should be an efficient collaboration platform that allows commenting on tasks and attaching files.

It should have Export and Sharing features to present charts to third parties.
Where to use Gantt charts
Gantt charts are used in a variety of spheres, even in those that are traditionally considered not project-related. If you need to create a plan, schedule activities, track progress, and have an instant view on everything, a Gantt chart is a perfect choice.
Gantt charts are used in:
Software development.

Game dev.

Marketing.

Construction.

Design, Web design.

Retail.

Event planning.

Health care.

Manufacturing.

Maintenance.

Education.

Telecommunication.

And many more.
Conclusion
A Gantt chart is a must-have feature of most project planning and project management tools. Its popularity is fully deserved as this versatile tool pushes back the limits and expands horizons with one purpose – help in successful project delivery.