What Is Groundfloor Finance?
Groundfloor Finance is an American-based real estate investing and lending platform that functions as a marketplace. It was launched in 2013 by Brian Dally and Nick Bhargava and has headquarters in Raleigh, North Carolina.
Groundfloor is a unique investment platform that provides exposure to the real estate market without a traditional real estate trade or transaction. Instead, it works by crowdsourcing investments and providing loans to real estate developers. Investors can get started with as little as $10 and purchase a fraction of an LRO.
One of the best features of this platform is that it doesn't charge any fees to investors. The interest rates are very fair for borrowers, and the whole process is very transparent. Groundfloor is available for accredited and non-accredited investors, and it has over 200,000 customers worldwide and 240 million in assets under management.
In this quick Groundfloor review, I will review all the platform's best features. Keep in mind this is a summary – if you want to read a more in-depth analysis where we go over the numbers side of things, check out our full Groundfloor Finance review.
Pros & Cons of Groundfloor
Pros
Low minimum investment ($10)
Earn 10% average annual returns with Groundfloor Invest
Available for accredited and non-accredited investors
Groundfloors investments are always in the first lien position
Choose your investments or use Groundfloor's automatic investing tool
No fees of any kind
Investments repay every 4-12 months
App available on Android and iOS
Cons
Limited Recourse Obligations (LROs) are great if you're a borrower, but as an investor that means you may not get back your principal back
If you invest in a deferred-interest loan, you won't receive interests until the loan is repaid in full
Features & Benefits Of Groundfloor
1) Groundfloor Earn
Savings accounts from big banks are notorious for their very low APY. Groundfloor Earn offers Groundfloor investors an alternative to regular savings accounts through their app: Stairs.
Stairs is an app that combines the best of two worlds: saving and investing, all in one place. They call this Savesting, and it is an excellent way to generate monthly income with minimal risk, set up recurring deposits, or reinvest your earnings to grow your income even faster.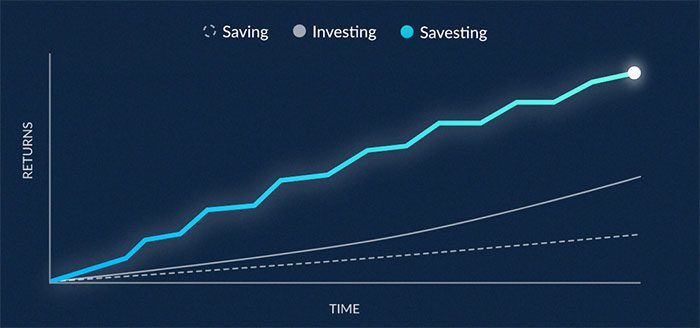 Using Stairs is completely free, and there are zero fees. You will earn 4% interest on your balance – that is 400 times better than the 0.01% interest offered by big banks – and you have complete control over your earnings; you can withdraw at any time.
2) Groundfloor Invest
Groundfloor offers investment opportunities through SEC-qualified Limited Recourse Obligations (LROs). When you invest in Groundfloor, you are investing in LROs, and you can invest fractionally for as little as $10.
Groundfloor Invest offers seven categories of investments based on the risk associated with each. The riskiest investment (Grade G) offers the highest expected returns but comes with the highest potential loan losses. Conversely, Grade A investments are the safest, but the returns are consequently lower. The grade of each investment opportunity Is determined by factors like the valuation of the project and the borrower's experience.
The average returns range from 5% for the safer Grade A investments to 15% for Grade G investments. Depending on the borrower, you may receive interest for your investment paid monthly or a lump sum at the end of the loan if they choose a Deferred Payment loan.
An alternative that also has solid returns is Streitwise. Streitwise has slightly lower returns than Groundfloor – averaging 9.2% over five years – and provides exposure to the commercial real estate sector. If you are more interested in regular dividend payments, a platform like Yieldstreet might be your platform.
3) Groundfloor Borrow
For borrowers and real estate developers, Groundfloor Borrow offers access to low-interest loans with variable terms ranging from 12 to 18-month terms. The loan size and the interest rates will depend on your credit score and the Loan-to-Cost and Loan-to-After repair value of the property. The loan amount ranges from $75,000 to $750,000, and borrowers can have up to 4 simultaneous loans active. Interest rates range from 5.5% to 18%.
Groundfloor offers two types of loans: Fix & flip and Fix to Rent loans. Fix & flip loans are short-term loans and are ideal if you want to purchase and renovate a property or reconstruct an existing property. Fix to Rent Loans, on the other hand, are usually long-term, and they involve a different strategy of acquiring properties, fixing, and financing them with long-term leverage.
Groundfloor allows borrowers to defer their interest payments and repay them fully at the end of the term (Deferred Payment loan). Groundfloor finances the renovation and acquisition of residential, multi-family, condominiums, townhouses, Planned Unit Developments (PUD), and New Constructions (Southeast US) only.
4) Security Protocols
To start investing with Groundfloor, you have to create an account and make a deposit. It may take 3-5 business days to be available on your account. Your deposit is fully insured by the Federal Deposit Insurance Corporation (FDIC) until you invest. Your money is not insured after you invest it; as with all investments, there's some risk involved.
Groundfloor keeps all personal information encrypted using the AES-256 standard, and all communications between the user and the website are secured through HTTPS and SSL/TLS protocols.
Groundfloor Fees
Groundfloor doesn't charge investors any fee, which is unheard of in the real estate industry. Platforms like Fundrise charge annual advisory and management fees.
Groundfloor Invest Fees
Management fees: Free
Minimum investment: $10
Groundfloor Borrow Fees
Interest rate: From 5.5% to 18%
Loan underwriting fee: 2.0-4.5% of the principal
Closing cost: $1,250 plus a $250 application fee
Borrowers can defer their payments in full until after the project is finished and pay a lump sum instead of regular monthly payments.
Sign-Up Process
Groundfloor is available for US and non-US residents. The sign-up process is very quick, and there are no special requirements. Here are the steps:
Visit Groundfloor's website
Click on the Sign-Up button
Fill in some of your basic information
Confirm your email
Fund your account
To receive a $10 welcome bonus credited directly to your account, make sure to use this link to sign up. Keep in mind that you don't need to be an accredited investor to use this platform.
If you are an accredited investor, you may want to check out EquityMultiple. It has a 1.5-2% annual fee, but it makes up for a higher annual yield.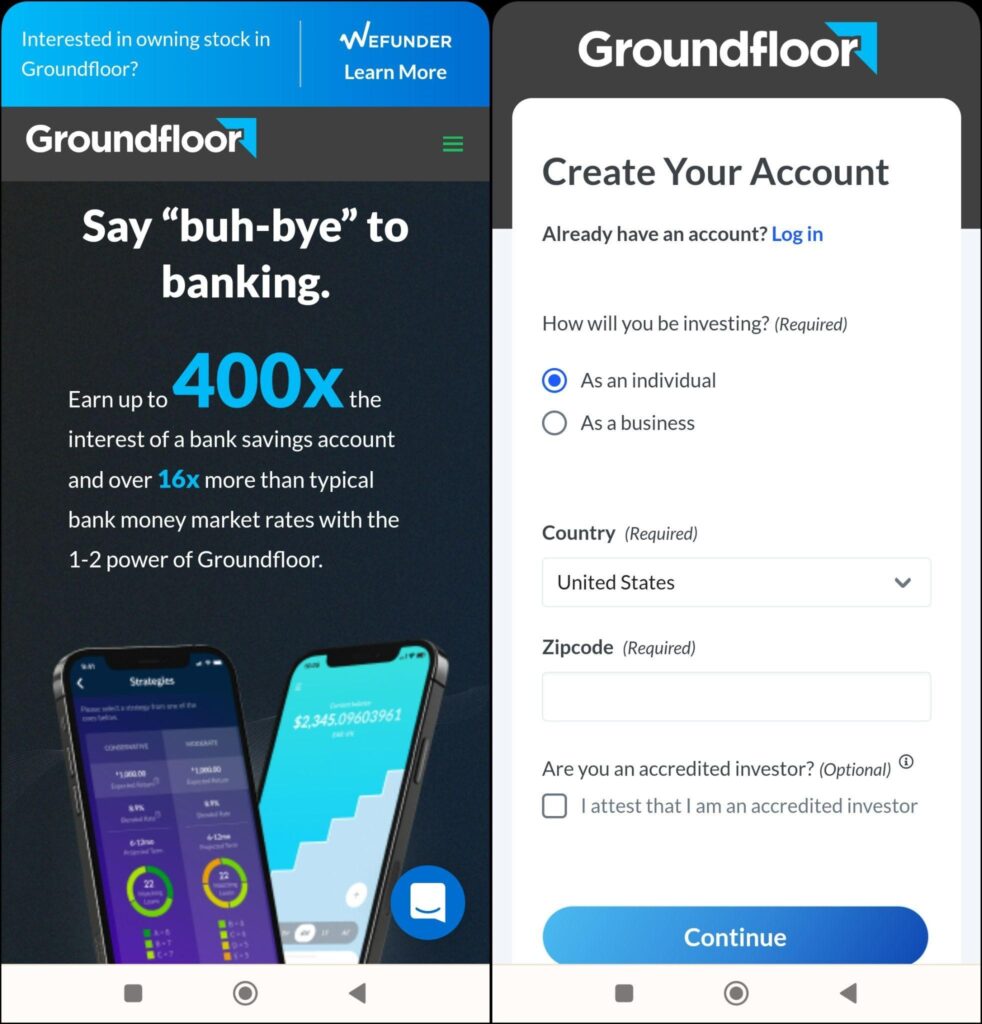 Final Thoughts
Whether you're a real estate developer or a company looking to renovate a property, or a non-credited investor looking to gain exposure to the real estate market, Groundfloor is a solid option for you. With its low entry minimums and reasonable interest rates, you won't feel like all your profits are going into REIT managers' pockets. With Groundfloor, you can choose your investments and earn significant profits or take full advantage of Savesting and grow your money safely.