Singapore, 24 July 2018 – Boxgreen, a Singapore-based sustainable snack e-tailer has launched GreenLink, a blockchain-based platform aimed at driving sustainable practices and digital eco-certifications. Put simply, it will enable the anyone to trace the origin of products, verify eco-certification data or labels, and empowers participants of the ecosystem to provide feedback on products that they care deeply about while being rewarded at the same time.
Set to be the first social enterprise in Asia to utilize blockchain technology to drive sustainability and social change, GreenLink seeks to integrate consumers, brand owners and certifying bodies into one ecosystem. The GreenLink Protocol will be built on Ethereum, with a native token, IMPACT — an ERC20 Ethereum token standard.
A New Way to Trace Products and Reward Sustainable Practices
With a plethora of environmental and social problems today, a growing number of consumers are seeking out more sustainable products that minimize negative impacts on people and the planet. In fact, sustainable business opportunities in Asia alone are set to grow to a market size of more than US$5 trillion by 2030.
As such, transparency in supply chains are no longer a choice but a corporate responsibility as the demand for fairtrade, as well as ethically sourced and sustainable materials continue to grow. However, limited consumer knowledge regarding the supply chain of the products that they consume leads to a difficulty in making informed purchasing decisions.
Introducing GreenLink, a blockchain-enabled platform that provides transparency and trust throughout the sustainable supply chain in which it addresses three main issues with its own unique solutions:
Brand Authenticity and Transparency of Eco-Certifications
Issue: Proliferation of fragmented certification schemes and the lack of transparency results in brands green-washing.
The GreenLink Digital Certification Technology entails the integration of blockchain between businesses, consumers and certifying bodies. This allows specific data related to sustainability such as product of origin, certification data to be uploaded and easily accessed by anyone in the public.
Opaque supply chain and traceability of products
Issue: Opaque Supply Chain have led to malpractices – environmental damage, exploitative practices, unsafe work conditions and food scandals in the industry.
GreenLink's platform will help facilitate end-to-end, robust traceability (from origin to point-of-sale) for businesses and consumers by partnering and integration with eco-certification bodies and supply chain partners to accredit immutable certification with the proof of a digital signature by these bodies for merchants.
Lack of action for consumer recognition in the sustainable space
Issue: Consumers have no avenue to provide feedback on the products they love or support brands they truly care about. Taking steps to be sustainable should be easy and effortless.

GreenLink will incentivize consumers through the Social Ledger Program – An e-commerce loyalty platform that rewards consumers who are committed to sustainable efforts with IMPACT, and records their deeds on the blockchain.
GreenLink Technology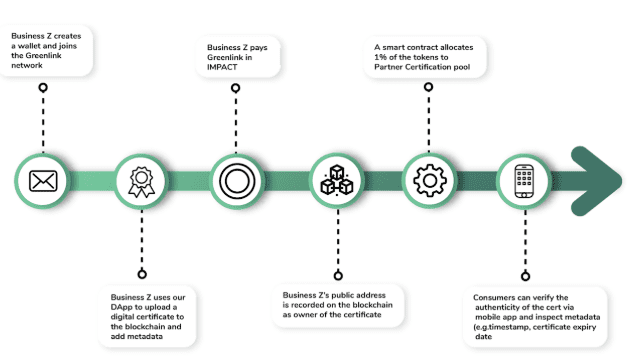 Consumers will benefit by being able to verify the existence and integrity of eco-certifications by tracing the source of the brand's products at no cost. Users will also be rewarded for participating in the ecosystem via a loyalty program by rating and rallying the brands they like or purchasing products directly via the platform.
Meanwhile, for brands owners and businesses, they will gain access to a pool of loyal customers who will indirectly contribute to the business and help them be digitally certified by the relevant bodies under GreenLink.
As a social enterprise, GreenLink will look to include Voluntary Welfare Organisations (VWOs) as part of this project by giving a percentage of its sales to these organizations. For every purchase on the e-commerce platform using IMPACT, 0.5% of the tokens will be donated to charities. Tokens can be further staked to access premium features such as the ability to vote on charities to which the funds will be deployed.
"It is very clear that opaque and complex supply chain has become one of the biggest challenges businesses face driving sustainability today. Our experience at Boxgreen has shown us the importance of provenance and transparency in supply chain to build our business for the next decade. This is why we believe the time is right to build a digital, sustainable future of supply chains, with the introduction of blockchain and we're very excited to share it with a network of brands in Asia. I am confident that GreenLink will impact the sustainability industry in ways never seen before," says Mr. Walter Oh, CEO of GreenLink.
About GreenLink
GreenLink is a blockchain-based protocol and ecosystem in the impact space that enables the anyone to trace the origin of sustainable products, verify eco-certification data and reward them for their commitment to sustainable efforts. To find out more about GreenLink, proceed to greenlink.io.
Social Media Links
Medium: https://medium.com/greenlink
Twitter: https://twitter.com/Greenlink_io
Linkedin: https://www.linkedin.com/company/greenlink-io/
Bitcointalk:https://bitcointalk.org/index.php?topic=4734765.msg42766188#msg42766188
Reddit: https://www.reddit.com/user/Greenlink_io/
Instagram: https://www.instagram.com/greenlink.io
Facebook: https://www.facebook.com/Greenlink.io