Provider of top-tier software solutions for shippers, GoRamp, sheds light on the benefits of logistics automation in supply chain management
Technological advancements have hugely impacted the operations of businesses across industries over the years, as organizations look to harness innovative tools to enhance their productivity. The logistics industry has not been left out as substantiated by the emergence of a plethora of software tools as seen with the likes of GoRamp. GoRamp has grown tremendously to become the go-to source for quality logistics automation solutions, with functionalities that stand it out from its contemporaries.
The significance of using logistics automation cut across different aspects of the process, including warehousing, supply chain management, and transportation management analysis. Some of the benefits of logistics automation are briefly highlighted as follows:
Reduced Error Margin
Automation has been identified to help businesses achieve full integration of inventory management, including fixed and current assets and goods available. It enables access to the address book, the introduction of fuel charges, and other types of automatic storage, ultimately eliminating significant errors. The reduction in the number of entries will also help to decrease delivery costs and ensure proper planning and process coordination.
Consequently, investing in deploying freight management software will help optimize the business and of course, lead to more revenues.
Improved Customer Service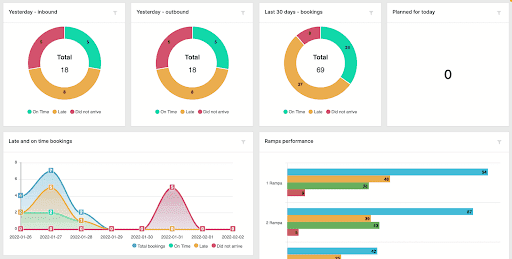 The level of competition in the business environment requires organizations to always create the best possible experience to retain their customers. Consequently, logistics automation might just be a way of gaining new customers and retaining the old ones through better service delivery, especially with dock scheduling software helping companies eliminate queues, and automate truck arrivals and communication, leading to a faster turnaround time.
Access to Real-time Data and Freight Traffic Analysis
Load management and synthesizing all necessary information for analysis are important in the logistics process, further bringing to the fore the importance of automation. Logistics automation aids the decision-making process while giving an overview of future business opportunities, and providing guidance for improvements as required. Automation makes data interpretation quick and easy, saving company executives a lot of resources and potential losses while ensuring they are abreast of every action across all levels.
Organizational Control
It is not strange for companies to lose control of the processes within the company to an extent. However, this phenomenon is not particularly synonymous with users of automated logistics software, enabling the management to monitor staff and asset movement as well as keep up with inventory, financial income and expenses, shipping costs, and a host of others.
Logistics automation will help businesses to reduce the risk of unknown solutions and their related costs, enabling them to offer a more competitive price to customers. The flexibility of automated software and its suitability for any business ensures cost-efficient delivery of the shipment. However, it is important to select a user-friendly system that is easy to navigate and requires little to no tech-savviness.
Scale and speed
One major challenge that growing logistics companies tend to face is completing orders within the shortest possible time. However, using automated freight software can be a lifesaver in this regard, particularly due to the ability to customize such solutions to meet the needs of any type of business. Logistics automation enables businesses to complete more orders and consequently enjoy more profits from more customers. The user-friendliness of the solution makes it easy to introduce the system to new users, with fantastic features and ample free space enabling scalability as required.
There is no doubt that automation is the future of business and it only makes sense for logistics companies to embrace technology to enjoy speed, accuracy, quality, and efficiency.